"Tomorrow at 1, can Lee and I get a photo of your family in the yard?"
A somewhat cryptic message from my friend Annie Hart Cool, but since she hasn't steered me wrong yet, I said "Sure."
Later I learned that Lee was Lee Geishecker of Vagabondview Photography in Falmouth.
Ms. Cool and Ms. Geishecker have teamed up to participate in the Front Steps Project, wherein photographers are offering five-minute portrait sessions of people, at a safe distance, in exchange for a donation to a local charity.
Ms. Geishecker, who specializes in wedding, portrait and event photography, said that a few weeks ago a client she was working with suggested they take advantage of the fact that her husband was home from work and take a family portrait—from afar. "Then clients started telling me about this Front Steps Project that was going on in Plymouth and down in Georgia and I thought how cool would that be—having people step out, and with me being nowhere near them, capture this moment in time that we're all going to remember and our kids are going to remember."
But having an idea and having it come to fruition are two different things.
It didn't until Ms. Geishecker's longtime friend Ms. Cool, reached out and said "How come we're not doing this?" and offered to organize an appointment calendar for Ms. Geishecker.
"Annie made it happen. She reached out to her besties and her neighbors. Eight sessions, back-to-back, all geographically close," Ms. Geishecker said.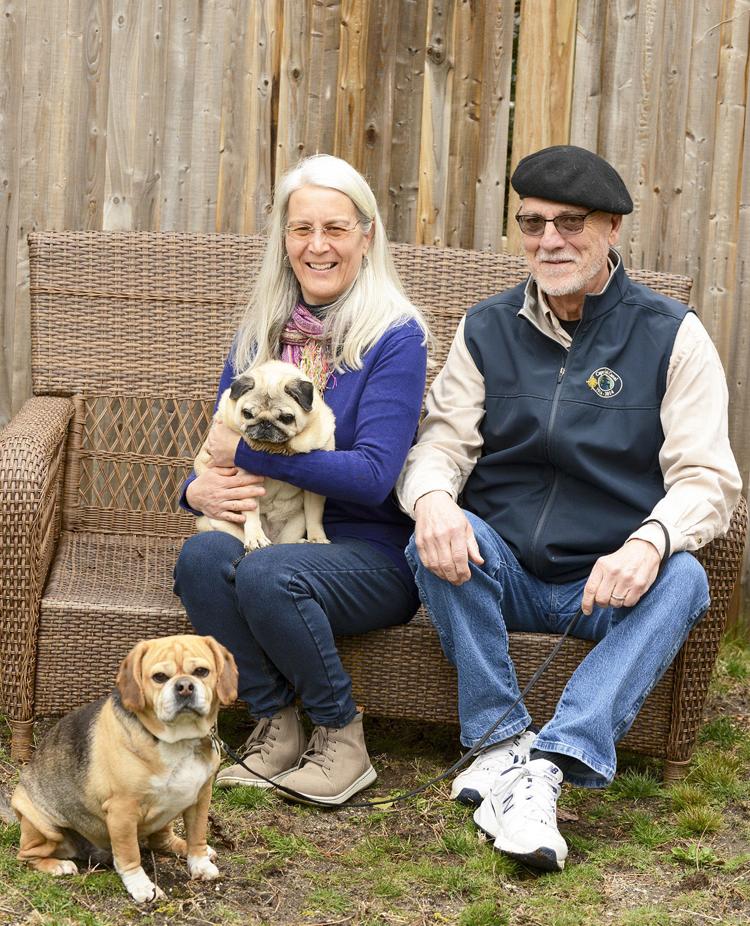 "Annie knew that if we hit the timing right and we got a few people to get started, this thing would snowball and that's exactly what happened."
The first group of photos was posted on Facebook last week and met with comments including "Makes my heart happy," "Fabulous" and "Amazing."
"Once we got those first pictures out, people became more comfortable with it," Ms. Geishecker said.
On the day that Ms. Cool met Ms. Geishecker at her friends' houses, she photographed Ms. Geishecker taking the pictures, recording how far away Ms. Geischecker was standing. "I take it really seriously," said Ms. Geishecker, who was at least 15 feet away from my kids when she photographed them and even parked her car halfway up our driveway.
It's a way to get people smiling, Ms. Geischecker said of the project. "The world needs to see that right now."
"I think the connection is important—even from a distance," Ms. Cool said. "It is just good for people to see other people and to do something joyful."
The project isn't limited to just couples and families. Both Ms. Geishecker and Ms. Cool said that they have been touched by the people who have reached out about participating. There was a 90-year-old shut-in who wanted to be photographed with her caregiver, a woman in a wheelchair who wanted a photo with her service dog, and a single woman who wants to be photographed with her horse.
Another upside, according to Ms. Cool, is the portrait sessions give people a reason to "get out of their pajamas or their yoga pants. One woman told me, 'You got my husband to shave, thank you for coming.'" One parent said they were thankful for the portraits because they provided an opportunity for their daughters to wear their Easter dresses. Another family went the silly route, dressing in a colorful two-person dress and Devo hats, and putting their dog in a tutu.
Ms. Geischecker is posting more complete portraits with a short story about each session, some of which have lasted only three minutes, on her company's Facebook page. She plans to email photographs, three each, to each group of participants.
In addition to taking photographs, Ms. Geishecker has been asking her subjects to answer this question, in one word: How would you describe this time? The most common answer for adults has been "surreal" and "challenging," although answers have ranged from "peaceful" to "stressful" and "chaotic." My own four kids answered "monotonous," "weird," "cool" and "fun."
Five-minute portrait sessions from 15 feet away from her subjects are, of course, quite different from how Ms. Geishecker normally photographs clients.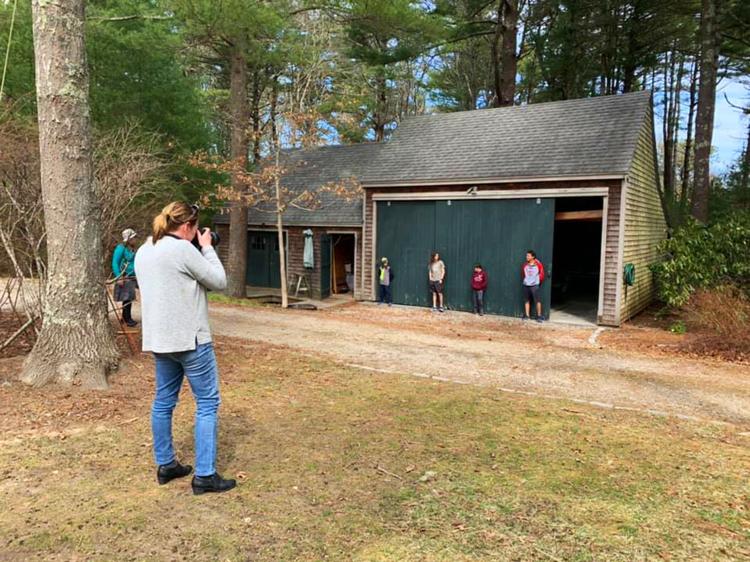 "This is not the first time I've done something like this but it's the first time I've done something on this scale with these kinds of restraints," Ms. Geishecker said. "I'm going out today to do three sessions that have to be done today. I'm going to photograph in weather that's not ideal with bad lighting. It would not be my choice to photograph today."
Some of the restraints Ms. Geishecker has put in place for herself have turned out to be liberating, she said: "I'm using one camera, one lens, no flash, and that's become challenging in a really creative way."
With so many factors out of her control, Ms. Geishecker said, she often turns the decisions over to her subjects. "People come out and ask me where I want them and I turn it over to them and say 'Everyone sit where you want,' and it comes out very naturally as a family. When they sit together, their arms, their legs—it's all them—their personalities come out. I tell myself that I'm just the messenger here and that it's not about my photography even though that's the end result. I'm looking at this as a way to just tell the story for the camera and not get hung up on the technical aspects."
"I think this is as life-changing for us as it is for everybody else," Ms. Geishecker said.
With wedding and photo shoots all canceled and the outlook for the rest of the year shaky at best, Ms. Geishecker said that the project has been more than just a distraction. "It's been therapeutic," she said.
Well known in Falmouth for her outgoing personality, her involvement in the arts, and her work as a real estate agent and a justice of the peace, Ms. Cool noted that the project is "answering a call for Lee and I, who are usually out there all the time in front of people. It's good for our mental health to be doing something, as well."
While there has been some opposition to the project as it draws people out of their houses and puts Ms. Geishecker on the road unnecessarily, most of the response has been overwhelmingly positive.
"We're scheduling into the next week, this week is fully booked," Ms. Cool said Monday morning.
"I would not be surprised if we're at 100 sessions by the end of this week," Ms. Geishecker said.
In exchange for the photographs, Ms. Geishecker is asking that people make goodwill donations to the Falmouth Service Center. "People keep asking us, 'How much do you want?' and we say, 'Whatever you can afford.' Everyone's a little bit taxed right now," she said.
There's a "donate here" button on many of the posts on the Vagabondview Photography Facebook page. People can also donate directly to the Falmouth Service Center through their website and through the mail. "All I ask is that they identify the project when they donate," Ms. Geishecker said.
While they can't track all the donations, Ms. Geishecker said she knows it's happening, noting, "People have been very generous."
"We're not looking to get something out of this," Ms. Geishecker said, "but there will be amazing benefits down the line from the goodwill."
"It's mostly the Upper Cape, but we've been recruited to go as far as Osterville and Hyannisport," said Ms. Geishecker, who lives in Sandwich.
Ms. Cool is asking that people who want to participate reach out to her by texting to 508-868-0664 or via email at annie@anniehartcool.com. She also asks that people put their address, phone number and email in that original correspondence to speed up the process and eliminate some back and forth. In order to consolidate trips, Ms. Cool said, she tries to drop people into the calendar "when I find that they are in a neighborhood where someone else lives.
"Also, we've had requests from medical people and other essential personnel. If they have a special day off, let us know that up front," Ms. Cool said, "because otherwise I'm just going to drop them in."
Because the response has been so great, Ms. Cool wants people to know that it might take a few days but that they will "absolutely get to them. Sadly, we know this pandemic is going to be around for a while so there's no rush to get it done."