Falmouth's Matt Patrick has been a lot of things: Peace Corps volunteer, director of the energy-advocacy organization Self Reliance, town selectman, state representative and, most recently, apple and chicken farmer. Adding artist to the list might seem like a whole new direction for the New Jersey native, but, rather, it's coming full circle.
"It's a lot of stuff I put aside for a long time," said Mr. Patrick, who was born in central New Jersey and studied fine arts at Upsala College.
"The college was close to New York City and they had a very strong printmaking department," said Mr. Patrick. "They had some really great brand-name presses that were highly regarded in the business. I had several teachers who were at the top of their field."
"There's so much visual stimulation in our lives now," said Mr. Patrick, "it's hard for the average person to appreciate what goes into printmaking."
In February of last year Mr. Patrick finished converting part of the barn on his Waquoit property into a studio where he's set up shop. "I've insulated it really well. I'm hoping that once I get more things printed up and I have work to sell I'll ask the town for permission to put a sign out on the road, even if it's just a sandwich board."
People already stop at the Patrick homestead for fresh eggs and apples—why not some original art as well?
Without a printing press in the studio, Mr. Patrick has been concentrating mostly on woodblock printing. While wood-block printmaking requires an artist to work out his or her design and then consider how the colors are going to go—each color is a different block of wood—printmaking in general is often significantly more affordable than other art forms.
"Woodblock printing or any hand-done printing, whether it be etching, engraving or lithography, is not always well understood by people," Mr. Patrick said. "They don't understand that each print is part of a limited series. It makes the prints accessible to people. People can buy art, an original piece, for not that much money. If you're selling original oil paintings, the artist expects to get a lot more money and rightly so. If you're selling prints, you can sell them for less because you're making a series of say 50 or so."
Mr. Patrick joined the Peace Corps just after college and went to Africa. That influence can be seen in his work as well as the influence of Cape Cod. Prints of a lone shellfisherman in the water, a barn with a whale weathervane and laundry drying on a clothesline, a row of apples on a windowsill and a colorful box turtle are all tacked to the walls of the studio. "You draw what you see," he said, "what you're familiar with and what you know."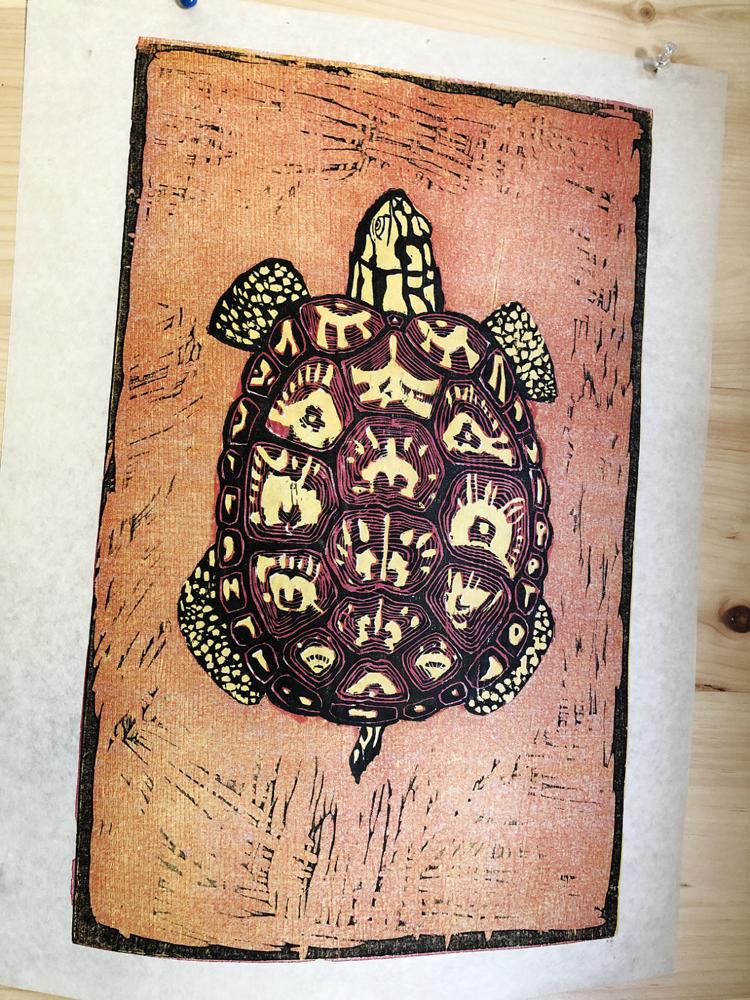 "I'll start with a drawing and then I'll go to either watercolor or oils and then I'll put the final thing into a print if I like it," Mr. Patrick said. Of course, not everything that can be drawn, makes a good print. "There's a jump," he admitted. "I keep that in mind when I'm doing the original work."
While many artists seek out the company of other artists to break up the aloneness that's often prevalent in studio arts, after years of being available to the public, first as a town selectman and then as a state representative, Mr. Patrick is okay for now with the solitude of his studio. "This has been an escape from my other careers," he said, although he admitted that "every now and then I think about doing some editorial cartoons."
Mr. Patrick mused that if he hadn't joined the Peace Corps he might have stayed in the printmaking business.
"I could have stayed in New York and developed that career. They have a lot of shops that that's all they do—printmaking. They'll print for artists, who might come in with a painting that they want to replicate, or an idea, and the shop will work with them."
With his studio set up, Mr. Patrick said it's occurred to him that he could do the same thing here. "If people came in with a picture of their house or an idea for a Christmas card, I could probably to that. We'll see where it goes.
"Just before I ran for state representative I got invited by a gallery down-Cape to exhibit my work but back then there just wasn't time. Now I'm retired, I've got plenty of time."
More of Mr. Patrick's work can be seen at mattpatrickprintmaking.com as well as on Facebook. On his Facebook page there's a video of Mr. Patrick in which he explains the printmaking process.