Cooking at home while following a recipe is a chore for some, but an easy task for others. Cooking in a demonstration kitchen while answering questions from people watching is a little more difficult, but very manageable. Cooking in a television studio, knowing the show is being recorded for the general public, is even more tricky.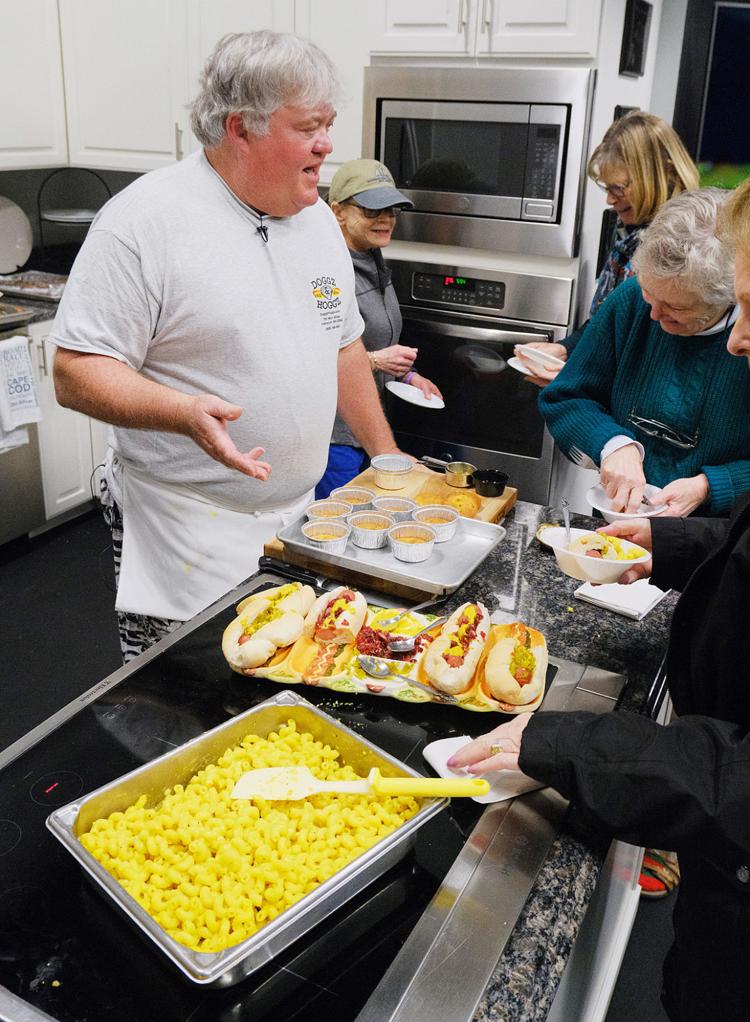 Last fall I was asked to host a cooking show for our local television station, FCTV. They had a newly renovated building on Dillingham Avenue, expanding to take over the space that Amber Waves and Granite Electric had used. As the website explains, "Within this expanded space, FCTV will be able to grow its core curriculum, incorporating workforce development, youth enrichment, media and computer literacy, and programs that preserve Falmouth's diverse history and support the creative economy. The new facility will include new modern studio spaces, teaching labs, art gallery, community meeting and learning spaces, working studio kitchen, post-production and animation facilities—providing even more space for the community to engage, connect and express themselves."
The studio kitchen was staged by Rita Pacheco, with local businesses (including Crane Appliance, Eastman's Hardware, David Rogers Electric, and M. Duffany Builders) generously contributing the equipment needed to make a working kitchen. The first show, taped just prior to the holidays, was my chance to cook in the kitchen all by myself—sort of an introduction to cooking on television for this food writer and cooking teacher.
"Falmouth is Cooking" offers restaurateurs and chefs a one-of-a-kind opportunity to show the world their own personal touch in the kitchen and promote their own particular brand of cuisine. The program airs on FCTV Public Channel 13 and is streamed on the internet, reaching a potentially worldwide audience. It is accessible via the FCTV website, should you be interested in watching.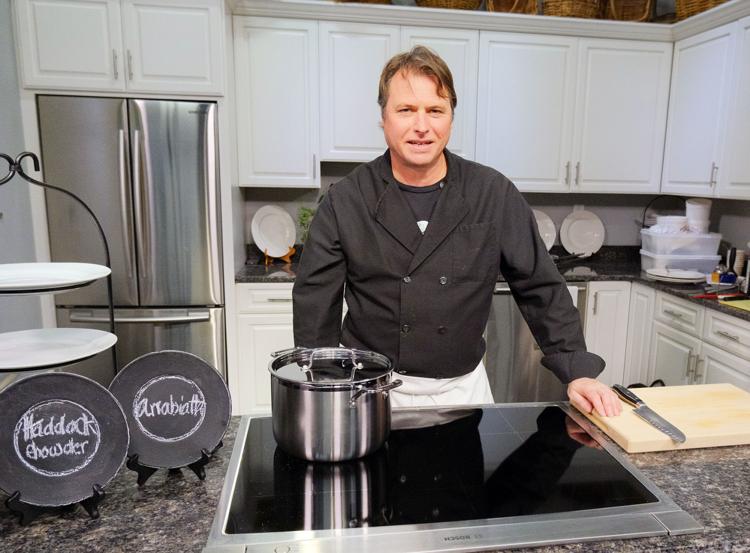 In January we moved on to having professional chefs and restaurant owners join me. First we had Mike Bullard, who owns Doggz & Hoggz in Falmouth. Mike showcased his own barbecue sauce, which is available at the restaurant as well as at Windfall Market. "It has ketchup, lime juice, mustard, vinegar, gluten-free soy sauce, and some secret spices," he explained with a smile. "It all comes together with a little heat, a little sweet, and a little tang."
He wanted to get the word out that the place is more than "just hot dogs" and that they offer "barbecue and more—including smoked salmon, pork butt, and brisket. We also cater, and will do pig roasts if people ask. We have two beach sites in the summer, one at Falmouth Heights and one on Surf Drive, which do quite a business. Our number-one best seller is our 'Pork and Dog,' which is made from an all-beef jumbo hot dog, topped with our pulled pork and house made barbecue sauce." All the dogs are served on Portuguese rolls called ''long-pops."
For our taping, Mike provided a variety of his specialty dogs and his "corny" corn muffins. In addition, he made one of his popular side dishes, macaroni and cheese. "This has no roux; you just cook the pasta in water with some chicken stock, a little oil, and some turmeric—then add your grated cheese at the end. No butter, flour or cream—and it's delicious!" he added.
Macaroni And Cheese
(no butter, flour, or cream)
Place the water in a saucepan and add the oil and salt; add the pasta and stir. Bring to a simmer over medium-high heat. Stir in the chicken base and turmeric and reduce the heat to a high simmer; cook, stirring often, until the pasta is tender. Remove from the heat and stir in the cheese, a little at a time, until it's fully melted.
Tonight, the show airs again, this time with Bob Jarvis as guest chef. No stranger to a restaurant kitchen, Bob grew up, he says, laughing, "crawling around the floor in the kitchen of the Chart Room in Cataumet." Now he owns the Quarterdeck in Falmouth Village, Bucatino's in North Falmouth, and the (seasonal) Pilot House in Sandwich.
Together we decided to feature one dish from each of his restaurants. "I think people would be interested in our clams casino," he told me, "and if we make the casino butter, there will be some left over to make a pasta dish if we want."
He also made haddock chowder, which is a specialty at the Pilot House. "But this was served every Friday night at my house when I was growing up," he said. "I want people to see how simple this is—you don't even need fish stock to make it—we will make our own as we cook." I wanted him to teach me to shuck clams, but soon realized that with a brand-new clam knife I would probably need the first-aid kit, so I gave up and let the chef do it.
He also prepared a pasta dish with a red sauce. "Arrabiata means 'angry' in Italian," he explained, "so you can make this as 'angry' as you want by adjusting the amount of crushed red pepper flakes you add." We had a good time cooking together, at one point deciding to sample the cooking wine he brought with him. We did have a little trouble managing the induction cooktop (even though we both cook with them at home), so there was the distraction of a beeping stove throughout some of the show.
Does Ina Garten have these kind of problems? I bet she did in the beginning! And we won't even go back to the early days of Julia Child on PBS—although I could probably learn a thing or two from both women. All the recipes prepared by the chefs are included if you watch the show, but in case you want to try a few right away, I am sharing some for publication here.
Casino Butter Recipe
Chop vegetables into small dice; add all ingredients to food processor and blend. Lay out parchment paper and put casino butter onto it in a log and twist up by tightening the ends.
Refrigerate or freeze to firm butter up for using; store in freezer.
Clams Casino
Shuck little necks and arrange on sheet pan. Add approximately 1 teaspoon of casino butter, cover with breadcrumbs and a piece of bacon.
Broil for 7 minutes and serve.
Haddock Chowder
Heat a soup pot over medium-high heat and add the butter; when melted stir in the onions and cook until soft, about 5 to 8 minutes.
Add potatoes, thyme, bay leaf and water or (fish stock).
Bring to a boil, let reduce for 5 minutes, then lower the heat, and simmer until potatoes are fork tender, about 10 minutes.
Season with salt and pepper and lay the fish on top of the potatoes; the liquid should be simmering.
Cover and cook for 5-7 minutes—check your fish—it should be opaque all the way through (thicker pieces could take longer).
Add the half and half and return to a simmer; check seasoning, add salt and pepper and serve hot.