My favorite story about posset comes from William Shakespeare. Lady Macbeth used the pudding to poison the guards outside Duncan's quarters in the second act: "The doors are open, and the surfeited grooms Do mock their charge with snores. I have drugg'd their possets…That death and nature do contend about them, Whether they live or die."
But that's probably just my dark side emerging. There are numerous other fables that stretch out over the centuries, including many other legendary writers. For foodies, however (and yes, the term is still in use), I have found that this is a little-known technique. I discovered it this summer when teaching at Highfield, and it's since become one of my favorite desserts.
A posset (also historically spelled poshote, poshotte) was originally a popular British hot drink made of milk curdled with wine or ale, often with spices such as nutmeg or cinnamon added. Its use was often medicinal—or malevolent, as Gruoch (the real Lady Macbeth's first name) plotted in the play. Posset was considered a specific remedy for some minor illnesses, such as a cold or a fever. Also, it was used as a more general remedy for other ailments—even today people drink hot milk to help them get to sleep.
In the 16th century the drink evolved into a cream, sugar and citrus-based confection, which is still consumed today as a cold set dessert. Lemon posset is now better known as a silky, rich British dessert with bright citrus flavor. Mary Berry, a British institution made popular by "The Great British Bake-Off" (renamed for American PBS television), has a number of "cookery books" that contain her signature recipes, most of them fairly simple to make.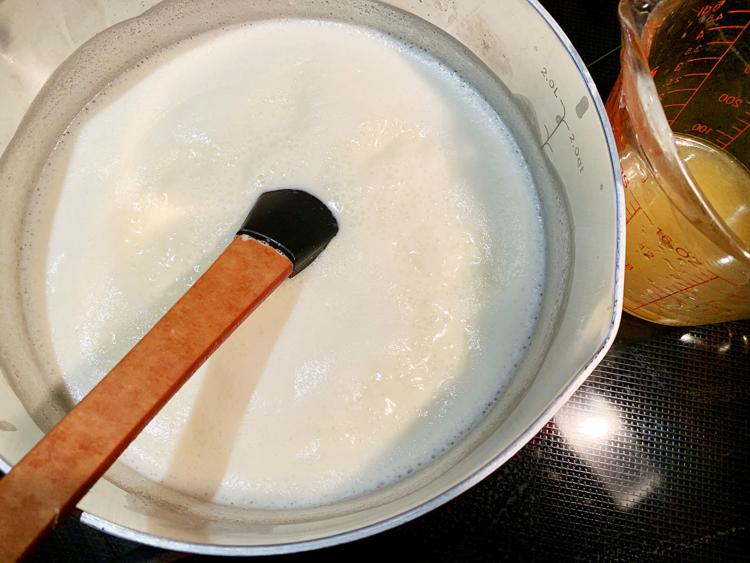 This silky, rich pudding is one of those dishes that, when served, becomes more than just the sum of the ingredients. It's tangy, smooth, and very rich—best served, I believe, in small portions. Small glass jars or glasses are best. If you have some left over after you have filled those, pour some into a larger dessert bowl before chilling, and share it as a special treat with someone you love (note that I am not bringing up Lady Macbeth again at this point in the column).
Ingredients for this delicious custard are simple: heavy cream (or double cream as the cookery books recommend), lemon and sugar. Perhaps a pinch of salt, and a dash of vanilla, as Tieghan Gerard suggests. It was her "No Fuss Lemon Tart" that we made this past summer, and her recipe is a definite keeper. She uses honey instead of sugar, and makes a salty-sweet tart base with graham crackers and pretzels—a nice combination.
Some posset recipes call for straining the custard to eliminate the lemon zest, but I don't think that's necessary. I'm including the recipe from "America's Test Kitchen" here, along with the one referenced above from halfbakedharvest.com. Also, I'm giving you one for the low-carb version, popular with followers of the keto diet. In the depths of a cold January, this dessert will remind you of sunnier, and warmer, skies.
Lemon Posset
"We found that using just the right proportions of sugar and lemon juice was the key to custard with a smooth, luxurious consistency and a bright enough flavor to balance the richness of the cream. Lemon zest was essential to making the lemon flavor even more prominent. For a posset with an optimally dense, firm set, we reduced the cream-sugar mixture to 2 cups to evaporate some of the water before adding the lemon juice, which in turn caused the mixture to solidify. Letting the warm mixture rest for 20 minutes before straining and portioning allowed the flavors to meld even more and ensured a silky-smooth consistency. Pairing the dessert with fresh berries for textural contrast helps keep it from feeling overly rich."
Combine cream, sugar, and lemon zest in medium saucepan and bring to boil over medium heat; continue to boil, stirring frequently to dissolve sugar. If mixture begins to boil over, briefly remove from heat. Cook until mixture is reduced to 2 cups, 8 to 12 minutes; remove saucepan from heat and stir in lemon juice. Let sit until mixture is cooled slightly and skin forms on top, about 20 minutes. Strain through fine-mesh strainer into bowl; discard zest. Divide mixture evenly among 6 individual ramekins or serving glasses. Refrigerate, uncovered, until set, at least 3 hours. Once chilled, possets can be wrapped in plastic wrap and refrigerated for up to 2 days. Unwrap and let sit at room temperature for 10 minutes before serving. Garnish with berries and serve.
No Fuss Lemon Tart
To make the crust, pulse the graham crackers and pretzels into semi-fine crumbs in a food processor; add the butter and 2 tablespoons honey and pulse until the mixture holds together when pinched and starts to look like dough. Press the dough into an 8- or 9-inch tart pan with a removable bottom to form a flat, even crust; bake in a preheated 350°F oven and bake until toasted, about 8 minutes. Meanwhile, combine the heavy cream, remaining honey, and lemon zest in a large pot—bigger than you think you'll need; set over high heat and bring to a boil. Once boiling, boil 5 minutes and then remove from the heat and whisk in the lemon juice, vanilla, and a pinch of salt; let cool 10 minutes, then carefully pour the lemon cream into the baked crust. Cover and chill 1 hour or until set; before serving, remove the tart from the pan and top with fresh berries.
Low Carb Lemon Posset
Grate the lemon until you have 1 TBSP grated lemon zest, taking care to avoid the bitter white pith of the peel; cut and squeeze the lemon until you have 3 TBSP of fresh lemon juice. In a medium saucepan, combine the heavy cream, Swerve, and 1 TBSP of lemon zest; place the saucepan over medium-high heat. While waiting for the mixture to come to a boil, stir constantly to dissolve the sweetener, about 1 minute; when a rapid foamy boil is established, stir frequently and decrease the heat as needed to maintain a steady boil (watch carefully to avoid boiling over). When 5 minutes of foamy boiling have elapsed, immediately turn off the heat and pour the mixture into a heatproof measuring glass. The mixture should be reduced to just shy of 1 cup; if you have more than that, pour the mixture back into the saucepan and boil for another 1-2 minutes and measure again. With the mixture in the measuring cup, add 3 TBSP lemon juice and stir it in. Let the mixture sit at room temperature for about 30 minutes or until a skin forms on top, keeping it in a cool area away from hot ovens. Using a fine mesh sieve, strain out all solids including lemon zest, applying pressure to the mesh to squeeze out liquid. Discard the solids—you should be left with a smooth and thick liquid, about 2⁄3 cup. Evenly divide the liquid among three tiny serving glasses or bowls; refrigerate them uncovered for 3 hours. Once they're set, top with blueberries and cover with plastic wrap; store them in the refrigerator until ready to serve.