Members of the Bourne High School Drama Club have added puppeteering to their repertoire as they prepare to mount a virtual production of "Charlotte's Web," set to be streamed in April.
Without a live audience being able to enter the auditorium, the club is filming the show instead of performing it live. Cast members have mixed feelings about this approach, but they are grateful to be able to perform at all.
"Having a production that you work on for so long and then not be able to perform in front of a live audience is, of course, a little heartbreaking," said Krista Nee, 10th grade, who plays Mrs. Arable, the mother of Fern. "But to be working with this cast and Mr. Burke as our director, it makes it all worth it."
She said that she feels blessed to be working on this project and that doing so has given her a new perspective as to what theater is all about. Krista said the bonds she and her castmates have forged are like no other.
Senior Faith Sexton, who plays Fern's aunt, Edith Zuckerman, said this production has been rewarding and noted that director Tristan Burke has had a plan to overcome every obstacle that has been in the way and found safe ways for the students to perform the show.
"Overall, my experience has been uplifting, powerful, and captivating," she said.
Sophia Sederman, a senior who plays Fern, the girl who saves piglet Wilbur from the axe, said that some of the obstacles that the cast have had to learn to overcome include learning how to act while wearing masks that cover up facial expressions and vocal projection.
She said that knowing they would not have a live audience was another obstacle.
"I believe that the optimism and energy of this cast and crew as a whole have truly helped us all to overcome these many obstacles," she said.
Junior Grace Russell plays Wilbur, the award-winning pig whose life is saved by Fern and whose merits are bolstered by the artistic web-spinning of the spider, Charlotte.
For the animal characters, the actors have learned how to work with puppets. Grace said she was excited about this aspect from the beginning.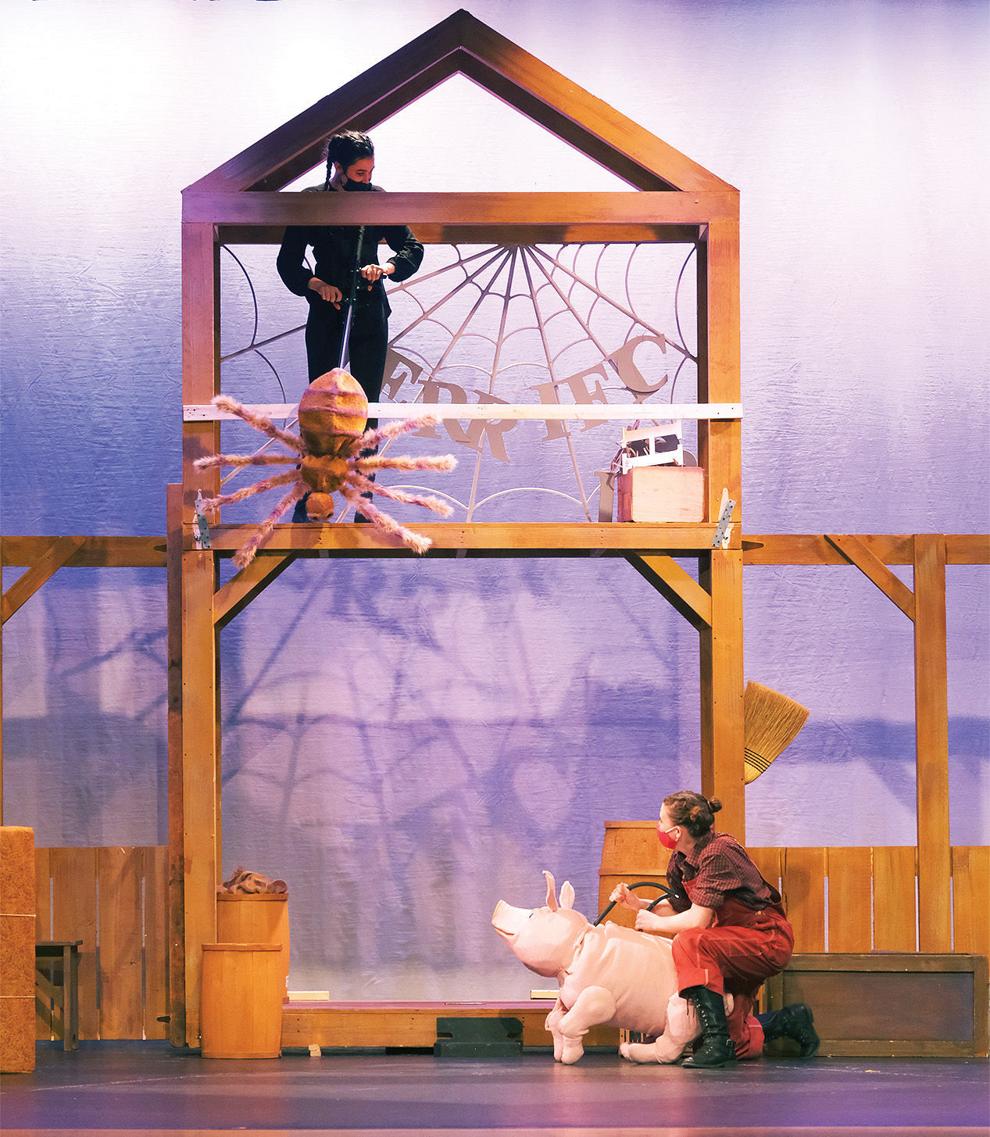 "I've had a fantastic time bringing Wilbur to life," she said. "I'm very grateful for the opportunity."
She said the students began learning how to maneuver puppets even before the official ones arrived on the set. Initially not having a puppet to work with, she said that she tried to imagine the puppet rods in her hands as they worked on blocking the show.
Another challenge she said that she had was figuring out what Wilbur would sound like.
"I've gone with making him sound very young and naïve throughout most of the show," she said. "and have become quite comfortable with making pig noises while onstage."
Grace said that this production has been a lot of work but is worth it if it means the students are able to continue to have theater.
Madison Sexton, 10th grade, plays Little Lamb. She said that this has been a challenging, yet uplifting experience.
"As we learned our lines and spacing, the show started to come together," she said.
Freshman Ella Langley plays Fern's older brother, Avery, as well as the baby spiders, and is a member of the chorus. For Ella, part of the challenge with the show was finding the motivation to go on stage the same way as before the pandemic. Being required to socially distance and not having an audience have made it difficult.
For this show, since the actors are not able to touch each other, she said that some of the moments that would usually take place between the human characters cannot happen.
However, she is trying to see the positive aspects of the experience, too.
"One of the upsides, however, is that in the process of filming our show, we do not have to worry as much about slip-ups," she said. "If we made a substantial one, we could go back and fix it in editing."
Additionally, since the show is being recorded, she has been cast in three different roles. She said that she has found it fun to jump between the characters and play with their personalities.
"Even though it hasn't been easy, it is a truly amazing feeling to be back on stage after being gone for so long," she said. "We have worked and pushed through and we have come up with something we are truly proud of."