Bourne School Committee member Kari MacRae said at a board meeting Wednesday evening, September 22, that she will not resign from her position on the committee over controversial videos she posted on the TikTok site.
Around 200 people attended the meeting in the auditorium at Bourne High School, which was open for public comment before the school committee met for a closed-door executive session to discuss the concerns community members brought forward about Ms. MacRae's social media posts.
The posts in question at the meeting include a video from May of Ms. MacRae voting for herself for the elected position.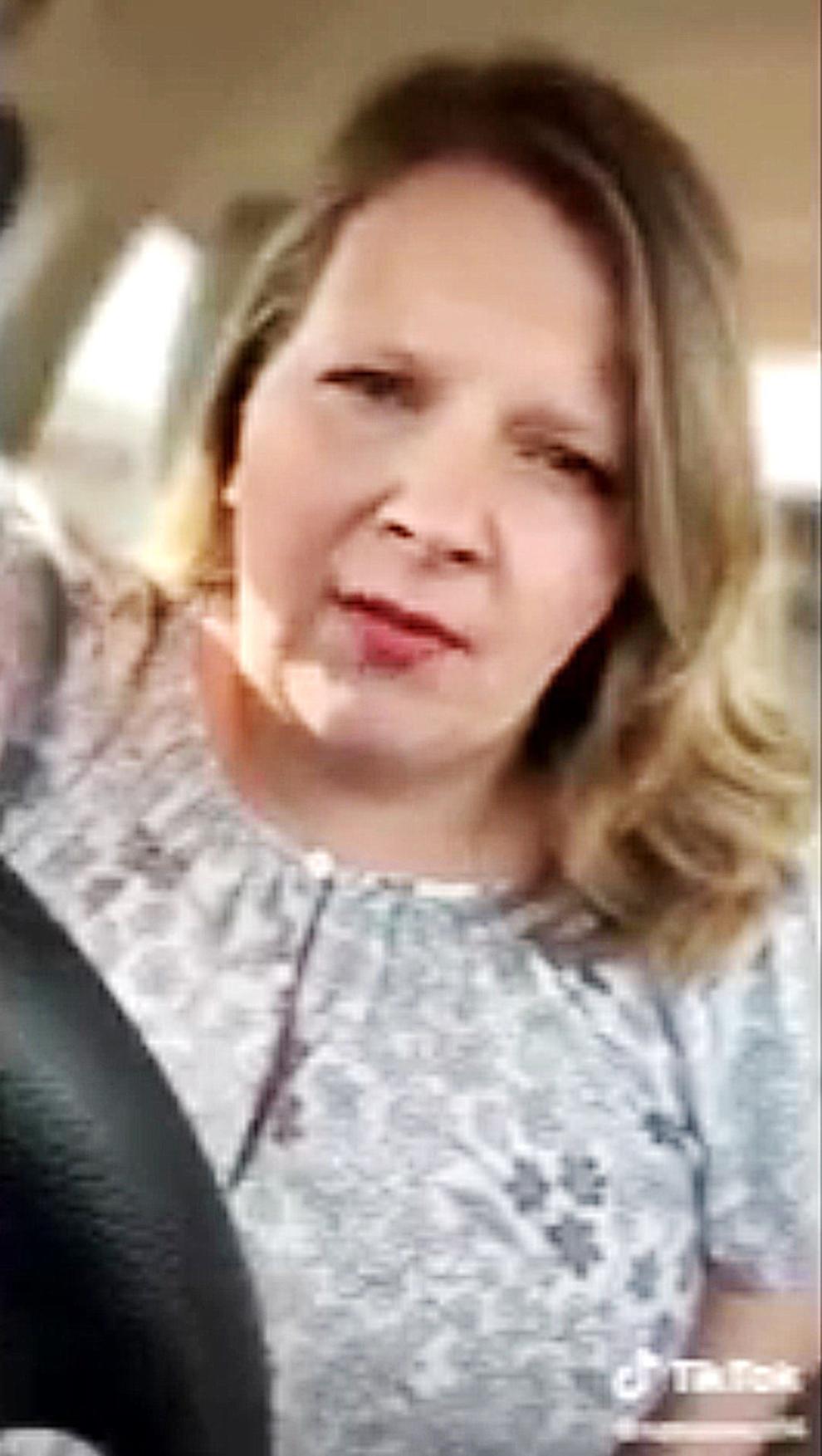 "The reason why I ran for school board and the reason why I'm taking on this responsibility is to ensure that students, at least in our town, are not being taught critical race theory; that they're not being taught that the country was built on racism; so they're not being taught that they can choose whether or not they can be a girl or a boy," Ms. MacRae said in the video. "It's one thing to include, and it's one thing to be inclusive, and it's one thing to educate everyone on everything. It is completely another thing to push your agenda, and with me on school board that won't happen in our town."
She also posted a video of US Assistant Secretary for Health Rachel Levine, a transgender woman, with Ms. MacRae's caption over it: "'I'm an expert on mental health and food disorders'...says the obese man who thinks he's a woman."
The meeting Wednesday night was an hourlong forum for the public to voice their opinions on the issue. The school committee has a regularly scheduled meeting on October 6, where Ms. MacRae has said she would make a public apology.
The school committee, the school district administration and the teachers' union do not have the power to remove Ms. MacRae, as she is an elected official. As she said she will not resign, the only way she would be removed from office before the end of her term would be by a public recall vote.
According to the Bourne Town Charter, elected officials are not eligible to be recalled until they have been in office for at least six months, which means that Ms. McRae could not be recalled before November 19. Any elected official may be recalled by an official process that begins if any 250 or more qualified voters file an affidavit with the town clerk.
Comments By School Officials And Employees
School committee members Maureen Fuller, Ryan Bagdonas, Erin Perry, Paul McMaster, Emily Berry and Ms. MacRae all spoke during Wednesday's meeting.
"You have a right to your beliefs, but as a public figure representing our school district, voicing beliefs that repudiate and mock the recognition and respect of individual differences, views which actively advocate for the slander and denial of equitable treatment for whole groups of Bourne students, I firmly believe that you have no place on the Bourne School Committee," Ms. Fuller said.
Ms. Bagdonas said school committee members should disagree on budget allocation and approaches to labor disputes, not "making fun of transgender kids on social media."
Mr. McMaster held up a printed photo of Ms. MacRae's video featuring Rachel Levine to the crowd and said the school committee must reaffirm their support for transgender students.
Ms. MacRae addressed the crowd and the community members who had showed up to support her. She said she ran for school committee because she cares about public education and ran the TikTok account under a pseudonym to keep it private from students.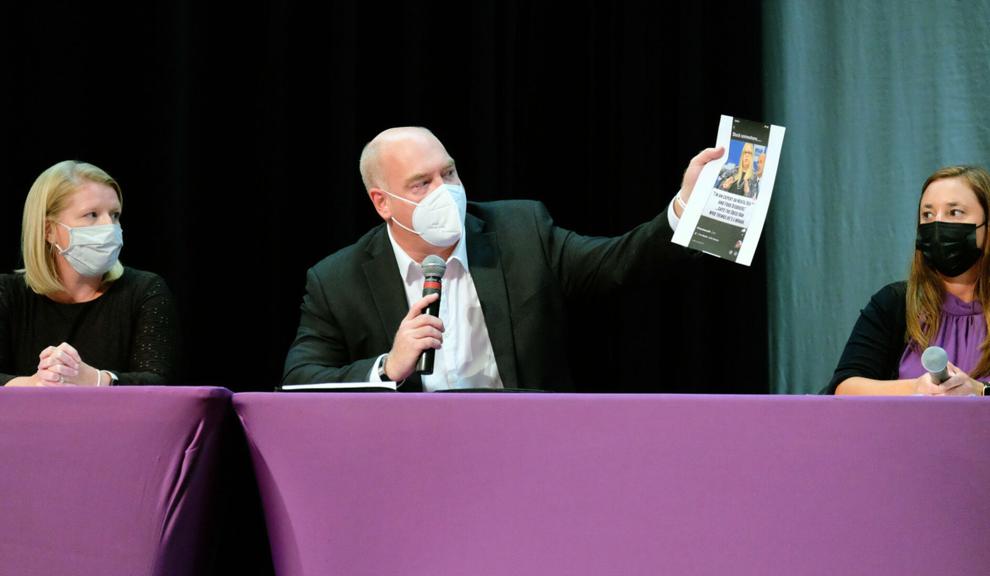 "Because of my political views on certain topics, especially as they relate to public education, I'm now being labeled as transphobic, homophobic and racist," she said.
Ms. Berry, the school committee chairwoman, said that the committee would not focus on Ms. MacRae's comments about critical race theory because it is not taught in Bourne schools.
The video in which Ms. Macrae said she does not want children to be taught that they can choose to be a boy or a girl, she said, was her response to cases across the nation regarding transgender women competing in women's sports.
"As a mother of three women, I am passionate about making sure everyone is treated equally and fairly, including women," she said. "I do not believe that children should be taught that they can choose whether or not to be a boy or girl. The key word here is 'taught.' I believe that members of the LGBTQIA+ community should be able to identify as how they see themselves."
Ms. MacRae said she is a mother of a biracial, bisexual daughter who was in the audience Wednesday night.
Her foster daughter, Nia Ferias, came to support Ms. MacRae.
"I do agree with some of the people who came out tonight that we have to be inclusive, but I don't think her videos said, 'F* gay people' or anything like that; she just said it shouldn't be taught," Ms. Ferias said after the meeting. "I saw a TikTok video of a little kid in a preschool, and they were asking him what his pronouns were, and that's just inappropriate."
Ms. MacRae ended her comment by saying she would not resign and thanked community members, past and current students, and school staff members who had reached out to her to show support.
After she concluded her comment, about 50 members of the audience stood up to cheer and wave "I'm with Kari" and "All opinions matter" signs.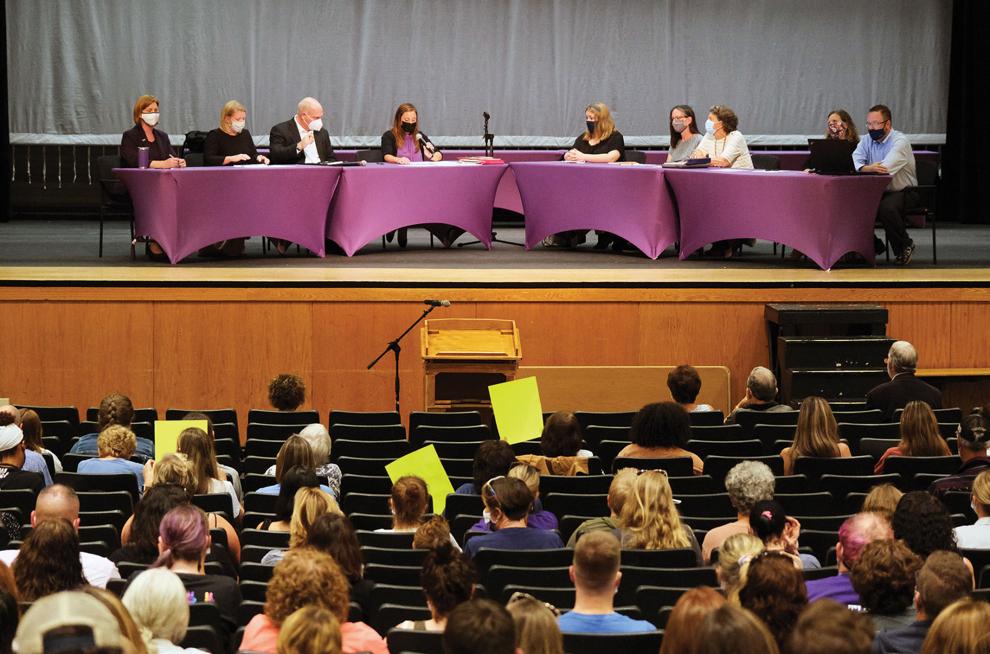 Following the members of the school committee, Bourne educators came to the stand to speak.
The Bourne Educators Association, the teachers' union for the school district, and the Bourne public schools' administrative team both called for Ms. MacRae's resignation. Many teachers' union members wore rainbow-colored masks in support of LGBTQ+ people.
A letter from the school administrators asking the committee member to step down was read aloud and signed by the principals of all four Bourne public schools, Superintendent Kerri Anne Quinlan-Zhou and other administrators.
"The core values of the Bourne Public Schools are: be respectful, be responsible and be safe," teachers' union president Ann-Marie Strode said. "The sentiments that were posted have had a negative impact on our students and on our staff members. They do not represent who we are as a school community."
Parents of students in the district and concerned community members also came forward to speak.
A parent of two 2nd graders at Bournedale Elementary School and a gender-nonconforming woman, said she and her wife found an accepting community in the Bourne Public Schools. Over the three years her sons have been in the district, she said, the teachers and administrators have always been supportive of her family.
She said she hoped this inclusive environment continues.
"There are over 400 students at Bournedale Elementary, and statistics will show that about 40 of them are LGBT students," she said. "They might not know it yet; their parents may not know it yet, or maybe they do. They are hearing this and taking it in."
The parent said having a culture of acceptance in schools means "all the difference in the world for a person like me."
Other members of the LGBTQ+ community also attended the meeting to speak out and, in some cases, called for Ms. MacRae's resignation.
Connor Ryan is a senior at Bourne High School and the acting president of the school's Gender Sexuality Alliance, who described himself as an "out and proud transgender student."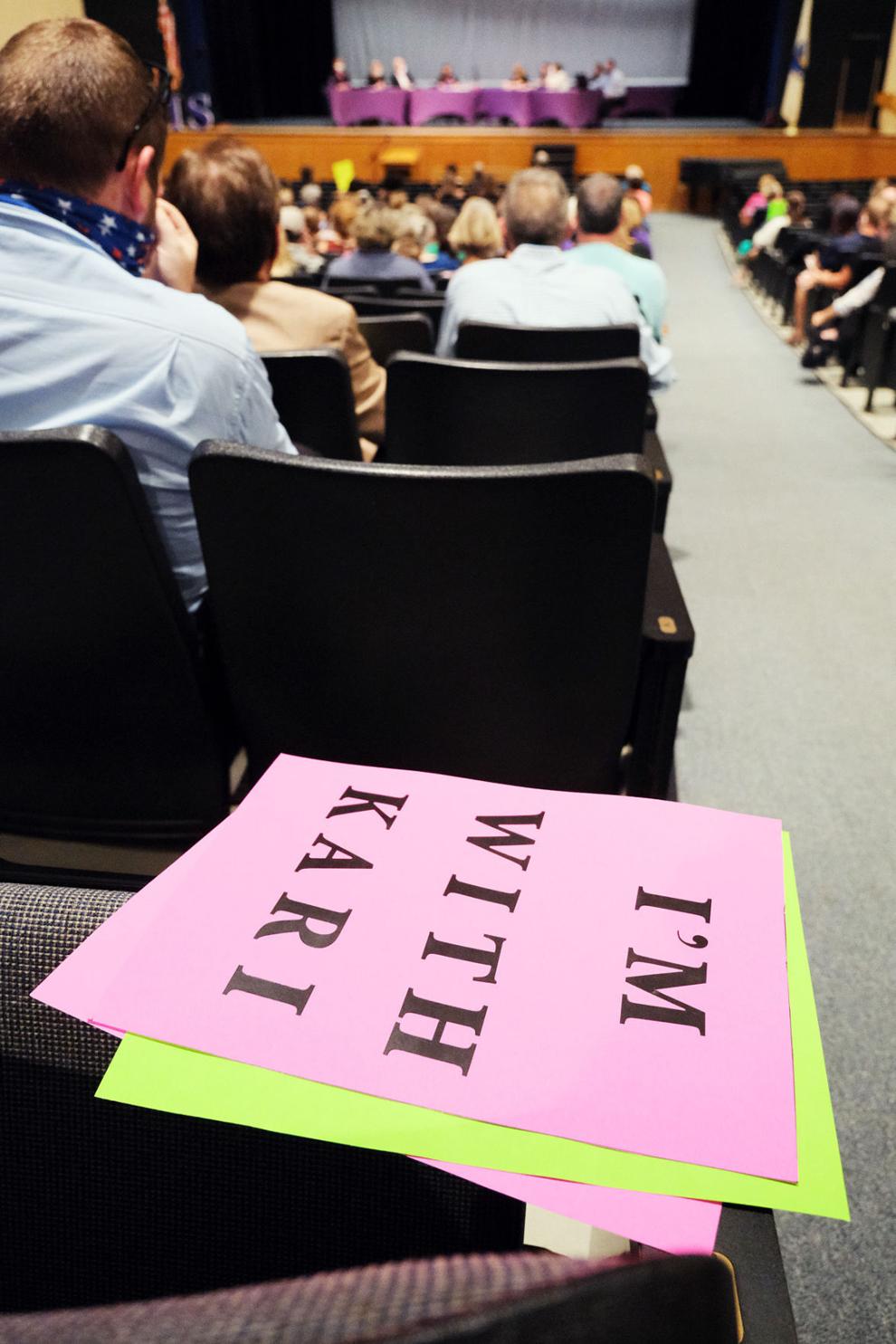 Mr. Ryan said he transferred to Bourne High School during his freshman year because of an unsupportive environment at his old school. When he arrived in Bourne, he said he found the supportive community he had hoped for.
"Now, I've learned that a member of this district's school board, the district that I am so proud to call my own, believes that my identity, who I am, is not only a choice but it should be erased in education entirely," Mr. Ryan said.
He also read statistics from the Trevor Project about the high rate of suicide among transgender and nonbinary youth in the United States. According to the nonprofit, suicide is the second-leading cause of death for young people in this community between the ages of 10 and 24.
Several other members of the public brought up this statistic, citing it as evidence of why schools must do what they can to support these students.
"I can personally vouch for the positive effects of being constantly supported, just from how much happier I have been since I've been in Bourne," Mr. Ryan said. "I will be graduating at the end of this year, but I would rather stay here for another four years than let this school turn into the nightmare my old school was for trans kids."
Many in the audience stood and clapped for Mr. Ryan as he walked back to his seat after speaking, and a teacher stepped out into the aisle to hug him.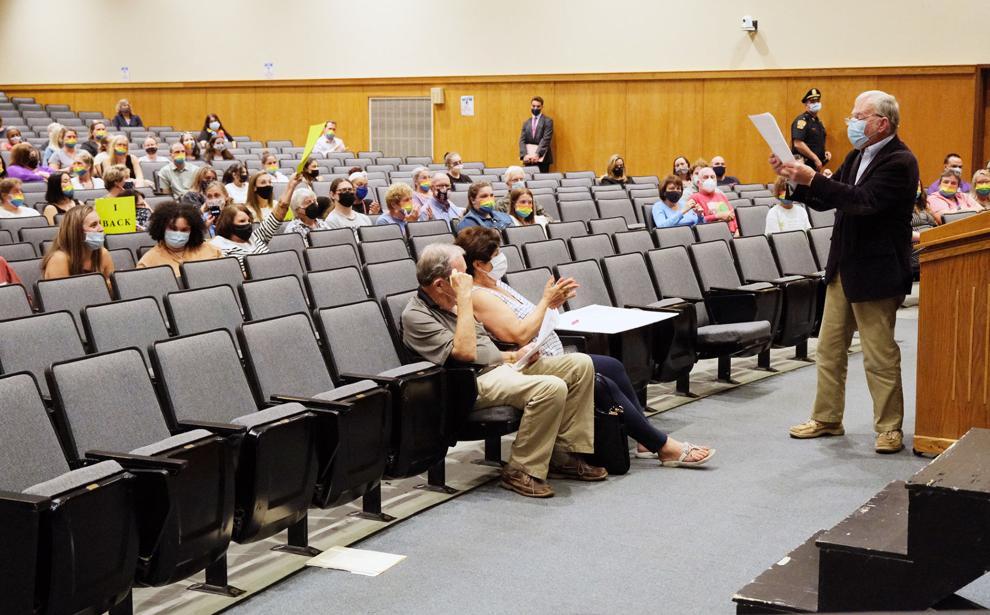 Others spoke out in support of Ms. MacRae during the hour slotted for public comment.
Francis Cichowski, a resident who lives in Pocasset with his wife, said he is proud to have Ms. MacRae as his representative.
He said Ms. MacRae was against teaching children about gender identity in schools because the correct place for those conversations to happen is within families.
"Ms. MacRae also felt that the family was the place for recognition, guidance and support of physical, intellectual and emotional growth," Mr. Cichowski said. "Furthermore, the family was responsible for the establishment of and nurturing of their collective moral compass."
As Ms. MacRae is an elected official, he said, it is her responsibility to represent the opinions of the voters who elected her. He felt the statements she made in the TikTok videos were representative of voters like him.
As his three minutes of time at the podium ran out, Mr. Cichowski began to shout the rest of his pre-written statement.
He was removed by police for being out of order, still shouting his last statement, "The committee must exonerate Ms. MacRae and allow her to fulfill her obligation and serve her constituents."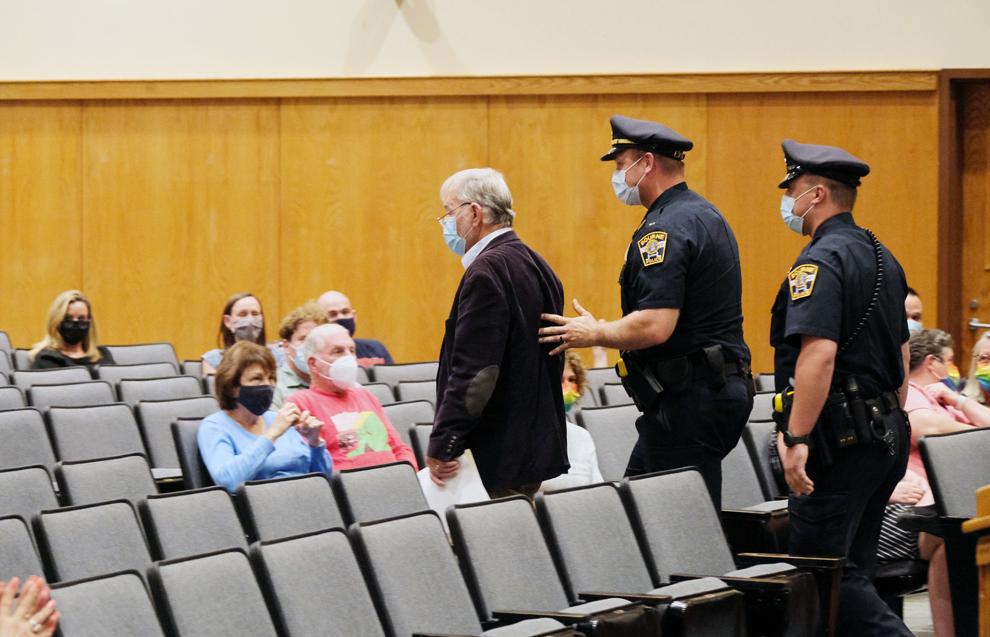 Vanessa Williams, a parent of a Bourne student, called the meeting a "witch hunt" and also said Ms. MacRae represented her opinions.
Mary Zanino, a minister, said she came Wednesday night to support Ms. MacRae based on the video she had seen where the school committee member says gender identity should not be taught in schools.
However, after seeing the screenshot of Ms. MacRae's video regarding Rachel Levine, she said she could no longer support her.
Ms. Zanino added that, while she could not defend Ms. MacRae, it is becoming difficult to have conservative views and not be viewed as a bigot.
"I must be able to put aside what I think I believe in order to love, respect and honor another person," she said. "But be careful—and I'm speaking to you, everybody in the rainbow masks—that you start honoring us."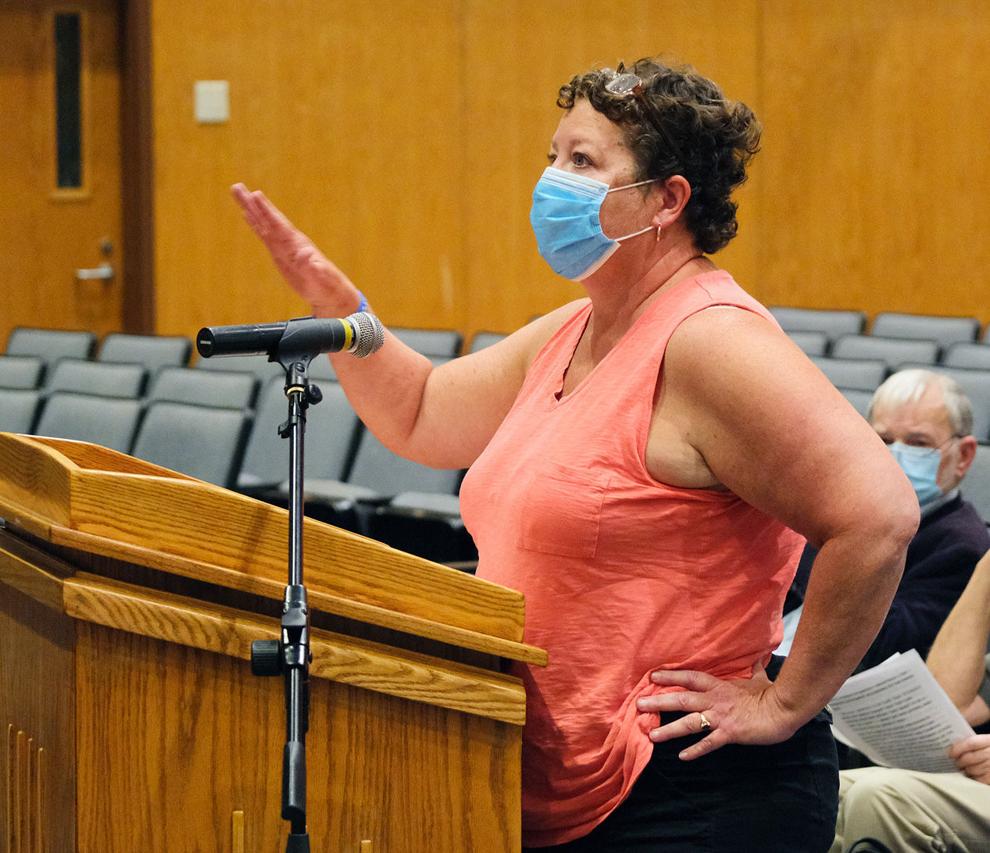 She said there is conservative thought in Bourne, so there needs to be conservative thought among its representatives.
The hour for public comment ended exactly at 7 PM, and several people who had signed up to speak did not get a chance at the lecturn. Ms. Berry encouraged anyone who still had thoughts they would like to share to email the school committee.
As the public filed out, the school committee met for its closed-door executive session to discuss the issue among themselves.