New vehicles topped town officials' wish lists as the Bourne Capital Outlay Committee heard the first round of funding requests during its meeting Monday night, December 2.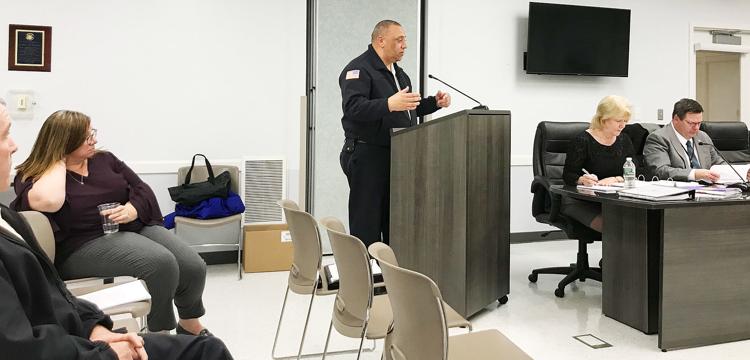 The Bourne Fire Department and the Bourne Recreation Department each have submitted requests for new vehicles.
Requests for dredging and guardrails also came before the outlay committee.
Bourne Fire Chief Norman P. Sylvester submitted requests to two new vehicles: a new Chevrolet K2500 pickup truck, and a new Chevrolet Tahoe SUV. The pickup costs $51,202, and the SUV goes for $51,574.
Chief Sylvester said the new pickup truck would be purchased with the snow-plow package, so it would be available for snowplowing duty. It would replace a 2010 model that has a bed which is rotting through. Edwin Rivera, vehicle maintenance foreman with the Department of Public Works, has expressed interest in taking over the old vehicle, the chief said.
The chief said there are two SUVs, both Chevy Tahoes, currently in the fire department vehicle pool that could be replaced: a 2013 and a 2014 model. The 2014 model has less mileage on it, but a history of more maintenance issues, he said. Mr. Rivera has advised keeping the 2013 model, the chief said.
The chief also requested $29,000 to buy a new air compressor for the department. The compressor refills the air bottles firefighters use when they enter a burning building, the chief said.
At one time, the department had two compressors. Now, there is one working compressor at the station in Buzzards Bay. The Sagamore Beach station is using one borrowed from Onset, the chief said.
Both Town Administrator Anthony E. Schiavi and Mary Jane Mastrangelo, capital outlay committee chairwoman, agreed that the compressor should be replaced soon and via a different funding source than the capital budget. Such a purchase should not wait until the town budget for the coming fiscal year gets approved at Annual Town Meeting next May.
"You can't be waiting until FY '21 for a critical piece of equipment," Mr. Schiavi said.
Recreation Director Krissanne M. Caron has applied for $33,000 to purchase either an SUV or a pickup truck for her department. Ms. Caron said it would be the first vehicle designated specifically for the recreation department.
"We are running more off-site programs," she said, "and doing more in the schools and at other recreation locations we have. Not having a dedicated vehicle for the department makes it very challenging."
Until now, she said, her department has relied on vehicles borrowed from other departments, such as the Department of Public Works, or her own car to transport equipment, such as lifeguard rescue boards.
The department's summer program is run at Bourne Middle School, she said, but there is no storage there for equipment. It has to be hauled back and forth daily. A dedicated vehicle would streamline things and make everything more efficient, she said.
Ms. Caron added that she is flexible, and she would accept a "hand-me-down" vehicle rotated out of another department's vehicle pool. She said the recreation department would "take whatever it could get and make it work."
"Honestly, I feel like that would be a really good option for the department," she said, "without having to spend 30-plus thousand dollars on a vehicle, if there was one that was suitable and was coming offline anyway."
Natural Resources Director Christopher M. Southwood represented the Bourne Shore and Harbor Committee Monday night. He submitted a request from that group for $200,000 for dredging and repairs and maintenance.
Mr. Southwood said that the amount is an annual appropriation from the committee.
"As you all are aware, we are a boating community," he said. "A lot of the economy is driven by the water around here, so keeping the channels navigable, and the mooring fields available, I think this is a request that should take top priority annually."
Mr. Southwood said he has spoken with David J. DeConto, the natural resources director in Sandwich, about clean spoils from dredging efforts in Bourne. He said that Mr. DeConto has expressed interest in paying to have any clean sand transported from Bourne to Sandwich for beach renourishment.
As for his own department, Mr. Southwood submitted a request for $5,000 in capital funding to finish installation of a guard rail along Wright Lane at the Taylor Point Marina in Buzzards Bay. Mr. Southwood said that $21,000 had been allotted to pay for the guardrail. However, installation with that funding came up 125 feet short, he said.
"Based on the cost of the installation we've already done," he said, "the full length of Academy Drive, we're requesting an additional $5,000. That should finish off Wright Lane."
Mr. Southwood said his hope is to have the remaining guardrail installed before the summer season. He added that he may make an additional capital request later for work to be done at Monument Beach Marina.
The capital committee meets again Monday, December 9, at 7 PM at the Bourne Veterans Memorial Community Center. Ms. Mastrangelo said that the committee is expected to hear from the police department, the school department, emergency management, and Integrated Solid Waste Management.
Also Monday night, the capital outlay committee re-elected Ms. Mastrangelo as the group's chairwoman, and John E. Redman as vice chairman.