A brisk breeze at South Cape Beach kept the air temperature at the Bayberry parking lot workable on a warm Saturday in June when some two dozen scouts from Troop 38 in North Falmouth, scout leaders, parents and friends gathered to be part of a day-long Eagle Scout project.
Organized by 17-year-old Life Scout and senior Troop 38 patrol leader Dalton A. Watring of Cataumet, the project's goal was to clean up the parking lot, widen the narrow walking path into the woods, and build a kiosk for the trailhead.
As volunteer workers arrived, they headed to the end of the parking lot cordoned off for the project.
Two tents had been set up to provide shade—one for the portable generator and power tools, the other to house camp chairs, coffee, water, cold drinks, and snacks.
Hammers, mallets, rakes, loppers, clippers, spades, and a post hole digger were among the many tools neatly stacked for volunteers to use.
Dalton knows the South Cape Beach State Park area well because his father, David M. Watring Jr., worked there as facilities manager.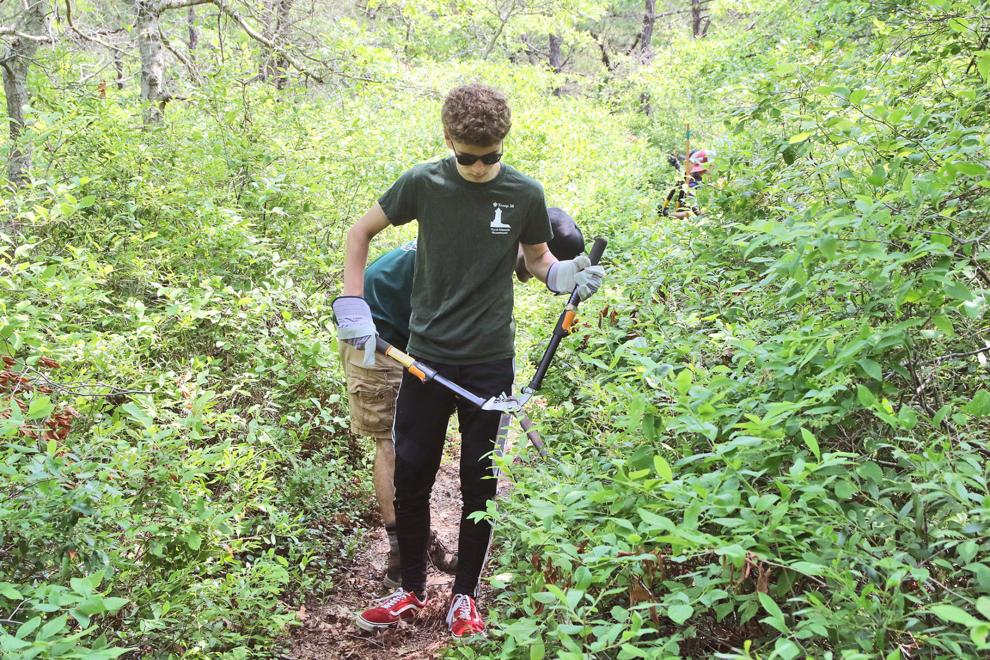 "I chose to do my Eagle Scout project at this location because it is a great area, and a great cause," Dalton said, referring to the research done by the Waquoit Bay National Estuarine Research Reserve, of which South Cape Beach is a part. "We're helping them out."
Several volunteers headed up the trail with clippers, loppers, and rakes to cut back encroaching greenery as far as the intersection, where one dirt road heads into the forest and a swamp, and the other, Will's Work Road, leads to a beach on Waquoit Bay.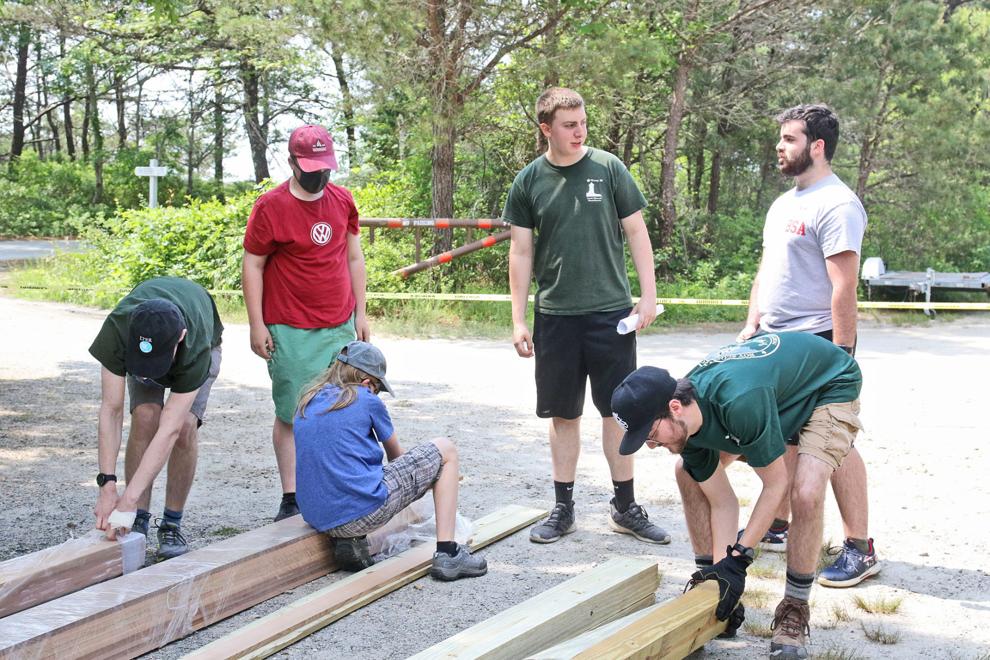 Dalton—carrying State Park kiosk building instructions—organized others who would clear brush at the trailhead (in preparation for planting three juniper bushes and a row of annuals), clean up the parking lot, and get started on building a large wooden kiosk.
As host on that hot day, Dalton made sure everyone knew where the snacks and drinks were located.
Passersby who arrived to use the trail asked questions and were impressed with the scope of the project.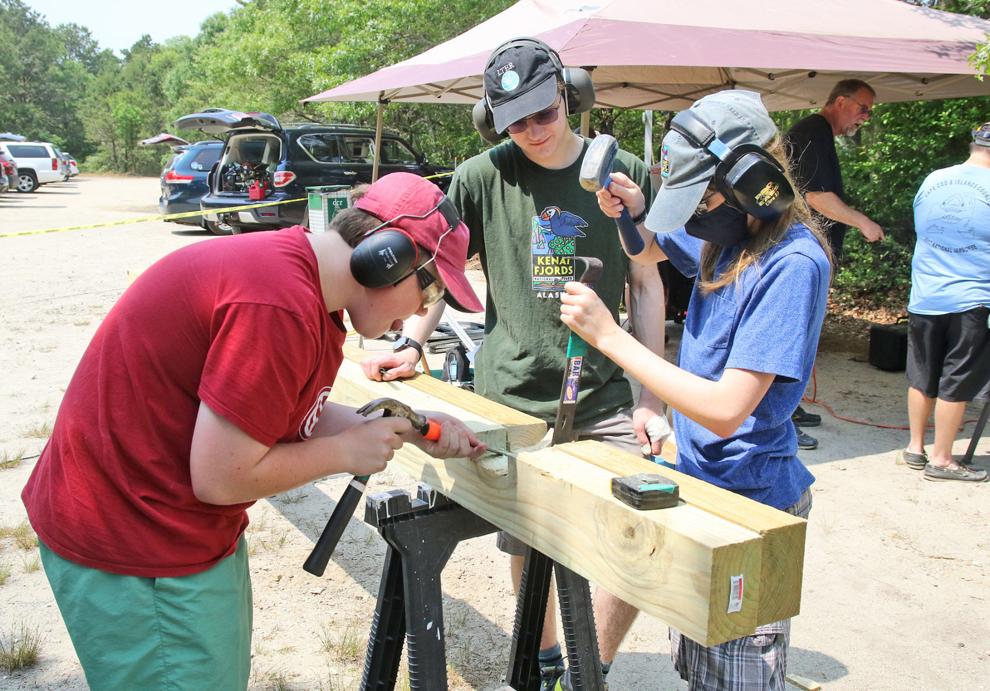 Lumber and materials to build the large wooden kiosk, worth $2,500, were donated by Mid-Cape Home Centers (formerly Wood Lumber Company) in Falmouth.
"Wood Lumber Company always supported the Eagle Scouts," hardware manager Gregory J. Souza said by phone. "We have carried out the tradition of supporting these young guys willing to donate their time and do something good for the community. We support them anyway we can."
"They have been so helpful and generous, especially during these times," David Watring said of working with Mid-Cape Homes Centers. "They've been awesome."
At lunch time, 10 boxes of pizza arrived, filling the back of one parent's car, and the workers took a break.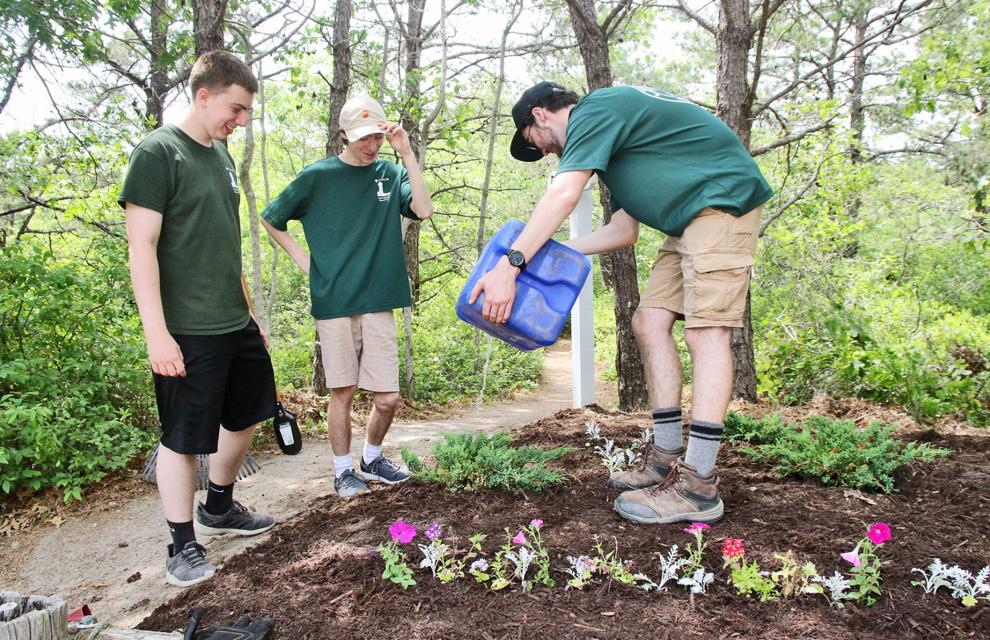 A few hours later, after focused and dedicated labor by scouts ranging in age from young teens to young adults, their parents, scout masters and friends, the project was completed—a big job well done.
With Dalton standing at the center, photos were taken of the group in front of the new kiosk, which is securely installed at a trailhead newly beautified with local plants and bark mulch.
The Department of Natural Resources will use the kiosk to post information, such as trail information and insect warnings.