A vote in favor of removing Bourne's chief of police from civil service regulations ran counter to advice from the town's most recent police chief. Former Bourne Police Chief Dennis R. Woodside said the position should remain a civil service one for several reasons, including the job protection it provides.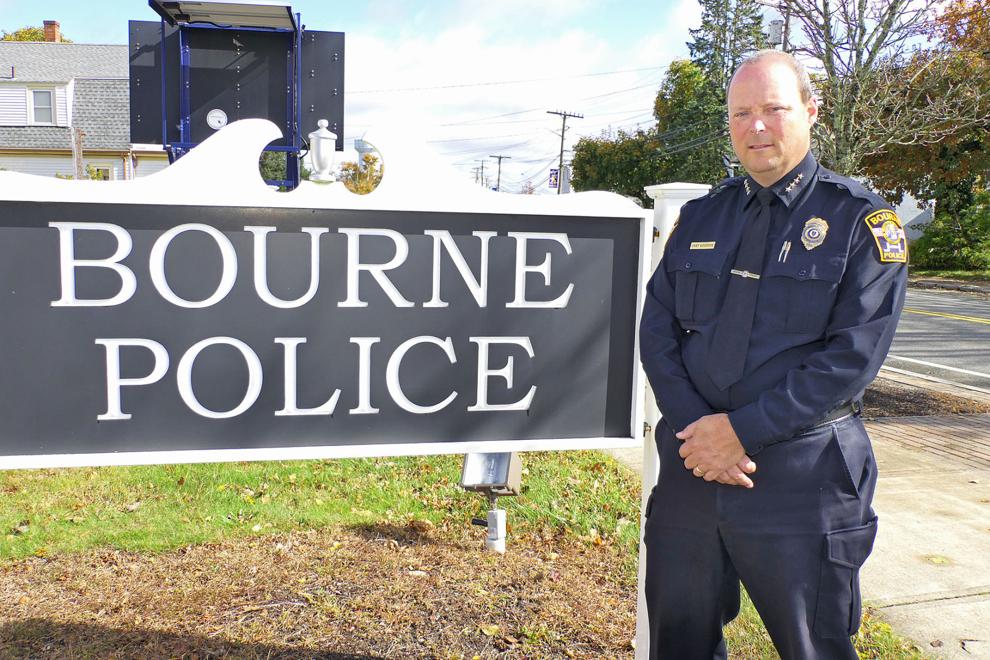 Mr. Woodside made his comments to the Bourne Charter Review Committee last month, April 21, a few weeks ahead of this week's Special/Annual Town Meeting. An article on the warrant for Annual Town Meeting called for removal of the police chief position from civil service. Residents voted 62 to 52 in favor of the removal.
A key issue with the removal of the police chief position from civil service, the chief said, is the loss of job protection. He noted that with that loss, no one currently in the police department—patrolmen, sergeants, detectives, lieutenants—would want to be promoted to the top spot in the department.
"Because they have protection now," he said. "They would have no protection. They could not risk that."
Mr. Woodside added that, whether the hiring process for selecting a new police chief is done through civil service or not, the process remains the same. Either way it is done by an assessment center, regardless of whether the town is hiring a new police chief or a new fire chief, he said.
"It's the same process," he said. "Everything is an assessment center."
Committee chairman Stephen F. Mealy asked Mr. Woodside to expand on his claim that removal from civil service would result in a loss of protection. Mr. Woodside offered himself as a test case.
He said he was appointed chief at the age of 44, and he retired at the age of 54. He pointed out that he had to stay on until he was 54 years old to get the maximum percentage in retirement benefits.
However, if he had to spend the last 10 years of his career without civil service protection, he said, he probably would not have accepted the appointment.
"I would not have taken that job; I don't see how you risk that," he said.
Town Administrator Anthony E. Schiavi was a major advocate of removing the police chief position from civil service. During Town Meeting Monday night, May 3, Mr. Schiavi argued that the best form of job protection is to do a good job for the community, not built-in safeguards that come with civil service.
Mr. Schiavi added that he was not in favor of the hiring process that comes with civil service. A list of applicants who have taken the civil service exam is submitted to the town, he said, and the individual with the highest test score gets the job.
That process, Mr. Schiavi said, does not factor in attributes that the community would want in its police chief. The administrator said he has appointed both civil-service and non-civil-service police chiefs in other towns. The process, he said, included submitting a survey to the public asking what traits people would want in their next chief of police. That, he said, is not something civil service cares about.
"What happens is we're allowing a system to tell us who our next police chief should be versus the community having input," he said.
On board with Mr. Schiavi was current selectman and former Bourne patrolman Jared P. MacDonald. Mr. MacDonald told the Town Meeting audience that the three police chiefs he served under, which included Mr. Woodside, were all chosen via civil service and he considered each to be poor managers and poor leaders.
"It's not about doing better on a test," he said. "It's about being a better professional, a better manager, a better leader and a better person."
Mr. Woodside also told the committee that, without civil service, the police chief's only option if he or she has a grievance is to take his case to superior court. That, he said, is not a path the town wants to have to go down.
Mr. Woodside said the only reason the issue came forward is because of his recent retirement, so town officials "can select anybody they want without following the rules." He posited that there could be a qualified civil service candidate available right now given all the notice that was given leading up to his retirement.
The former chief said there is a process through civil service for terminating someone's employment. He said it involves showing just cause for the firing, but it is part of a process that should be followed.
"If you get a police chief and he's not doing his job, then follow the process, just cause, and do it that way," he said.
Mr. Schiavi told the Town Meeting audience that approximately 60 of the police chiefs in the commonwealth's 351 communities are still civil service positions. Mr. Woodside concurred that a lot of cities and towns in Massachusetts have left civil service, but making a change just because others are "doesn't ring true to me," he said.
"What's the real reason you want to change it?" he said. "It's about power and control, and I don't think that's a good idea."