Monday night, November 25 at the Bourne Veterans Memorial Community Center was like watching two players in a high-stakes poker game seeing how far one could bluff the other.
The players: Local developer Vincent P. Michienzi and the chairman of the board of sewer commissioners, James L. Potter.
On the table: 27,000 gallons of wastewater allocation, previously appropriated for Mr. Michienzi's property at 105 Main Street, the site of the old Buzzards Bay movie theater.
In his hand, Mr. Michienzi held the promise of redevelopment of a property that currently sits empty and cordoned off by boulders.
The parcel, along with several adjoining properties, would be transformed into a residential-commercial structure.
Town records show that the owner of the 105 Main Street property is Mr. Michienzi's wife, Noreen P. Michienzi. The property measures 16,988 square feet. It was purchased in 2005 at a cost of $622,500. Currently, it has an assessed value of $219,000.
The property has attracted some attention. However, interested parties want to see how current redevelopment of Buzzards Bay plays out before they invest, Mr. Michienzi said.
In his hand, Mr. Potter held the sewer commission's authority to take back allocation from projects not underway.
The wastewater allocation tied up at 105 Main Street, he said, is preventing projects closer to shovel-ready from moving forward.
The chairman pointed out that the allocation for 105 Main Street has been in place for four years, yet no plans for development of the property have been filed with the town.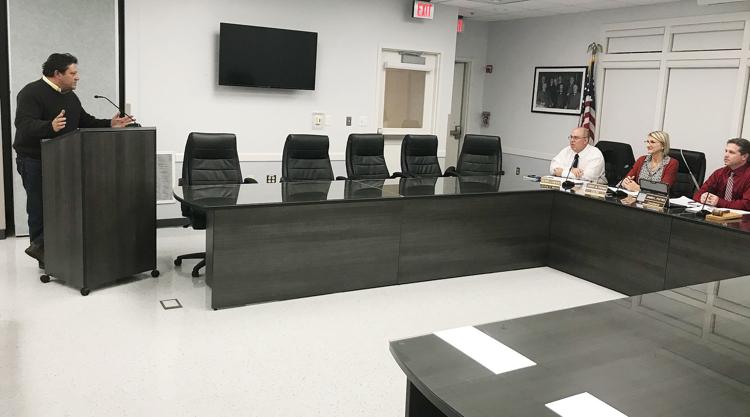 But he was quickly turned down when he asked if Mr. Michienzi could part with a little less than half his allotment.
"Would you consider giving up 10,000 gallons?" Mr. Potter queried.
"No," Mr. Michienzi said.
At issue is the amount of available wastewater allocation the town can offer new developments in Buzzards Bay. A longstanding agreement allows Bourne to send 200,000 gallons a day to the treatment facility in Wareham.
Some of that appropriation is tied up on properties, similar to 105 Main Street, currently undeveloped or not in use. Town Administrator Anthony E. Schiavi told the commission that, at present, the town has about 1,408 gallons of unassigned capacity.
Mr. Michienzi said that he needs the full allocated amount to properly market the property. He said that his vision for the property is precisely what the town's Local Comprehensive Plan calls for.
"We're fitting right into the town's plan for the economic development of the downtown district," he said. "We're going by your plan."
Mr. Potter countered that, while Mr. Michienzi may have an idea as to what will go on the property, nothing has been filed with the town. The job of the sewer commission, Mr. Potter said, is to review the needs of existing projects, some of which are waiting for wastewater allocation to get underway.
To that, both Mr. Michienzi and his wife questioned what projects the chairman had in mind. Mr. Potter declined to specify, other than to say that land had been purchased, and a developer will be before the sewer commission in the near future.
Town Engineer Timothy P. Lydon pointed out that the wastewater treatment plant slated to go in next to the new Bourne Police Station off the Route 6 & 28 Bypass Road is about 15 months from completion. The new plant is expected to increase the town's sewer capacity by 100,000 gallons a day.
Mr. Lydon suggested that any project of Mr. Michienzi's will take longer than the 15 months for the treatment plant to begin operations. The commission could take back a portion of Mr. Michienzi's allotment, but place him first in the queue for the new plant and have his capacity restored.
"I think we could find an agreement between the board of sewer commissioners and his project," Mr. Lydon said. "So is there a small amount we can maybe talk to the Michienzis about today?"
Mr. Potter and Mr. Michienzi both blinked.
Mr. Potter said that was what he was trying to get at with his suggestion to give some appropriation back to the town. He did continue to press with his assertion that the commission cannot condone having 27,000 gallons of allocation "not attached to a concrete plan."
Town administrator Anthony E. Schiavi said the unidentified project Mr. Potter was referring to needs about 2,300 gallons per day of wastewater appropriation. To accommodate that need, given the town's current available allocation, the project would need about 900 to 1,000 gallons of Mr. Michienzi's allotment.
The developer said he could live with that.
"If you approve their project, you take 900 gallons a day from me, feel free," Mr. Michienzi said. "I want people to do business in town."