Election Day 2020 has arrived, and despite the record number of residents taking advantage of early voting options, polling locations across the Upper Cape have been hopping.
Bourne Town Clerk Barry H. Johnson said there were people lined up at the town's three polling stations as early as 6 AM, an hour ahead of when the polls opened.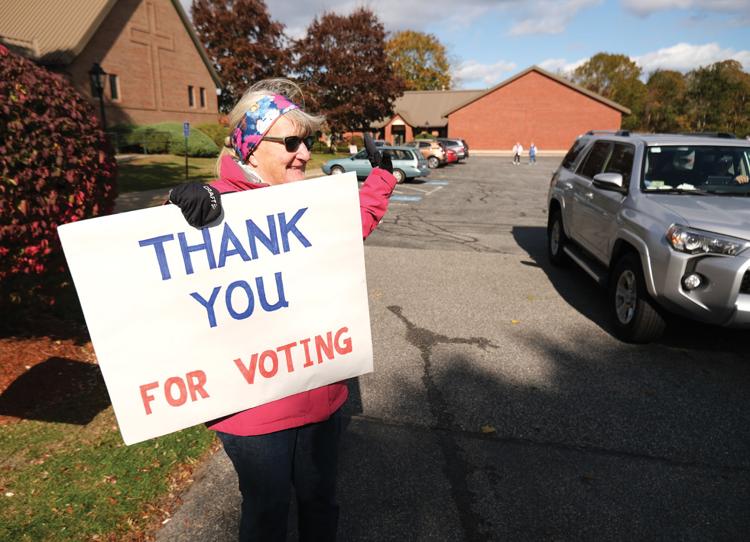 Voters showed up early in other towns as well, including Falmouth.
"We had people waiting at 6:30 AM to vote," Falmouth Town Clerk Michael C. Palmer said.
Given a high early-voting turnout, Mr. Palmer said, he was surprised to see lines of people waiting to vote throughout town. He expects the wait time will decrease as the day progresses.
Mr. Palmer said COVID-19 protocols are also partially to blame for the lines at the polls. Only six people are allowed in a polling station at a time, he said.
"We're voting during a pandemic, so people were expecting the lines," he said, noting Falmouth voters were wearing a mask when they visit the polls and were observing social distancing requirements.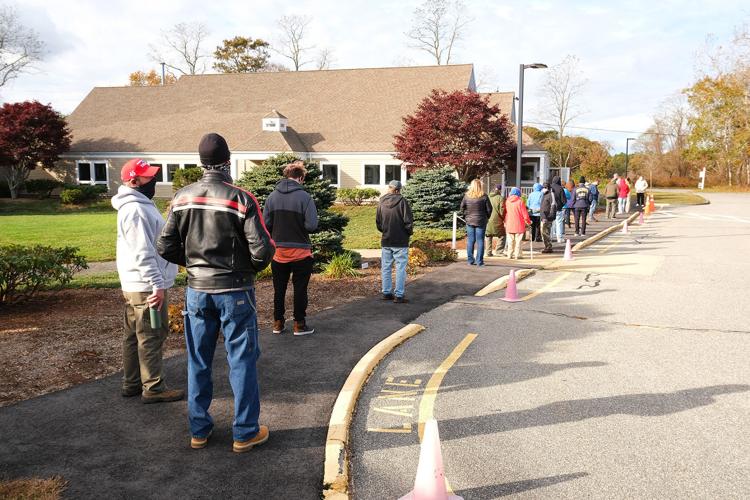 Sandwich Town Clerk Taylor D. White also reported people lined up early to vote.
The crush of voters continued for the first 30 to 45 minutes, Mr. White said, and then the crowds tapered off.
Turnout in Sandwich has been brisk.
By noontime, Mr. White said, about 2,200 people had voted at the polls.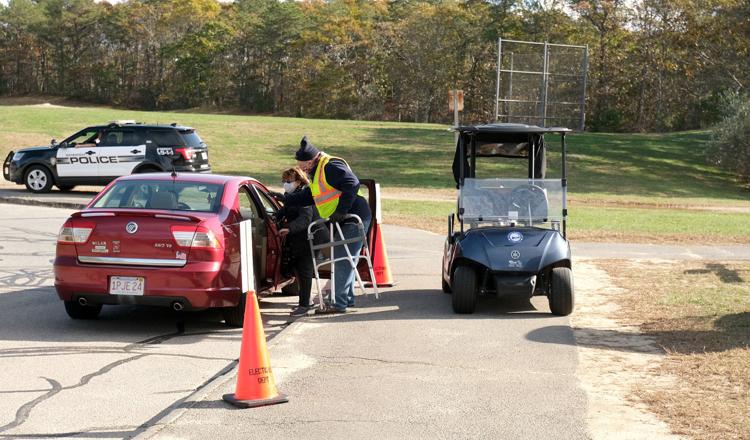 "If that number doubles by the end of the day, we'll be right on track for reaching a [total] voter turnout of 80 percent," he said.
That percentage includes early votes—both mail-in and in-person—and Election Day votes.
The polls in Mashpee have also been busy.
Mashpee voter Attaquin Weeden, a member of the Mashpee Wampanoag Tribe, said he felt it was important to vote in-person today. "I thought it was important because you know your ballot is going to make it," he said as he exited the polls just before 11 AM.
He said he voted for Joe Biden because he is more respectful of people, "especially for indigenous peoples," he said.
As of noontime, no disturbances had been reported at any of the Upper Cape polls.
In Bourne, police said one voter had to be asked to remove a hat that displayed support for one of the presidential candidates.
Bourne police said any kind of campaign attire—hats or buttons, for instance—featuring a candidate's name or slogan cannot be worn once inside the voting area.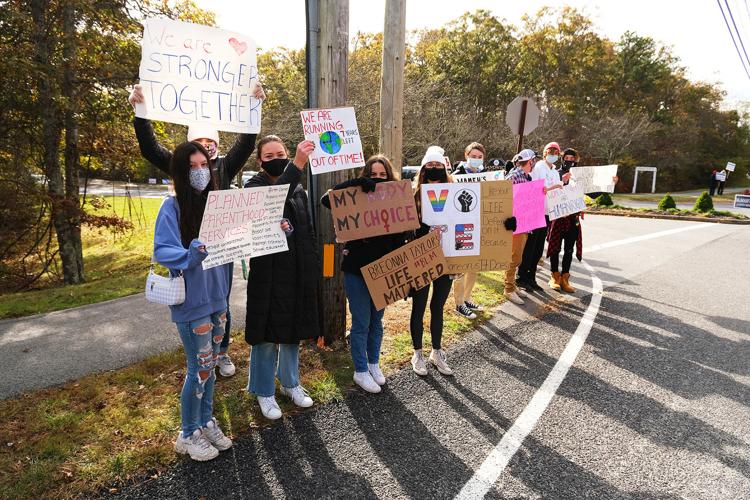 At the Oak Ridge School polling site, some young protesters stood along the Quaker Meetinghouse Road entrance to the school holding signs in support of pro-choice, Black Lives Matter and gender equality, among other issues. The protesters were high school age and were too young to vote but wanted their voices heard on Election Day nonetheless. 
While there have been no issues or surprises at the polls in Falmouth, Mr. Palmer said, some voters are showing up at the wrong polling stations. When they attempt to check in, the poll pad directed them to their proper voting location.
"We're using these poll pads to check people in, which speeds up the process, and we eliminated the checkout table," Mr. Palmer said.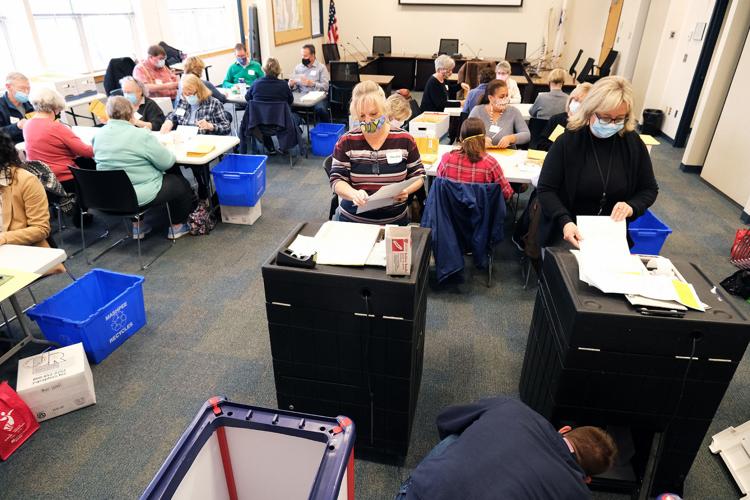 At Mashpee Town Hall, a group of about 25 volunteers was counting early and mail-in ballots. Having worked since 8 AM, the group was "not even halfway" according to Bill Dalton, a volunteer helping with the counting in Mashpee.
Polls across the Upper Cape will be open until 8 PM.