The Bourne football team raced out of the gates in their Thanksgiving Day meeting with Wareham and ran towards daylight. Then they ran some more until the Canalman were running away with the coveted Superintendent's Cup.
Bourne scored on its first two offensive possessions en route to a 43-0 shutout victory against the Vikings at Jackson Field on Thursday, November 28, racking up more than 400 rushing yards in the process.
"We made some big plays today," Bourne Head Coach John McIntyre said. "Especially Shawn [McDonough]. He's worked hard this year, starting as our quarterback and then moving to running back for us. He didn't say a word about it and has been a really important player for us down the stretch."
The junior running back rushed for 153 yards and two scores to pace the suddenly high octane Canalmen offense. McDonough ripped off TD runs of 33- and 24-yards, respectively, in the second quarter to give Bourne a 30-0 halftime lead.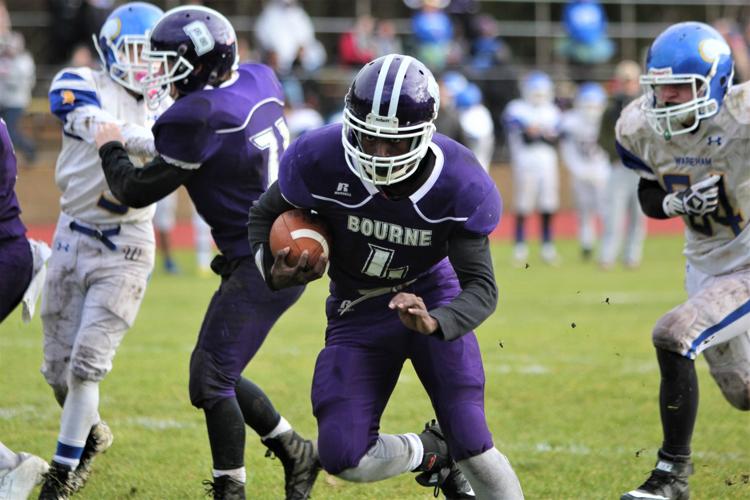 To start the game, Bourne received the ball and quickly worked its way down the field before Jaimon Scott capped the eight-play drive with a two-yard dive. Quarterback Joseph Carrara rushed in the two-point try. After Justin McHugh recovered a fumble — one of three Viking turnovers on the day — the Canalmen marched down the field in six plays, with Scott once again capping the drive, this time from nine-yards out. Carrara added the two-point run for the 16-0 first quarter lead.
On Wareham's ensuing offensive possession, Jerome Packard forced a fumble on the first play, and Ryan O'Connor recovered it. Carrara added a second-half interception as well.
"[Defensive coordinator] Rick [Boulrisse] did a great job of preparing this defense," McIntyre said. "They had a great day. They've been great all year. We made the switch to a 4-3 look midway through the season and the defense has really responded."
With the turnovers, and Bourne's Brady Fitzpatrick recovering two onside kick attempts, the Wareham offense spent little time on the field. And after McDonough's second rushing score put the Canalmen up 30-0, with 3:55 left in the second quarter, the referees let the clock run per the NFHS/MIAA rules.
Both head coaches agreed to play the second half under 10 minute quarters of running time. In that span Bourne added a 34-yard touchdown pass from Carrara to Fitzpatrick and a 49-yard punishing run from Alexander Duval.
Senior Logan Hawkes was 3-for-4 on point-after kicks.
The win was meaningful for the Canalmen, who ended the 2019 season riding a four-game winning streak — the longest since Bourne hoisted a state title back in 2011. It also avenged a 24-8 road loss to Wareham earlier this season. Perhaps most notably, the lopsided win meant Bourne has held the Vikings scoreless in two-straight Thanksgiving Day games, including last season's 39-0 win at Spillane Field.
ENTERPRISE SPORTS PLAYER OF THE GAME: Shawn McDonough, RB, Bourne — The junior running back put on a show for the home crowd, running for more than 150 yards and two rushing scores of 33-and 24-yards, respectively.
KEY PLAY: Before the game clock even began, the biggest play of the game occurred. Wareham won the coin toss and elected to give the ball to Bourne, deferring to the second half. The decision proved costly as the Canalmen scored on their first two possessions to take a 16-0 lead in the first quarter and never looked back.
NUMBER TO KNOW: 82 — The point differential the Vikings have found themselves on the wrong side of over the last two years. Wareham may hold the all-time series lead on Thanksgiving, 56-32-1, but Bourne has been dominant over the last two end-of-the-season meetings. The Cape team has won by a combined score of 82-0 the last two Thanksgivings.
WAREHAM HEAD COACH FRAN CASS: "[This loss] was as bad as it gets. We didn't practice well this week. We had no answer for them on offense. [Bourne] didn't turn it over, unlike last time we played them. They looked like a team that improved and we didn't look like that today."
BOURNE HEAD COACH JOHN MCINTYRE: "I've never seen a group grow together, both on and off the field, like this team has done this year, going from 1-6 to win four-straight to end the season. I'm extremely happy for the kids."
SCORING
8:10 — Jaimon Scott (B) four-yard run (Joseph Carrara run)
0:40 — Scott (B) nine-yard run (Carrara run)
6:40 — Shawn McDonough (B) 33-yard run (Logan Hawkes kick)
4:05 — McDonough (B) 24-yard run (Hawkes kick)
7:28 — Brady Fitzpatrick (B) 34-yard catch from Carrara (Hawkes kick)
5:48 — Alexander Duval (B) 49-yard run (kick failed)
STATISTICS
Rushing — Shawn McDonough (B) 14 carries, 153 yards, 2 TD; Jaimon Scott (B) 4r carries, 16 yards, 2 TD; Alexander Duval (B) 1 carry, 49 yards, 1 TD; Joseph Carrara (B) 13 carries, 85 yards; Ryan O'Connor (B) 8 carries, 43 yards; Logan Cook (B) 8 carries, 57 yards; Gilly Jalo (W) 14 carries, 20 yards; Rakeem Jackson (W) 8 carries, 37 yards; Avyn Lopes (W) 2 carries, 30 yards; Landyn Brito (W) 1 carry, 0 yards.
Passing — Joseph Carrara (B) 1-for-2, 34 yards, 1 TD; Avyn Lopes (W) 3-for-3, 9 yards
Receiving — Brady Fitzpatrick (B) 1 reception, 34 yards, 1 TD; Dominic Labelle (W) 1 reception, 9 yards; Chase Colon (W) 2 receptions, 0 yards
Records — Bourne (5-6), Wareham (4-6)