During the Bourne girls' basketball team's 11-game winning streak, they've found new ways to win nearly every night. Tuesday, February 11, was no different.
The Canalmen opened the game on a 10-0 run, but found themselves trailing by two points, 48-46, with less than a minute remaining against Somerset Berkley at home.
Freshman Haley McCarthy then drilled the go-ahead 3-pointer that started a 5-0 run in the final 47 seconds to steal a 51-48 win. Senior co-captain Brooke McCallum added two late points while classmate Kaya Fernandes sealed with a made free throw.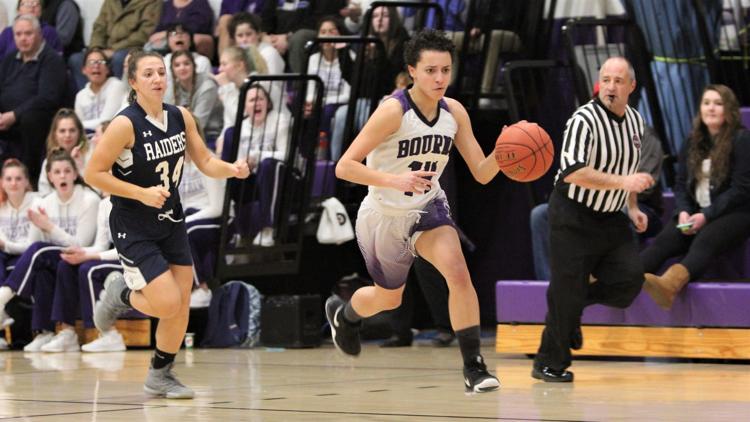 McCarthy finished with 13 points for the game while Fernandes had another stat-stuffing performance, joining her 11 points with 10 assists and nine rebounds.
Bourne raced out a 23-13 lead after the first quarter of action and held a 34-26 advantage at the half. That hot start was sparked by sophomore Nora Barmashi, who scored 22 of her game-high 24 points over the first 16 minutes of play.
Bourne 51, Case 43
For the third straight season, the Bourne girls' basketball team was crowned champions of the South Coast Conference Gold Division.
The Canalmen were led by Barmashi's game-high 22 points, guiding her team to their 10th straight victory against Case, 51-43, last Friday, February 7, in Swansea.
Knotted at 14 after the first eight minutes of action, Barmashi erupted for 18 points in the second quarter—scoring most of her buckets in transition under Bourne's run-and-gun scheme. She was solely responsible for all of her team's points that frame as the visitors took a 32-26 into the break at halftime.
But the game slowed down in the third quarter, as Bourne clamped down on defense to hold Case to just four points. The Canalmen, meanwhile, scored 10 to carry a 42-30 lead into the fourth.
The Cardinals kept things interesting late, behind leading scorer Riley Fitzgerald's 19 points on three made 3-pointers. Then Fernandes secured Bourne's winning streak would continue by hitting 3-of-4 free throws late in the game.
Forward Jess LaFlamme posted career highs in points and rebounds, with five and six, respectively, while McCarthy scored all of her points from beyond the arc, finishing with nine.
With the win, the Canalmen earned the regular season sweep of the Cardinals, having already scored a 67-53 at home on January 21. Bourne (13-4, 7-1 SCC-Gold) visits Old Rochester, which is undefeated in conference play, tonighton Friday, February 14, at 6:30.