All Massachusetts residents over the age of 16 will be eligible to receive the COVID-19 vaccine by April 19.
Governor Charles D. Baker Jr. announced the eligibility timeline for all remaining cohorts in the state on Wednesday, March 17.
Starting on Monday, March 22, all residents over the age of 60 will be eligible for vaccination alongside workers in select industries. Those industries include food service workers, grocery store employees, food pantry workers and volunteers, medical supply chain workers, vaccine development workers, people working in public works, wastewater employees, utility workers, sanitation workers, public health workers, people who work in the court system, and funeral directors and workers.
On Monday, April 5, residents over the age of 55 will become eligible alongside people who have one underlying condition.
Conditions accepted under the state guidelines include asthma, cancer, chronic kidney disease, COPD, Down syndrome, heart conditions such as heart failure, coronary artery disease, or cardiomyopathies, weakened immune systems as a result of solid organ transplants, obesity and severe obesity, pregnancy, sickle cell disease, smoking, and type 2 diabetes.
Lastly, on Monday, April 19, the vaccine will become available to the general population. Currently, that includes residents over the age of 16.
The decision to accelerate the timeline comes as the federal government has promised an increase in vaccine distribution to all states.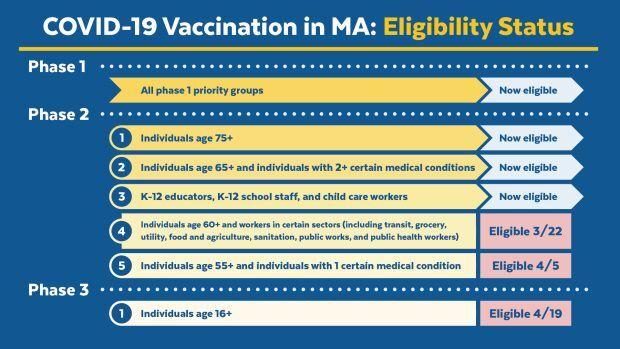 The increase has started this week, with a total of 170,000 first doses being delivered. This includes 8,000 doses of the single-dose Johnson & Johnson vaccine, which was an unexpected addition as the state was not previously expecting more of that vaccine before the end of the month.
A boost from the federal government has also been provided for the pharmacy partnership, which will bring more doses to locations such as CVS Pharmacy, Walgreens and Stop & Shop.
Across the state, 106,440 first and second doses have been allocated to retail pharmacies.
"We can only move as fast as the manufacturers produce vaccines," Gov. Baker said. "Thankfully production is picking up."