Citing drops in the rate of new COVID-19 cases across the state, the Baker-Polito administration announced that the travel order issued this past July will be replaced with a less-restrictive travel advisory starting next week.
This change will no longer mandate a 10-day quarantine after traveling out of the state, although people are still encouraged to do so.
The travel advisory coincides with the start of the next phase of reopening the state, which is going to allow limited numbers of fans back into sports stadiums.
Also starting next week, another cohort of people will become eligible to receive the COVID-19 vaccine. The governor has now released a timeline for when all remaining people will be able to become vaccinated.
Teachers and educators are already eligible to get the vaccine, although several dedicated educator clinics planned at Upper Cape Cod Regional Technical School have been thwarted. The latest attempt to vaccinate only that school's staff came to a halt when the state reallocated about 200 doses planned for the site.
That clinic may not have come to fruition, but several clinics on Cape Cod are being dedicated to making sure that the more than 6,000 public school staff in the county have access to the vaccine.
Vaccines rolling out are good news for the region, but health officials say that there is still cause for concern.
Additionally, while much of the state is seeing a decline in the rate of new cases of the virus, an uptick has been noted on Cape Cod.
Residents remain advised to wear masks, practice social distancing, and to wash hands and surfaces frequently.
Reopening, Travel Advisory
Massachusetts begins the next phase of reopening next week.
The first step of Phase Four begins on Monday, March 22, allowing limited openings of indoor and outdoor stadiums, arenas, and ballparks at a 12 percent capacity. Gathering limits at event venues will also increase to 100 people indoors and 150 people outdoors.
Dance floors will be able to open at weddings, overnight summer camps will be able to operate and exhibition halls and convention centers will be able to open, as well.
Along with this new phase of opening, residents who travel outside of Massachusetts will no longer be required to quarantine upon their return. People are urged to quarantine for 10 days when they return to the state, but not doing so will no longer result in a hefty fine.
Governor Charles D. Baker Jr. announced the vaccine eligibility timeline for all remaining cohorts in the state on Wednesday, March 17.
Starting on Monday, all residents over the age of 60 will be eligible for vaccination alongside workers in select industries. Those industries include food service workers, grocery store employees, food pantry workers and volunteers, medical supply chain workers, vaccine development workers, people working in public works, wastewater employees, utility workers, sanitation workers, public health workers, people who work in the court system and funeral directors and workers.
On April 5, residents over the age of 55 will become eligible alongside people who have one underlying condition.
Conditions accepted under the state guidelines include asthma, cancer, chronic kidney disease, COPD, Down syndrome, heart conditions such as heart failure, coronary artery disease, or cardiomyopathies, weakened immune systems as a result of solid organ transplants, obesity and severe obesity, pregnancy, sickle cell disease, smoking, and type 2 diabetes.
Lastly, on April 19, the vaccine will become available to the general population. Currently, that includes residents over the age of 16.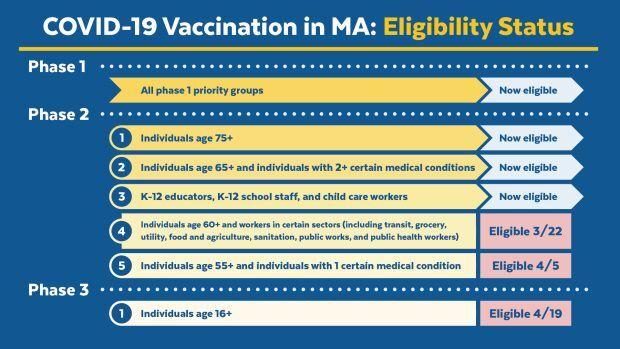 The decision to accelerate the timeline comes as the federal government has promised an increase in vaccine distribution to all states.
The increase has started this week, with a total of 170,000 first doses being delivered. This includes 8,000 doses of the single-dose Johnson & Johnson vaccine, which was an unexpected addition as the state was not previously expecting more of that vaccine before the end of the month.
A boost from the federal government has also been provided for the pharmacy partnership, which will bring more doses to locations such as CVS Pharmacy, Walgreens and Stop & Shop.
Across the state, 106,440 first and second doses have been allocated to retail pharmacies.
"We can only move as fast as the manufacturers produce vaccines," Gov. Baker said. "Thankfully, production is picking up."
UCT Clinic Canceled (Again)
A clinic that had been planned to vaccinate staff at the Upper Cape Cod Regional Technical School for Friday was forced to be canceled when the state seized vaccine doses intended for the clinic.
The doses were to be supplied by Whole Health Pharmacy in Hyannis and would have vaccinated about 130 staff members as well as elderly members of the public who had previously been unable to get a shot.
However, UCT Superintendent Roger Forget received word that the clinic would not be happening after all. Instead, the doses he had been told would be available for the clinic will be redistributed to elderly residents in the area.
This is not the first time that a planned clinic on the campus has evaporated.
A previously planned clinic to vaccinate the staff of all Upper Cape schools, about 2,000 people, never came to fruition. The clinic was planned in partnership with Sandwich Fire Chief John J. Burke, Representative Steven G. Xiarhos (R-Barnstable) and Sandwich Selectman David Sampson.
The Department of Public Health gave the site authorization to operate a vaccine clinic as long as vaccine doses were available, but the doses were not made available.
Educators and school staff became eligible to be vaccinated on March 11.
During a news conference Thursday, March 18, Senator Julian A. Cyr (D-Truro) said that many of the staff at the school have already been contacted and scheduled for an upcoming educator vaccination clinic at Cape Cod Community College.
Several vaccine clinics dedicated for education staff across Cape Cod have been announced, starting this Saturday.
Cape Cod Healthcare CEO and president Michael Lauf said that 270 educators have currently signed up for this weekend's clinic at Cape Cod Community College and they have the capacity to schedule up to 750 people.
The clinic will be held from 9 AM to 1 PM.
Additionally, two more clinics are scheduled for educators in the coming weeks at the college. These are being planned for March 27 and April 3.
Sen. Cyr said that public school districts on Cape Cod employee 6,032 educators and support staff. He believes that many educators have likely already been signing up for vaccines at retail pharmacies and other vaccine sites since becoming eligible on March 11.
Mr. O'Brien said that the county is receiving three times as many doses of the Pfizer vaccine from the state than it had been, upping the amount from 1,170 doses to 3,510.
He said that this means that they will be planning more clinics and will be opening up more spots for people to get vaccinated.

Based on numbers reported by the Department of Public Health yesterday, 35 percent of residents on Cape Cod have received at least one vaccine dose. A total of 18 percent of Cape Codders are considered to be fully vaccinated.
Vaira Harik, deputy director of the Barnstable County Department of Human Services, said that an uptick in COVID-19 cases has been noted in the past week, which follows a period of a decline in the rate of new cases.
However, she noted that this uptick has not been seen in the number of new deaths being reported, nor has it been seen in the number of people being hospitalized.
In the past week, a total of 450 new cases of the virus have been reported on Cape Cod. A total of nine people have died from the virus during the same time period.
As of Wednesday, 21 people were hospitalized in Cape Cod hospitals, including three in intensive care.