"Find a topic you are passionate about, and just get started. It doesn't have to be perfect!" This is the advice Jenny Shea Rawn gave me when I asked her what she might say to someone who is considering starting a blog on the internet. Jenny's blog, which I have followed for a few years now, is jennyshearawn.com.
She also posts on Instagram (Seafood and Seaside Life @jennyshearawn). You might have seen some of her photos on Pinterest (Food Blogger at My Cape Cod Kitchen). As it says on her Facebook page, "Jenny is not only a registered dietitian and health food blogger living in Falmouth, but she's also a grocery industry veteran…Jenny worked with Supervalu, Shaw's and Star Market for over a decade as their Registered Dietitian and Nutrition Expert. Now Jenny runs her own nutrition communications consulting business and blogs about New England cooking."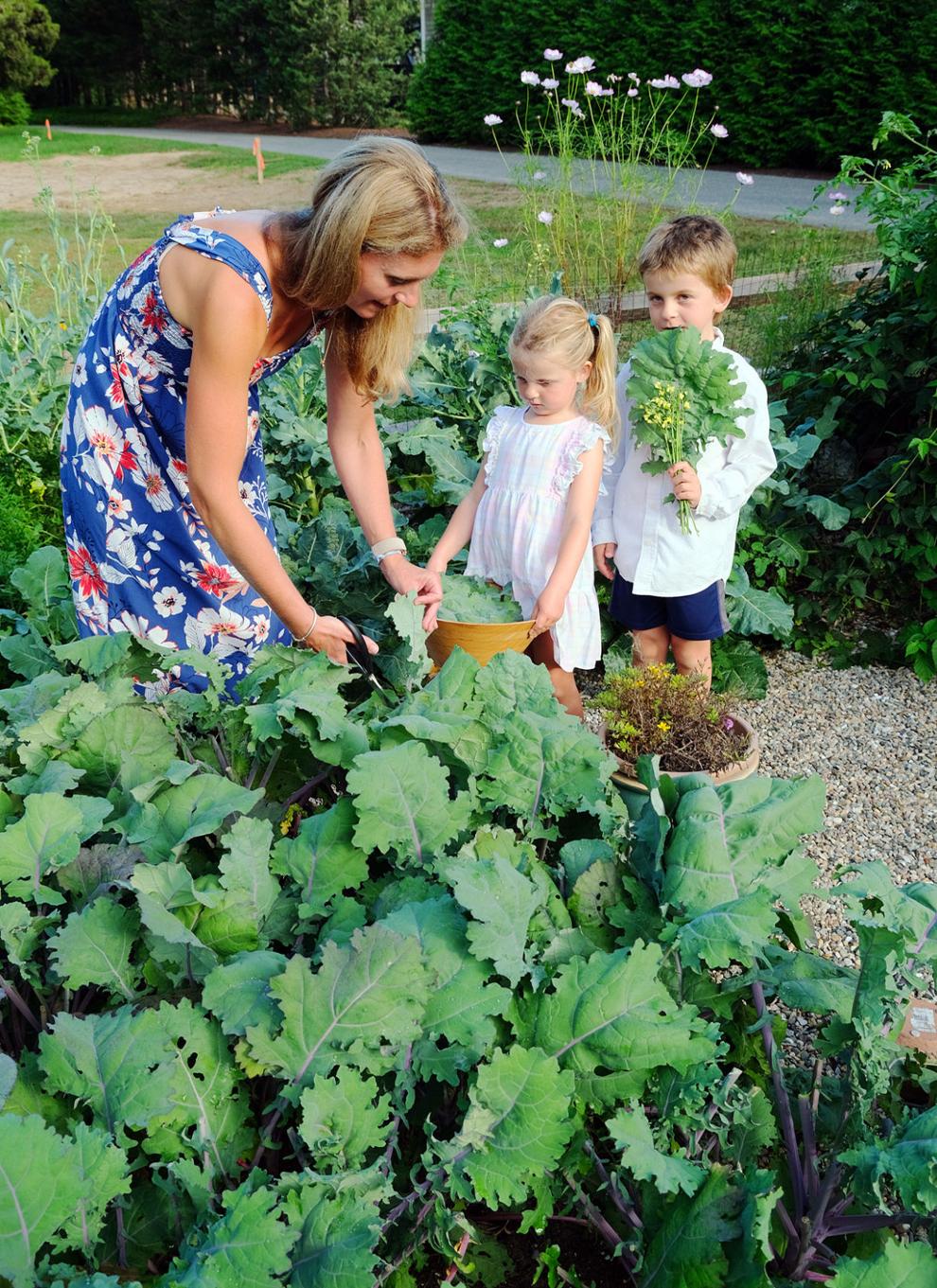 We talked recently in the backyard of her home on Davisville Road, overlooking her garden which was still quite productive in mid-September. I asked her to choose a few recipes for me to publish here, and she said she would choose non-summery dishes, due to the change in season. Jenny said the main focus of her blog is to eat more local seafood at home.
"When people go out to eat, they often order seafood—because they don't want to cook it at home," she declared. "I love creating seafood recipes, and getting my kids to try different preparations. We eat seafood at least twice a week. I always try to tie in local produce from the garden as that too is abundant here on Cape Cod."
After mentioning the importance of wild seafood vs. farmed in my column last week, I have had a number of questions about how to know what you are purchasing. "It's certainly difficult to differentiate," Jenny said, "but there is a third-party certification for sustainable seafood farmers. They need to meet certain criteria, so you do need to be very careful and look on the bag to find out where the seafood was caught or farmed—and if it is certified."
I told her I always subscribed to the notion of "wild-caught is better than farmed" but she advised me differently. "I use the following website for my guidance: https://www.seafoodnutrition.org/seafood-research/seafood-sustainability," she stated. "For example, one of our local fish markets has an organic salmon that is farmed, not wild-caught, and it's delicious."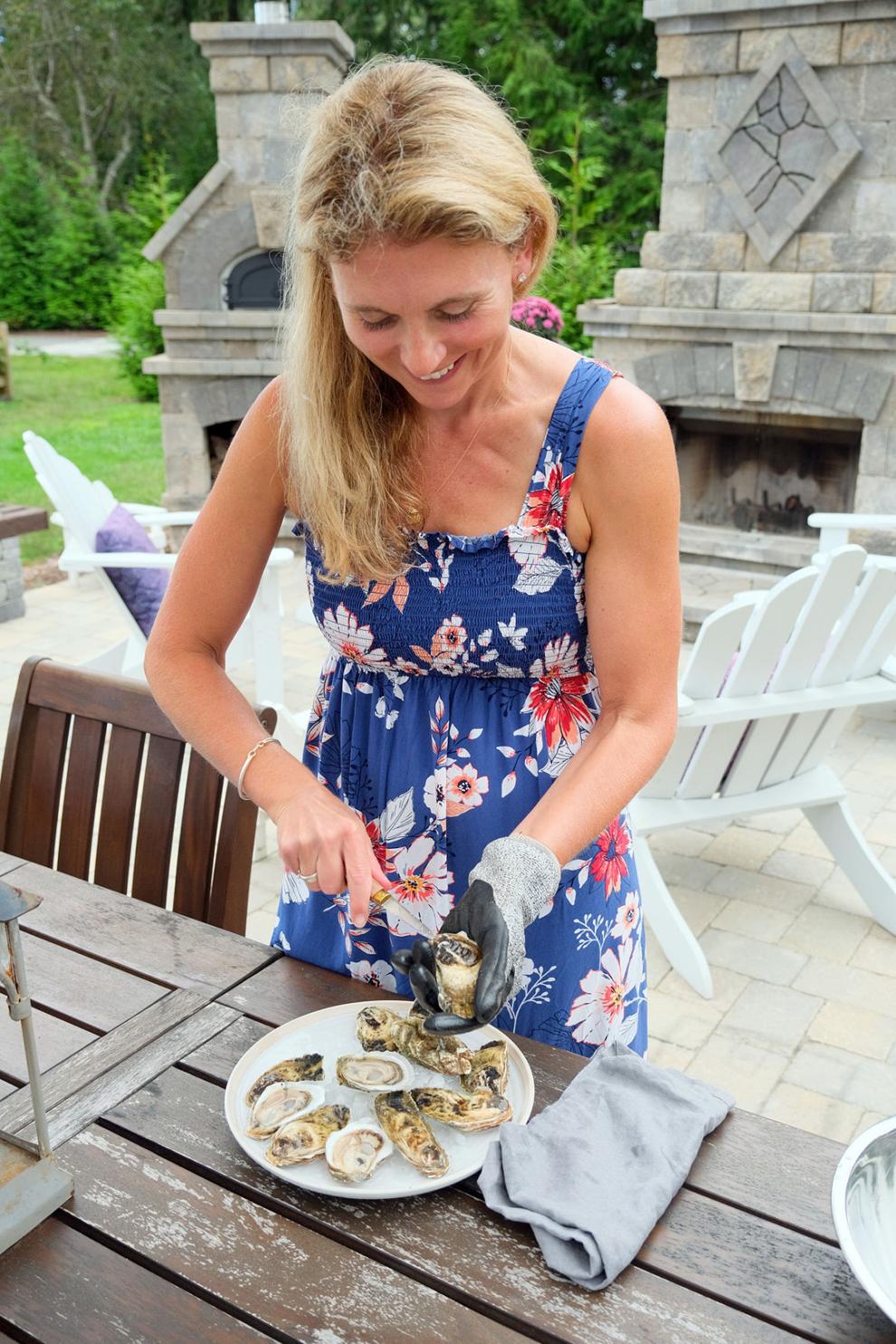 One of the recipes she gave me is for salmon bites. "These are ginger soy sesame marinated tender chunks of salmon filet grilled to juicy perfection--perfect for feeding a crowd—because guests can take as many (or as few) bites as they'd like," she explained. "Also, this recipe is one of the best for converting non-fish lovers into fish fans because of all the great caramelization and flavor created on the salmon cubes. My daughter and husband go crazy over these bites."
She included her "Best Baked Salmon" as well. "This is simply salmon coated with a rub of dark brown sugar, cumin, garlic powder and salt. It's beyond simple to prepare, quick to cook, and it really is incredible to eat—it's sweet, savory, and garlicky. This is our go-to salmon recipe that we've been making for years. Every guest who has had dinner at our house has had this one—and they always ask for the recipe," she said. In warmer months, she says she grills the salmon instead of baking it, "but both taste great."
There's still corn available at our local farmstands, so we thought it would be good to include her seared scallops over a simple salad. "Seared scallops sit atop a sweet corn, creamy avocado and fresh herb salad all topped with crunchy chickpeas. So much freshness in this salad—we make this recipe often in the summer/early fall using our local Cape sea scallops."
Another recipe for scallops is a classic dish, that Jenny says is perfect for when we're ready to turn on our ovens again. "This is so simple: sea scallops topped with buttery crunchy seasoned panko crumbs and lemon zest, then baked in white wine until the topping is crispy and the scallops are just perfectly cooked. And the panko crumb mixture is also delicious on cod and haddock!"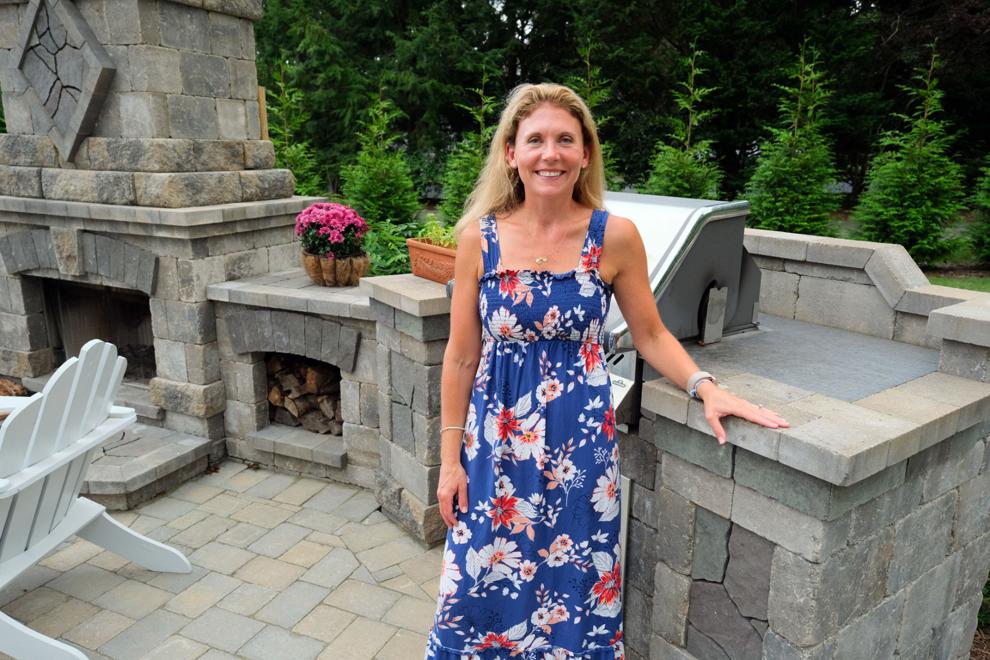 Gorgeous color photos of all of these dishes are available online. It's hard to believe that, as busy as she is with recipe development, communications consulting, and food photography, Jenny also finds time to run in marathons. As it says in her bio, "Jenny lives…with her husband, Adrian, her son, Lucca (6) and her daughter, Lexi (4). In her free moments she enjoys spending time with her husband outside running, hiking, kayaking, boating, cooking, eating seafood, photographing and styling food, planting vegetables in her garden and learning about all things food. Jenny has completed 9 marathons and countless half marathons around the New England area."
I hope to get Jenny to join me at FCTV when we resume "Falmouth is Cooking," hopefully in the near future. This is a talented woman who has a lot to teach us; for now, take a look at the following recipes and try at least one of them.
Baked Scallops With Panko Topping
½ cup seasoned panko crumbs
1⁄8 tsp freshly ground black pepper
1 lb fresh sea scallops, tough side muscle removed, patted VERY dry
¼ cup dry white or rosé wine
Sea salt and one lemon, cut into wedges, for garnish
Preheat the oven to 400°F and spray a medium-sized 9 by 9-inch baking dish with cooking spray. Alternatively, you could use two 9-inch oval baking dishes. In a small bowl, combine panko crumbs, butter, extra virgin olive oil, parsley, lemon zest and black pepper. Combine well with your fingers.
Add scallops to the baking dish. Spoon panko topping atop scallops. Pour wine into the base of the baking dish (not over the top of the scallops). Bake for 11-13 minutes, or until scallops are just opaque, broiling for the last minute or two to toast the panko crumbs (keep a close eye, so the panko crumbs don't burn). Bake time will vary depending on the size of your scallops. I test for doneness by pulling out the baking dish at 10-11 minutes and slicing a smaller-sized scallop in half to test for doneness. It's better to slightly undercook—you can always pop them back into the oven. Remove scallops from oven. Sprinkle with sea salt, if desired. Serve with lemon wedges.
Seared Sea Scallops Over Corn Salad
5 ears fresh corn on the cob
1 bunch scallions, thinly sliced white and green parts
½ cup loosely packed basil leaves, slivered
¼ cup each: loosely packed flat leaf parsley and cilantro, leaves roughly chopped
¾ cup crumbled feta cheese (optional)
¼ cup extra virgin olive oil
2 TBSP seasoned rice vinegar
1 avocado, cut into chunks
½ cup crunchy chickpeas (any flavor)
1 tsp each: olive oil and butter
1 lb sea scallops, patted dry
freshly ground black pepper
Heat a large pot filled halfway with water over high heat until boiling. Add corn, cover, reduce heat and lightly boil for 3-5 minutes. Remove corn from pot and let cool slightly. Once able to handle, slice the corn off the cobs into a large bowl. Add herbs, feta (if using), extra virgin olive oil, lime juice, rice vinegar to the bowl with the corn and toss. Top with avocado and crushed chickpeas.
Dry scallops very well and season on both sides with salt and pepper. Heat a medium sauté pan with 1 teaspoon olive oil and 1 teaspoon butter over medium high heat until glistening. Swirl oil in the pan and add scallops. Don't crowd the scallops—cook in two batches if need be. Sear scallops for a minute or two (until desired doneness) on each side until a nice golden crust forms. Don't move the scallops while cooking, other than to flip them. Remove from heat. Add scallops to corn salad. Serve with lime wedges.
1.5 lbs salmon filet (center cut, if possible), skin on, cut into 4 equal portions
1 lemon or lime cut into wedges
Take the salmon out of the refrigerator and let stand at room temperature for half an hour before cooking. Preheat oven to 400°F; prepare a baking sheet with tin foil. Combine brown sugar, cumin, garlic powder and salt in a small bowl. Pat salmon dry with a paper towel. Place salmon onto baking sheet. Coat salmon portions with rub on 3 sides (not the skin-on side).
Place salmon in the oven and bake for 8-10 minutes, depending on thickness. Time will vary, but a good rule of thumb is to cook the fish 8-10 minutes per inch of thickness. Salmon should flake easily with a fork in the thickest part of the filet. I typically broil the salmon for the last 1-2 minutes, so it develops a nice crust. Serve salmon over brown rice with any roasted veggie you like. Also, serve with plenty of lemon wedges.
1.5 lbs salmon filet, cut into 1 to 2-inch chunks (you can keep the skin on or remove it—your choice)
¼ cup each: seasoned rice vinegar and brown sugar
1 TBSP minced fresh ginger (or use bottled minced ginger for a shortcut)
Whisk together soy sauce, rice vinegar, brown sugar, ginger, sesame oil and garlic. Reserve a few tablespoons in a small bowl for serving (don't use marinade that has been used with the raw fish). Pour the rest of the marinade into a resealable plastic bag. Add salmon to the bag and let sit for 20 minutes.
Preheat grill to high heat; clean and oil the grates. Place salmon on the grill and reduce heat to medium high. Grill until salmon reaches desired doneness, turning 1-2 times during grilling time. Remove from grill. Sprinkle with sesame seeds and drizzle with reserved marinade. Serve with lemon wedges.