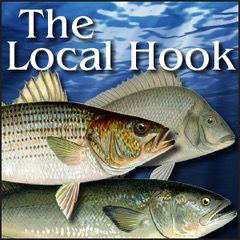 This past Sunday, one of the Vineyard's legendary anglers, Steve Amaral, gave me a call, ostensibly to talk about some old Atom plugs he has. I have helped Steve in the past sell some of the wooden and plastic creations he has from years gone by that speak to the history of surfcasting on the Cape and Islands.
Steve is an inspiration. Even with this whole COVID-19 thing going on, Steve went white perch fishing the other day and was planning on going later on that afternoon on the day we spoke. He had even gone out and dug a half peck of quahogs to use as bait and was looking forward to another fine meal of sweet, fried fillets.
When it comes to white perch around these parts, I can't imagine that many people go in search of them, let alone know what one of them is. Both the Vineyard and Nantucket have healthy white perch fisheries, but the impression I got from folks like Trafton Hinckley, who at one time knew every hotspot for these fish in Falmouth, is that development has severely impacted their populations and runs.
So I was really glad to hear about Steve's angling, as well as his wintertime activity of putting on his wool-lined pants and neoprene waders in order to go out and harvest scallops that still inhabit a number of spots on the Vineyard. That tradition still holds firm out on Martha's island, while I would be willing to bet that the number of people who even think about scallops, other than those they get from the local fish market, has dwindled to next to nothing.
Overall, talking to Steve was inspirational and gave me a good kick in the pants, given how inactive I have allowed myself to get.
Even when I have never gone fishing for a species such as haddock or cod, I find that I learn so much more about this type of angling by talking to folks who have, as opposed to, say, reading a book.
A couple of weeks ago, Christian Giardini from Falmouth Bait & Tackle in Teaticket told me that he had gone haddock fishing up in Cape Cod Bay and that the bite was very good. Apparently, they move in pretty close, say somewhere between three and ten miles, off of Plymouth, Marshfield and Duxbury; I recall reading somewhere that the Powder Point Bridge in Duxbury had or still has some cod fishing from shore in the early spring, just as the Canal and the outer Cape were both known for cold weather cod fishing from terra firma.
Unlike cod, which are most often caught with large diamond or Norwegian-style jigs, some of them weighing a pound or more because of the depths that cod hang in, haddock are most often targeted with bait, especially sea clams. In fact, Jeff Hopwood at Maco's in Buzzards Bay, who not only runs his two shops but is also a wholesale bait dealer, told me that last weekend he sold ten gallons of sea clams, which should give you a pretty good idea of how that fishery is going, just as a run on sea worms in July or August means that the tube-and-worm action is happening in a big way.
The other bait that garners plenty of attention this time of year are green crabs, which are favored by anglers looking to catch tautog. Early in the season, some toggers believe in using worms or taking off the hard shell on crabs since tautog, or blackfish as they are called in states to our south, need time for their mouths to toughen up. I don't have a ton of experience when it comes to fishing for this species, but the folks who do target them have their own tricks and rigs that really make a difference, so it comes as no surprise to me that how you handle your crabs can really pay off.
Relatively recently, the use of leadhead jigs designed to be tipped with crabs and has become more popular, but some folks still use traditional multihook rigs. Tautog are hard fighting fish that typically hang around hard bottom structure, so using one of these jigs helps limit hang-ups, while making sure that your tackle is sufficiently heavy to wrestle a hefty tautog away from its lair, is essential to avoid becoming hung up in another way.
Jeff Hopwood said that the usual hotspots in upper Buzzards Bay, such as Cleveland Ledge, Bird Island, Southwest Ledge, Wing's Neck and Dry Ledge, are producing some nice tautog in the 18 to 19-inch range, but he advised that while the named locales get plenty of attention, there are those areas that tog hotshots keep to themselves because getting right on target when setting your anchor is critical, and that can be a challenge when fishing in a fleet.
Woods Hole is producing some tautog, according to Evan Eastman at Eastman's Sport & Tackle on Main Street in Falmouth. While this is primarily a boat spot, folks do manage to catch them from shore in the few accessible spots in the area, while Nobska Point and some the jetties in Falmouth also harbor some tog.
Like any fishery, a big tog is something that garners a good amount of attention and that was the case on Tuesday at Red Top in Buzzards Bay, where A.J. Coots told me they weighed in a 9.7-pound white chinner, which the larger ones are called since they typically feature this coloration on this part of their anatomy. Green crabs are a big seller at Red Top right now, but A.J. added that they are also selling seaworms to folks looking for winter flounder.
Given the lack of fish and the ridiculously low bag limit (two fish at a 12-inch minimum per day per angler) in the waters south and east of the Cape, which include Buzzards Bay, the sounds, and most of the outer Cape, most serious winter flattie fishermen concentrate their efforts in Cape Cod Bay, where the size limit is the same but the bag limit increases to eight fish. From what I gathered from Bruce Miller at Canal Bait and Tackle in Sagamore, they are already starting to experience some solid flounder angling in the waters off of Sesuit Harbor, where last year's season was very good, while the flatties in the Canal are still hanging in the mud and are not as active.
May is a big month for the ground fishing crew as the seasons open for other species such as black sea bass (May 18/five fish at a 15-inch minimum daily bag limit) and fluke (May 23/five fish at a 17-inch minimum daily bag limit). Scup fishing is open all year for recreational anglers, but Tommy at Maco's said nobody is reporting any activity on them yet.
Stripers, especially schoolies, are being caught pretty much everywhere you look up inside the backwaters and even along the beaches in Buzzards Bay and the Nantucket Sound shoreline. Evan Eastman picked up a few schoolies himself earlier this week at the entrance to Great Pond in Falmouth. Like any responsible angler who is fishing for stripers and finding only sublegal fish, he was using a single hook lure, in this case an Al Gag's Whip-it Fish, which is one of the many popular jighead/soft plastic combinations on the market.
There are, however, some larger fish showing up, with one angler telling Evan that he ran into a school of 28 to 30-inch stripers feeding on pogies up inside Great Pond and it is a good bet that some larger bass will start showing around the herring runs along the southside.
Schoolies are just starting to move into the Big Ditch itself in greater numbers, advised Bruce Miller, especially on the last two hours of the west tide. Buttermilk Bay has been fishing very well, with some smaller fish happy to stay in the quiet water, while others are poking their noses outside towards the Canal. The Weweantic and Agawam Rivers are areas that see some larger bass early on and it is a good bet that when schools of pogies show in Wareham Bay, there will be some big bass on them that are willing to take topwater plugs and flies.
Serious, committed freshwater anglers couldn't be happier since the trout fishing is outstanding and the crowds should start thinning on with the saltwater scene picking up steam. Still, without much they can do that doesn't cross the virus restrictions in place, more folks are fishing, especially around all of the ponds the Cape harbors. Some freshwater bass are starting to bed up, which makes jigs and chatterbaits good options, said A.J. Coots, as they can be fished right over the top of shallow water areas closer to shore.