Cavity nesting birds need cavities; exactly the kind of cavities that have been vanishing in New England over the last 50 years as natural open space forest and pasture areas are lost to neighborhood and industrial development, and road and power line construction.
Dead trees, and the nesting habitats they contain, come down during storms. Dead and dying trees on private properties containing valuable natural cavities are often removed.
"Finding a good nesting hole has become a big commodity in nature," said local naturalist and photographer Michael B. Tucker of Woods Hole, whose wildlife background includes bird survey work, species-specific nesting projects, habitat management and wildlife education.
This winter, wanting to do "a little something extra" to make a difference, Mr. Tucker used the Facebook site he created a few years ago to ask if readers would be willing to donate money toward owl nest boxes for conservation areas.
The site, originally called "Falmouth Birds" and now called "Falmouth Wildlife," has become a 4,000-person-strong platform for knowledgeable enthusiasts and photographers who willingly share information with one another.
The owl nest box project that exploded into being as a result of Mr. Tucker's request is also a tale of two table saws.
"I have the table saw and I have the time," Mr. Tucker said in January as he decided to put the idea of building nest boxes out to the Facebook group. He also has a woodshop attached to his garage heated all winter by a wood-burning stove.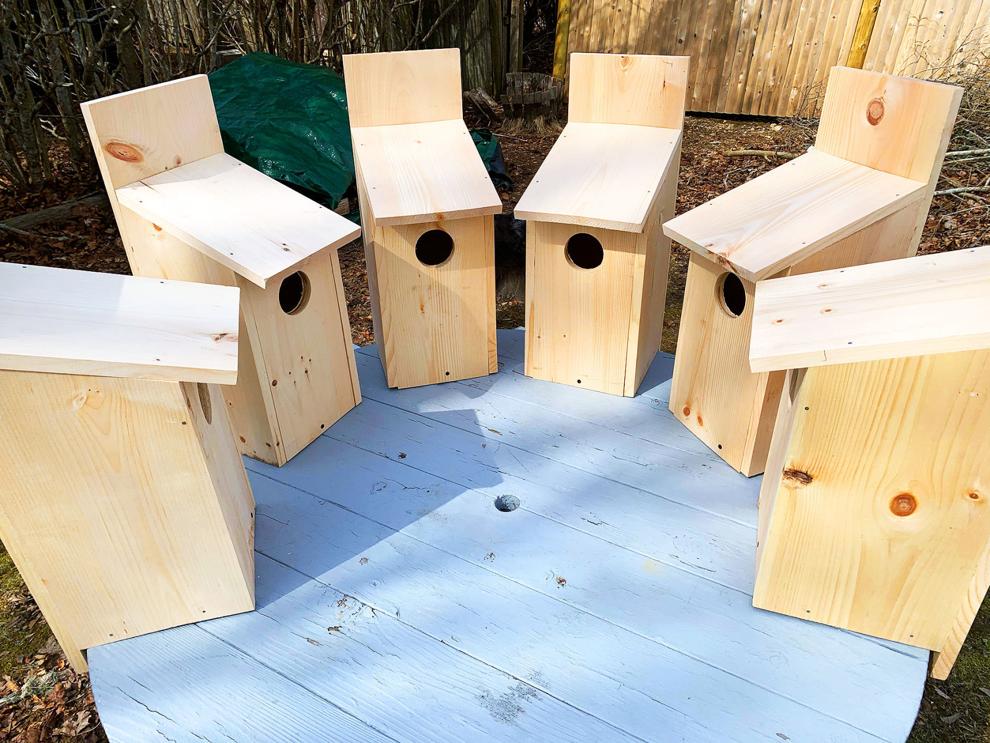 Wildlife photographer and animal lover Kevin P. Friel of Waquoit knew about his friend Mike Tucker's idea for the boxes when he saw a circular saw offered on the "Buy Nothing Falmouth" Facebook site.
"Think of all the bird houses this could build," he commented online, and won the saw—which came with some fancy extra features, he said.
As donations came pouring in, the two men—sharing design ideas and excitement—began building owl nest boxes in their respective shops, using a template and 10-inch-wide boards.
Mr. Friel had worked with wood 15 years ago and said he has missed it. "Building birdhouses brings a basic reminder of woodworking skills," he said.
"I have always worked with animals," he said of his passion for the nest box project. " I hate to see them struggle; any little thing I can do to make their lives easier is good."
"People don't understand how vital tiny spots of habitat are," Mr. Friel said. "I want to do this project to offset what humans are doing to the birds' environment."
Cavity nesting birds have fallen victim to a "double whammy," Mr. Tucker said: diminishing habitats, as well as non-native "invasive" bird species such as house sparrows and European starlings, which compete for the habitats and can get to the nesting cavities first.
Mr. Tucker, who works closely with The 300 Committee and whose recent Zoom talks on birds have drawn hundreds of participants, called the response from the Falmouth Wildlife Facebook group "amazing" and "overwhelming."
"I expected a handful of people donating some money so I could get several boxes up, but the donations quickly grew into thousands of dollars. I had to set up a special bank account," he said. "This has morphed from a small-scale project into something more significant going on."
Many donors also wanted an owl nest box for their own properties. Mr. Tucker said that if they donated $30, which would cover the cost for materials for their own nest box as well as another to be placed in a conservation area, he would accommodate their request.
"People were happy to do that," he said. "We also got unrestricted donations. One woman sent a donation in a handmade owl card. It is really impressive. People are happy to be part of this project. Everybody feels they are part of something greater."
To honor their donations, the owl nest boxes were installed on private properties first. Over 30 boxes are already up. "Only a month and a half in, we already have five boxes occupied by owls," Mr. Tucker said. "I couldn't be happier with our early success. It's exciting for people."
None of the species-specific nesting projects Mr. Tucker has been involved in over the years have involved the greater community as this one has, he said, noting, "Here in Falmouth, the enthusiasm for the natural world is incredible."
The goal of this project, Mr. Tucker said, is to provide nest boxes for a variety of cavity-nesting birds, starting with boxes for Eastern screech owls because they nest much earlier than other targeted species—usually by the end of March.
Screech owls are a small owl, about 8.5 inches long, and can be red or gray, Mr. Tucker said. "They readily take to nest boxes and do quite well in a wide variety of habitats, even built-up area and neighborhoods. Their adaptability is why they are doing so well."
The nest boxes are deep—15 inches—with wood shavings in the bottom and a three-inch round hole at the top. A strip of wire mesh— which fledglings can use to climb up to the hole when they are ready—is attached on the inside by two small nails at the top. The "door" can hinge up by removing the one screw that holds it in place at the bottom.
Cleaning the owl nest boxes on private properties can be done if people want to climb up to do it, or the boxes can simply be replaced every few years.
"Part of the goal is to be a go-to resource when a refuge needs boxes, whether it is replacing old boxes or installing them in new locations, it will be nice to be able to just take care of that," he said.
"We might try to get a licensed bander to band the young owls, if they nest on conservation lands," Mr. Tucker said. "I never dreamed this project would allow us to do such a thing."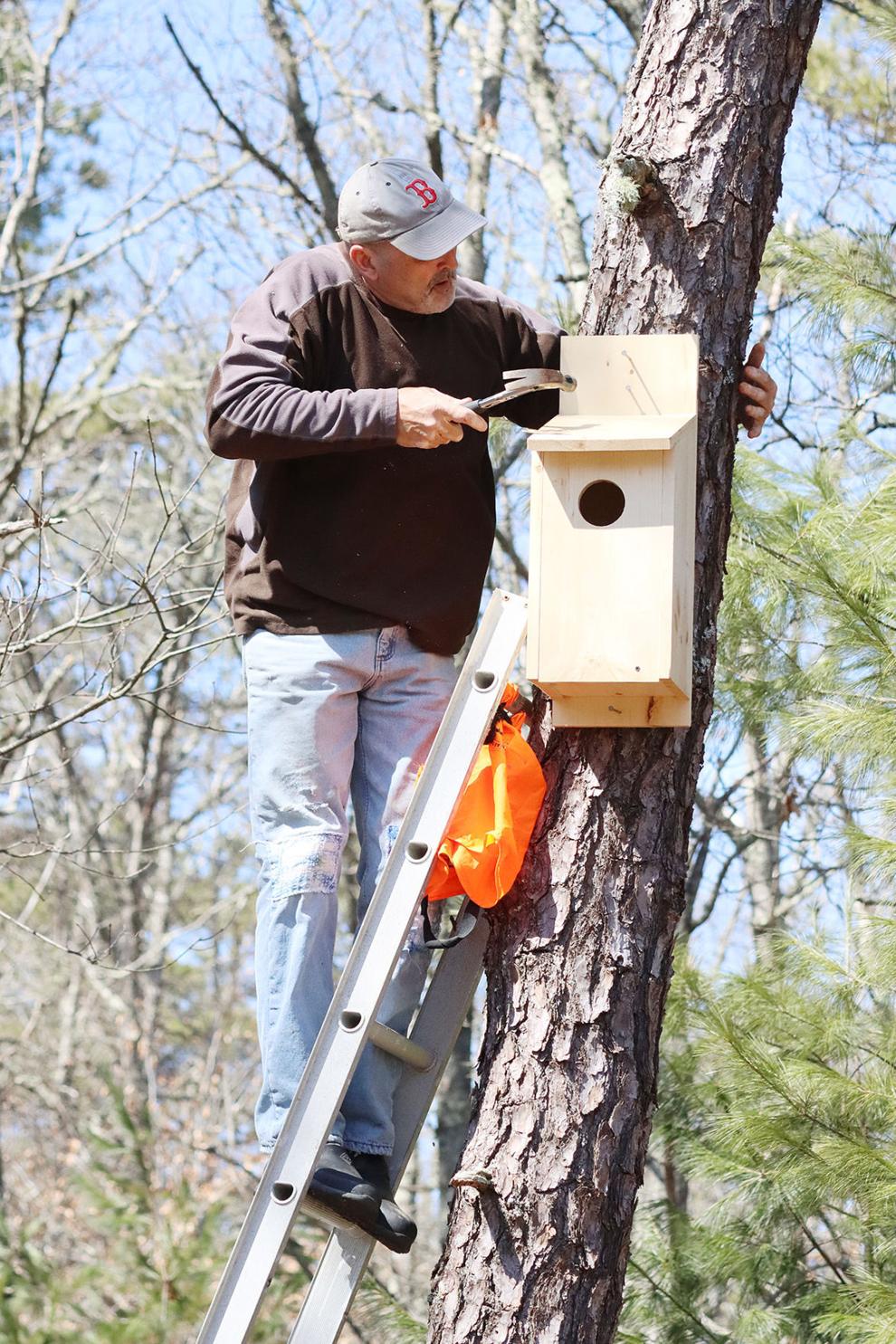 The owl nest boxes are installed about 15 feet high, facing a clearing, preferably facing from east to south. This is ideal, but not necessary, Mr. Tucker said. The owls like sunning themselves from the hole in the morning.
Peter B. Trimble, former president of the Cape Cod Bird Club, has also helped with nest box installations.
"His wealth of bird knowledge has been invaluable as we have accessed properties for box locations during many installations together," Mr. Tucker said.
"I was fortunate with my schedule that I was able to help out," Mr. Trimble said. "Where natural habitat isn't always available, the nesting boxes are important. They help."
"Enjoy the birds!" he said, summing up his advice to participants in three words.
Owls, it turns out, are much more than a pretty face; they are also good for rodent control. "Encouraging owl nesting is a good way to put a dent in the white-footed mouse population," Mr. Friel said. White-footed mice carry Lyme disease.
"Anything we can do to help bring a welcome predator into the area, we'll do it," he said.
By early March, Mr. Tucker had to tell his Facebook audience that, for the immediate future, he could no longer take donations that included building boxes for homeowners.
He and Mr. Friel needed to finish building the remaining owl boxes before turning their efforts to building nest boxes for small bird species for the spring. "This will include a lot of work with conservation properties and keep us busy for a while," he wrote.
The smaller boxes will target the Eastern bluebird, great-crested flycatcher, black-capped chickadees, red-breasted and white-breasted nuthatches, and other cavity nesting birds," Mr. Tucker said
"This started out with me wanting to make a small difference and has turned into many people collectively making a big difference," Mr. Tucker said. "It's been exciting to see the buzz on Facebook with people posting photos of their newly occupied nest boxes. Others have been motivated to build their own boxes as well."
Providing boxes in key habitats has been a highly effective way to help many of these species hang on and even thrive, Mr. Tucker said.
He emphasized in his Facebook message that building and installing nest boxes is an ongoing project. After catching up on installing boxes in the spring, he said, they can start making more owl nest boxes for both conservation land and private landowners.
"People who have donated towards this project can know...they are all a part of the success of every nest box being used from this project," Mr. Tucker wrote to his "Falmouth Wildlife" audience.