The COVID-19 outbreak has delivered a blow to businesses, as everything from small restaurants to large corporations have been forced to change how they do work amid a series of shutdown orders. In just a few weeks the outbreak has changed the way businesses operate in unconventional ways as owners navigate the new normal.
Now that people are sequestered inside the four walls of their homes, is it time to paint them? Eastman's Hardware is offering advice on paint and will even hold—at a distance—paint swatches. Customers can enter the front door of the Main Street business as long as they stay within eight to 10 feet of the door.
The rest of the store is off limits, although it is considered an essential service and could remain open under guidelines set by the state in late March.
"It's a decision we made to keep our customers and employees safe," manager Leonard Hunt said.
The hardware store has found its footing during the pandemic with curbside service.
"People can call in orders or we will deliver for free," Mr. Hunt said, adding the business remained busy with people wanting to do lawn and garden projects. Also popular right now are disposable gloves and masks the store carries for painting projects.
"We're doing our best to keep them in stock," Mr. Hunt said.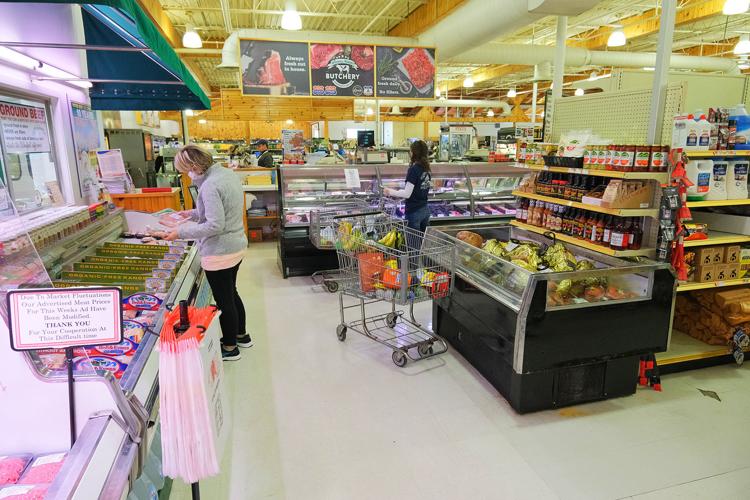 While grocery stores are open, they are also adjusting to the new reality and have made some major changes.
Windfall Market, an independent grocery store, is curtailing the number of shoppers in the store by only allowing one person per car into the store at a time.
Store manager Sean Greenwood said it is better to use the store's new online shopping tool and avoid the grocery store altogether. Customers fill out the online form with items on their grocery list, and staff will fill the order and bag it. Customers will be called when the order is complete and ready for pickup, which is done through the window usually reserved for serving ice cream. Pickup service is available the same day, free of charge.
"It's been so popular we've had to stop accepting orders a few times," Mr. Greenwood said. When the staff is caught up he reopens the service. "We've limited it to 12 different items, so this isn't for someone doing a month's worth of shopping," he said.
While bookstores are shuttered across the state, local book and gift shop Eight Cousins has continued to sell its products by shifting the operation online and by phone.
Co-owner Sara Hines said the store worked on updating the website to reflect its current inventory, and expanded its online presence to include gifts as well as books. Orders are taken over the phone or online.
"People are looking for things to do while they are stuck at home," she said. "We're seeing an enthusiasm for puzzles and audiobooks. Books are popular, too. People are doing virtual book clubs, grandparents are reading to their grandkids on Facetime. People are adapting to digital ways."
Social distancing measures and stay-at-home advisories have caused entire industries to move to working from home and relying on the internet to take the place of in-person activities.
Falmouth real estate broker Matina Heisler said the number of home showings has dropped as prospective buyers are relying heavily on photos and online videos of properties that have piqued their interest.
"We are an essential business. At the end of the day, people need a place to live," she said.
She has a house under contract that the buyers are purchasing without having been inside, relying instead on photos, 3D videos, and a FaceTime virtual showing.
"In general, the number of showings is way down and people selling temporarily pulled their homes from the market. People don't want to come down unless they know they are very interested," Ms. Heisler said.
In the case of the occasional showing Ms. Heisler arms her clients with Clorox wipes to disinfect the light switches and doorknobs as they go, with all donning masks.
"We're asking them to touch as few things as possible," she said.
Working under the new social distancing directive would make building design projects nearly impossible without technology like Zoom, the popular video conferencing software.
Mark R. Bogosian, owner of Longfellow Design and Build, said his design team is able to show drawings to clients on the Zoom screen and use a feature that allows both parties to mark up the designs. New clients are communicating via FaceTime or other video apps.
"Some of our clients are liking this so much, they want to continue working this way in the future," Mr. Bogosian said. "We're able to take advantage of innovation and technology that we've been using all along, so the transition to safe business practices has been easier for the design team than expected."
Out in the field it is another story. Work crews are broken down to two-person teams, or work solo. There is no more carpooling, and deliveries are scheduled when no one else is at the site. Longfellow's employees are still answering household emergency calls, like broken plumbing, but now staff are wearing personal protective equipment.
Falmouth restaurants are getting creative and still playing it safe to stay afloat. Many are offering takeout and doing a number of other things to keep their customers' support.
At Simply Divine, manager John Antonakakis said he has been able to maintain his staffing levels and hours of operation, even though the restaurant can only offer takeout. He and his staff, the latter of which depend on tips, are offering curbside service at their Main Street location and no-contact home deliveries. he driver drops off the order outside the home, calls the customer to let them know it has been delivered, and waits for the customer to collect it outside.
All employees are using disposable gloves to deliver to curbside, and receipt books and pens are sanitized after each use.
"It's a process, but restaurants should always be hygienic. We're just being even more vigilant," he said.
La Cucina Sul Mare on Main Street is serving up meals family style—sheet pans of lasagna, chicken Marsala, chicken parmigiana, meatballs—in oven-safe containers delivered curbside.
Their business model is a traditional sit-down, dine-in restaurant and does not normally serve takeout but the owners, Mark and Cindy Cilfone, are adapting.
"We are talking with some of our vendors to offer one-stop shopping here at our restaurant, a pop-up market selling eggs, steaks—more of a grocery store aspect," Mr. Cilfone said. "It's hard when we have built up our restaurant clientele and had not focused on takeout. But we are shifting and are coming up with ways to also help our vendors, who are hurting, too."