The young couple who walked into Dunkin' Donuts with their child last week looked like any other family. Except that the father was carrying a son who should have been able to walk on his own.
Curly haired, quick with a smile and holding a favorite stuffed dog, 4-year-old Tristin J. Velez sat quietly in a highchair, scrolling through YouTube videos on his dad's cellphone and laughing when his parents engaged with him during an interview.
Two days later father and son would board a plane at Boston's Logan Airport headed for Memphis, Tennessee, where Tristan would begin the SJDAWN clinical trial at St. Jude Children's Research Hospital that might possibly save his life.
Tristan was diagnosed with medulloblastoma in June 2017. This clinical trial—one of 10 for which he was potentially eligible until the others were ruled out—is his last chance to overcome it.
Medulloblastoma is a complex word among the many that Tristan's parents have become adept at pronouncing and discussing as their son's cancer has progressed. It is the most common type of malignant brain tumor in children. It starts at the region of the brain at the base of the skull and tends to spread to other parts of the brain and spine.
Tristan is going to St. Jude because the neuro-oncology team at the Dana-Farber Cancer Institute in Boston, which has treated him at the Boston Children's Hospital for the last 2½ years, has exhausted its options and resources.
"From day one, we were told that Tristan has a really slim chance at survival," Tristan's father, 30-year-old Daniel J. Velez, said. "We know this is a long shot, but we don't care how long the shot is, we're going to take it. This is where life has put us."
Although the cancer is now all over Tristan's brain and spine, his mother, Ashley S. Velez, 33, said that "miracles happen every day, and we are certainly hoping for one."
The Velezes have two other children: Harmony S. Velez, 5, and 8-year-old Scarlotte N. Velez. "The girls are doing pretty good," Mr. Velez said.
"The situation is not scary for our younger daughter; she has never known anything else. Our oldest is more aware, fearful and confused. She has a hard time sometimes," he said. She receives counseling for support.
Before Tristan was diagnosed Ms. Velez was a stay-at-home mom and Mr. Velez worked with people with autism at the May Institute.
"I loved that job," he said. "We were doing so well. We were getting over my mother's death and planning on moving to a bigger apartment."
Members of the congregation at the Waquoit Congregational Church in Falmouth got to know Mr. Velez when he worked at a group home down the street and took some of his clients to church and to the church's thrift shop.
"I remember the day he came to me and said, 'My baby boy is sick,'" the Reverend Nell Fields said. "Everyone loves Danny. I don't think there is a person in our faith community who has not been touched by this story."
"You can't tell how sick he is," Mr. Velez said of his son. "He wakes up ready to play, he smiles…"
Also not obvious at first glance while watching these parents laugh and play with their child, is how much Tristan and his family have been through since his diagnosis.
"It's been nothing but stress since day one," Mr. Velez said. "It's hard to survive in general in this day and age. This has been a long 2½ years. No one in either of our families has cancer. We don't know why this has happened."
Tristan's parents tried to give a nutshell overview of what their life has been like since their son became ill, occasionally talking over one another in an effort to get it all out.
After his diagnosis, Tristan received six months of chemotherapy. Starting on Christmas Day of that year, he was given a course of high-dose chemotherapy so toxic that Ms. Velez could not lie in the bed with her son, who had to be bathed every four hours to avoid third-degree burns.
Tristan spent one Thanksgiving undergoing high-dose radiation on his brain and spine.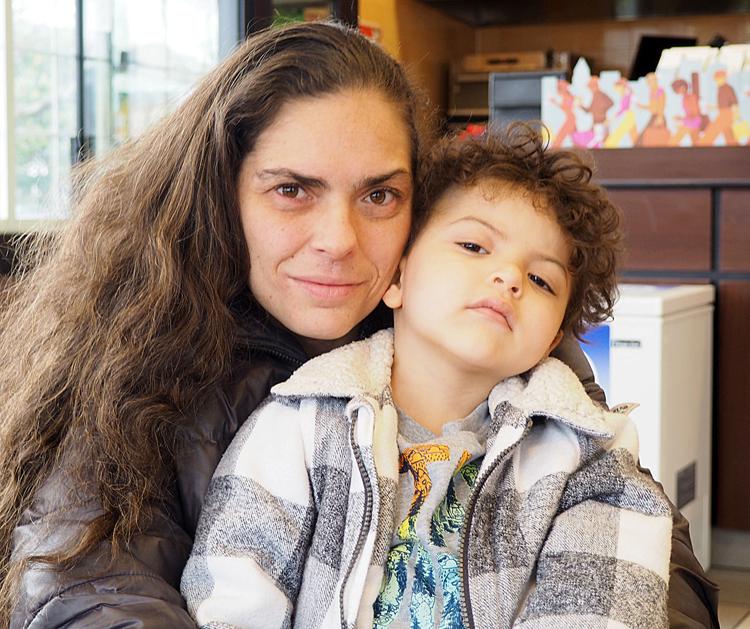 He received a bone marrow transplant, after which he was quarantined for three months because he effectively had no immune system. Only immediate family members could come and go from the house, and Ms. Velez was afraid to send her 1st grader to school during this time, which resulted in her daughter having to stay back a year.
Tristan has spent months upon months on daily doses of chemotherapy at home. He has not eaten food by mouth in years—he is fed through a feeding tube attached to a machine, which takes constant care and cleaning. The machine beeps throughout the night every time the tube gets "kinked," further exhausting his already exhausted parents, one of whom has to get up to un-kink it.
After his sisters get on the school bus each morning, Tristan goes to Spaulding Rehabilitation Hospital in Sandwich for therapies such as speech therapy, occupational therapy and physical therapy. "It varies every day," Mr. Velez said.
The leg braces designed to help him balance "put him in a bad mood," Ms. Velez said. "He refuses to do anything with the braces on. He likes the mobility he has by crawling."
As the cancer spreads, Tristan is more susceptible to seizures. He takes new anti-seizure medication, which makes him moody, irritable and aggressive.
"Tristan has a lot of behavioral problems," his mother said. He has "major tantrums," and will sometimes "scream all day long. At this point, Tristan is 'shaky' and 'off.' It's hard for him to do anything."
Adding to the stress is that Tristan cannot be allowed to fall over, fall down, or hit his head. The result could be a "brain bleed," which has happened once.
Still, Tristan's parents light up when they talk about what gives him joy.
"The show 'Dinotrux' (in which Ty Rux and Revvit inhabit a world of giant creatures that are half-dinosaur and half-truck) has kept him going. He loved the show, until it was cancelled last year, " Mr. Velez said.
"He loves YouTube videos. He loves action figures and superheroes. He loves The Hulk and Potato Head. He loves to tinker. We can give him a box of new crayons and he will take all the paper off each one, leaving the crayons clean and shiny. He's so proud of himself when he's finished," the Velezes said of their son.
Tristan needs a nap every afternoon. If he does not get a nap, his whole day is thrown off, his parents explained. Since he will no longer sleep alone, one of them has to sit by his bed for an hour and a half. "If we move, he wakes up," Ms. Velez said.
Spare time during the day is often spent on the phone with doctors, and trying to sort out consistent problems with Tristan's medication, only half of which can be obtained locally. It is not unusual for one parent to make a run to Boston in the evening to pick up medication they thought would be delivered to Falmouth.
Added to this scenario is everything else that makes up daily life for a family of five—getting the older girls to school and back; helping them with homework; the evening routine of dinner, showers, bedtime. "Every day is a huge process," Ms. Velez said. "The girls also have events at school such as gymnastics and plays. We have missed some of those."
"Balancing Tristan and our other two girls and life has been insane," Mr. Velez said.
Ms. Velez now has a part-time job cleaning at the restaurant below their apartment and Mr. Velez has a job as the maintenance man for their apartment building, which he can do on his own schedule.
"We are both employed, but we don't work as much as we wish we could," Ms. Velez said.
In addition to the help that Ms. Velez's mother, who lives in Canton, has been able to offer ["She has been a huge blessing," Ms. Velez said], the couple credit the support of the Falmouth community with keeping them going.
"We couldn't have gotten this far without people backing us up," Ms. Velez said. "I have two neighbors who are like grandparents to us. I can call them day or night. They are a huge stepping stone for us being OK," she said.
"The (apartment) building is our family," Mr. Velez said of his neighbors.
"Wings for Falmouth Families has been a huge help. The Falmouth Service Center has helped. One person gave us a car. I got an anonymous $300 gift card in the mail to The Children's Place, so I could buy clothes for my kids," Ms. Velez said.
"The parents are lovely, and so appreciative of all the support people are giving them," said the donor of the used Prius hybrid, who requested anonymity. "The car runs really well. Giving it to them was a wonderful thing to be able to do."
When a member of the congregation at Waquoit Congregational Church heard a car had been donated to the Velez family, he immediately wondered how they would pay the insurance and offered to pay it for one year.
"I feel that I have been blessed," he said. "I'm not wealthy, but I am comfortable. This was small money compared to the problems they have."
If all goes well, Tristan will be at St. Jude for one month, after which he will return to Tennessee every two weeks for two days at least a year.
"We're still learning more about how it will go," Mr. Velez said. "We're not sure how long the days will be, or what they will consist of. It sounds like a lot. It probably is a lot, but everything has been a lot."
Ms. Velez and her daughters will join Tristan and Mr. Velez in a week. They will all spend Christmas at the Ronald McDonald House, from which Tristan will go to the clinic every day as an outpatient. St. Jude pays for the sick child and one parent to travel; the family must cover travel costs for anyone else.
While in Tennessee over Christmas the Velezes hope to take their children "to the zoo, show them the Mississippi River, and maybe go to Graceland," Mr. Velez said.
"Particularly for our oldest, it is better to try to keep these trips positive, so it doesn't have to be about her brother all the time. We want the girls to know that there is more to life than the illness," he said. "We want them to see as much happiness as possible, and to have good memories."
"This has been a marathon for them," Ms. Fields said of Tristan's illness and the full-time care his parents are giving him. "They really are incredible human beings."
In Waquoit, the Velezes' story has also been told to people who do not attend the church but have visited the thrift shop or attended church-sponsored events. Many have asked how they can help and have made contributions.
"When we see people reach out to others out of love, not obligation, we realize that there are angels among us. We're seeing that in this case," Rev. Fields said.
Rev. Fields works closely with Kristin T. Shearer, president of the board of directors of Wings for Falmouth Families, to coordinate support for the Velez family and avoid duplicate efforts.
Ms. Shearer said a "giving tree" to benefit the Velez family and two other families is set up at the Quahog Republic Dive Bar on Spring Bars Road in Falmouth. A donation canister just for the Velez family has also been set up at the same location, for donors who would like to leave gift cards, such as for food or gas.
A "mitten tree" is set up at Waquoit Congregational Church will also benefit the Velez family.
"This family will need the community's support long after the Christmas trees and lights are put away," Rev. Fields said. "We would welcome anyone who would like to be part of a continuing care team."
"We want the Velez family to know we will still be there for them when they return from St. Jude's Hospital, and in the months going forward."
"One of the miracles is to see how the love for this family has changed all of us in the wider community. This kind of love ignites the flame of hope," she said. "When we help each other, we truly are one human family."
Rev. Fields urges anyone who would like to help to contact Waquoit Congregational Church at 508-548-5269.