Girls Scouts selling cookies have been a staple in American society for more than 100 years, since Girl Scouts and their mothers baked and sold cookies to finance troop activities as early as 1917.
The cookie-selling season this year, however, has offered more than a way to support a good cause; purchasing the familiar and beloved Girl Scout cookies with the mouthwatering names has brought a sense of comfort, a slice of normalcy during abnormal times.
For Girl Scout entrepreneur Ella T. DiMeo of Falmouth, who is this year's top Girl Scout cookie seller in eastern Massachusetts, selling cookies was a way to get out of the house and engage with people during the pandemic.
"Ella came alive during this project," Laura H. DiMeo said of her 13-year-old daughter, who can sometimes be shy.
The Girl Scout Cookie Handbook encourages cookie selling to be a family affair, Ms. DiMeo said. "It is a lot to navigate at Ella's age; you have to do a lot online, handle finances, and manage inventory."
"We took this as a learning opportunity for Ella," Ms. DiMeo said. "She had to learn how to reach her audience; what did she want them to hear? How does a small business work?"
COVID rules and restrictions, listed in detail and in phases on the Girl Scouts of Eastern Massachusetts website, made this cookie-selling season—which in eastern Massachusetts runs from December through March—a unique challenge for Girl Scout entrepreneurs.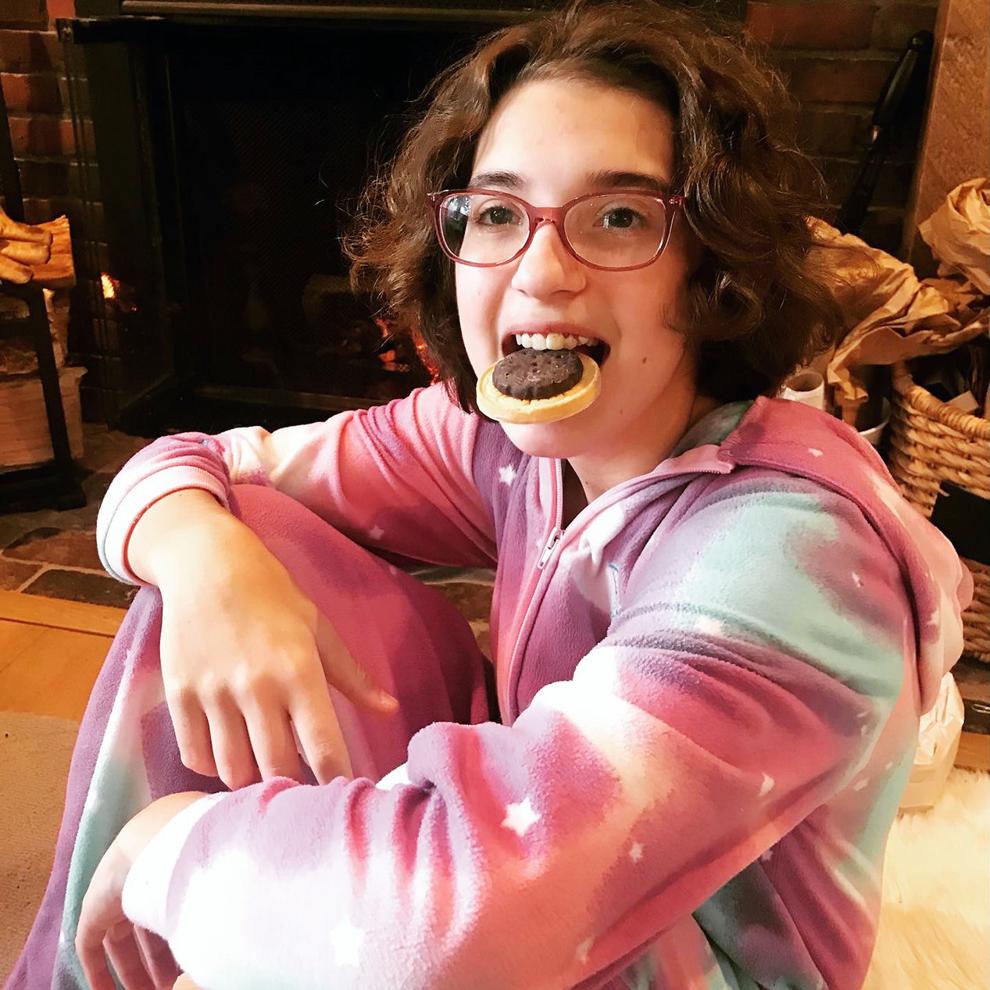 The normal "cookie pantries" had restricted hours, and cookie inventory was hard to come by. The timing of supplies could be spotty, said Ella's father, Christopher N. Bartlett. "We were never sure when inventory would be available."
Livestream events, videos and meetings replaced in-person Scout troop meetings. Orders for cookies were initially taken via the "ABC Smart Cookies" app, with cookies shipped directly to the buyer. Virtual cookie booths replaced in-person booths during phase one of the cookie sales.
Not able to ring doorbells to sell cookies or join other Scouts at group booths and selling events, Ella found creative ways to spread the word for cookie sales.
She crafted a handwritten letter advertising her cookies, which she and her father distributed on foot, walking throughout the neighborhood.
Ella and her mother put flyers up anywhere in town where flyers are allowed, and created a large yard sign for their front lawn.
Every Girl Scout got an online cookie store, but it had a long and difficult-to-write address.
She generated a QR code of that URL and featured it prominently on all the flyers. When the code was scanned with a smartphone camera, it took the customer to that URL. "The process teaches technology," Ms. DiMeo said.
Ms. DiMeo advertised Ella's cookie project on Facebook, she said, because Ella does not have her own social media accounts.
Once Scouts were allowed to sell outside, Ella received permission to set up a booth near Walmart in Teaticket.
Ms. DiMeo, who said "signage is a must," created a 20-foot banner that said GIRL SCOUT COOKIES to hang along the brick half-wall near the store.
Starting in February, Ella and her support team, consisting of her parents and often her grandmother—who lives in Andover and was once a Girl Scout herself—sold cookies at Walmart almost every Saturday.
Many days they sold cookies in the rain, sometimes in the snow, and usually in the wind. "The Walmart parking lot is always windy," Mr. Bartlett said.
At these outdoor selling events, Ella's parents and grandmother were the "sign holders," while Ella talked to the people. "She talked to everybody," Mr. Bartlett said.
Ella used a variety of sales and marketing techniques, such as painted rocks with the words "Get Your Girl Scout Cookies" on the front and a QR code to scan on the back.
She initiated the "Lemmamint cookie" concept and encouraged her customers to try it by putting a Lemonades cookie on top of a Thin Mint cookie (or the other way around) and eating them together.
Thin Mints never needed sales help, but the marketing concept did significantly increase the sales of Lemonades cookies.
Ella loved giving out her branded "swag," such as keychains and stickers that she used to promote sales. "If you buy 10 or more boxes of cookies, you get a sticker," Ella would tell her customers.
"This was surprisingly motivating," her mother said.
"Ella did really well," her father said. "She got really good at inventory: knowing how much we had, and how much we needed to order. On the physical side, she had to load up the car every time she went out to sell, filling the back of the car from top to bottom with cases of cookies."
Ella told her Scout leader, Meagan Eagle, that she did not start out with the goal of being the top cookie seller, but that when the pandemic limited opportunities for other activities, she kept increasing her cookie-selling goals.
Seeing the joy that the cookies brought to people, Ella said, she started using the tagline, "Spreading joy through cookies" in her sales pitch.
Ms. DiMeo said that their neighbors were fabulous cookie customers. One neighbor who works at Falmouth Hospital bought cookies for herself, then came back every week to buy cookies for people at the hospital.
One girl in the neighborhood ordered 41 boxes of cookies because she has "a ton of brothers." Another neighbor bought 26 boxes.
By her last day on the cookie-selling job in mid-March, Ella was tired and ready to be done. The day before, she had sold 250 boxes of cookies outside of Walmart and had 28 boxes left to sell.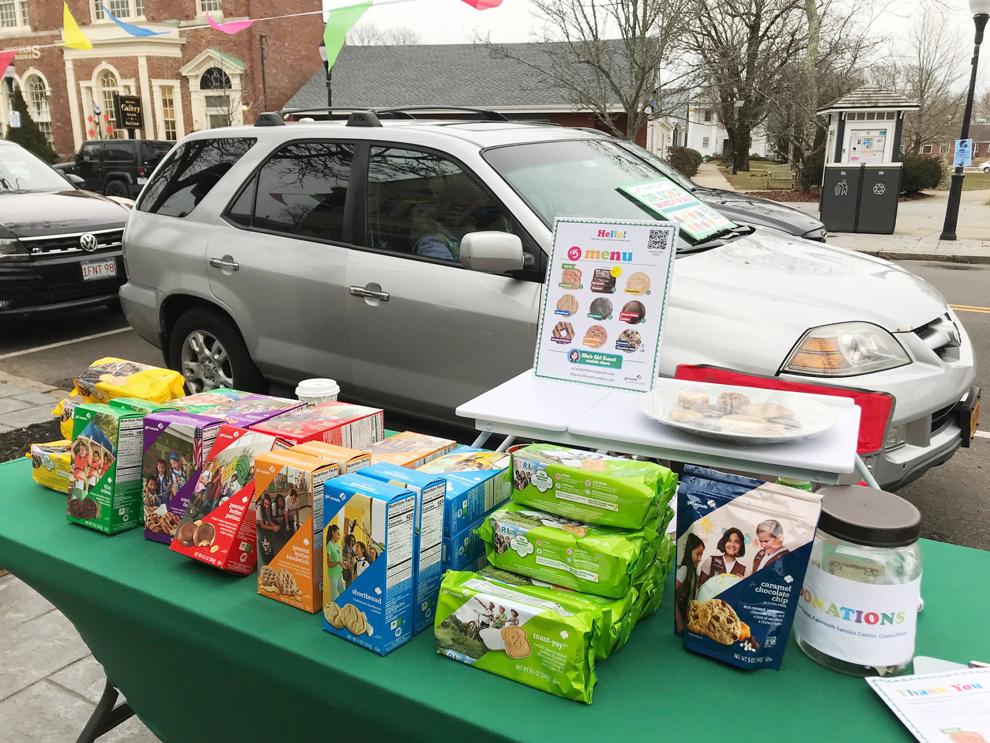 The weather was snowy and windy at her alternate site in front of Homespun Garden on Main Street, and she wanted to sell the rest of her supply.
She did not have long to wait that day. A truck pulled up to the curb and the driver asked how many boxes Ella had left. "I'll take them all," he told her, and said he planned on using them for donations.
A woman pulled up and asked for Thin Mints. The man gave her several boxes from the supply he had just bought, and she put money into the donation jar.
With that, Ella had sold 4,919 boxes of cookies to become the Top Cookie Seller in the Girl Scouts of Eastern Massachusetts Council. A total of 11,594 girls participated in the cookie program this season.
On March 24, Girl Scouts of Southeastern Massachusetts sent Ella an email with the title: Congratulations! Ella is the #1 Cookie Entrepreneur at GSEMA!" Her prize is to spend a day with Catriona Taylor, CEO of the council.
"To my knowledge, there has never been a top seller from Cape Cod or from Falmouth," director of product program at GSEMA Erin L. Sullivan said. "We're are very excited for Ella.
"Ella is such a great example of how Girl Scouts become leaders during the cookie program. They develop all these life skills which set them up for success.
"Ella has flexed her selling muscles during this crazy, unusual season, and we commend her for the hours and hours of work she did to make this happen, and for what she achieved."
Ms. Sullivan said that Ella also took it upon herself to lead the way in collecting money for the "Cookies for a Cause" aspect of cookie sales, which helped the organization set a new record for cookie donations this year.
Of all the creative selling tactics Ella used to sell cookies, the most successful, her mother said, was the handwritten letter with a cookie menu stapled to the back.
"Happy 2021!," it said…"Want to start your new year off with some fresh cookies? It's Girl Scout cookie season and I'm selling.…There are vegan/GF options. My favorites are the Thin Mints. Don't like cookies? There's an option to buy boxes and donate the cookies to charity. All proceeds stay local. To order, call my mom, Laura…Thank you, Ella#cookieboss, Troop 62754."
Girl Scout cookies have come a long way from the original sugar cookies made by Scouts, packaged in wax paper bags, sealed with a sticker, and sold door-to-door for 25 to 35 cents per dozen.
Today's brightly colored boxes of designer cookies sell for $5 a box. As anyone will tell you, they are worth every cent.
This year, Falmouth Girl Scouts have donated cookies to the Falmouth Service Center and the Waquoit Congregational Church's meal outreach program for homebound seniors. Additional packages will be donated to local active military members, to be distributed by the Falmouth Military Support Group.