The Falmouth Chamber of Commerce 56th annual Christmas Parade will step off at noon Sunday, December 8, from the intersection of Dillingham Avenue and Davis Straits and travel along Main Street to the Village Green.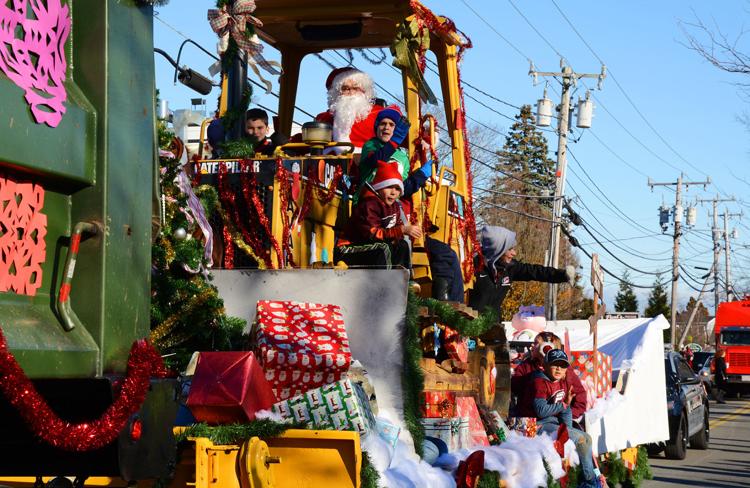 Parking downtown on Main Street will be prohibited on Sunday beginning at 8 AM until the parade concludes at approximately 2:30 PM.
Parade staging will begin at 8:30 AM on Dillingham Avenue, which will be closed to through traffic from 8 AM until approximately 1:30 PM. Parade floats and vehicles should arrive at Dillingham Avenue, from Gifford Street only, between 8:30 and 10:30 AM. No vehicles will be allowed to enter Dillingham Avenue after 11 AM. The Davis Straits end of Dillingham Avenue will be closed to everyone. Parade participants should arrive for dropoff at Gus Canty Community Center between 8:30 and 10:30 AM. Parking will be available, to parade participants only, at the community center and at the Island Queen lot on Scranton Avenue.
Children will be allowed to wait in the Gus Canty Community Center with adult supervision provided by their parade group.
Beginning at 11:30 AM Davis Straits between the traffic lights at Jones Road and Main Street to the Village Green will be closed.
The rain date for the parade is Sunday, December 15. In the event of cancellation, a weather-related announcement will be available at the chamber of commerce phone number, 508-548-8500, and on the homepage of FalmouthChamber.com. If there is no announcement, the parade will continue as scheduled.
Parade Lineup:
Falmouth Police Department Stuff A Cruiser
Falmouth Police Honor Guard
Falmouth Chamber of Commerce (Banner)
Falmouth Chamber of Commerce Board
Chapman, Cole & Gleason (Banner)
State and Local Officials
Falmouth High School Clipper Band
Cape Cod Aggregates (Banner)
Graci Septic Solutions, Inc.
Falmouth Community Media Center (Banner)
Falmouth Road Race (Banner)
Miss Cape Cod Scholarship Foundation
New England Ballet Theatre
Falmouth Fire Honor Guard
Original 1927 Fred Ahrens Fox Fire Engine
Falmouth Fire Rescue Engine 21
Falmouth Fire Rescue Ladder 26
Falmouth Fire Rescue Breaker 18
Falmouth Fire Rescue Emergency Response Team Vehicle Cert 32
Inspiration Is Everywhere
Atria Senior Living (Banner)
Thumbtastic Massage & Wellness
The Black Dog/Friends of Falmouth Dogs
Flip Flops Gymnastics, Inc.
The Lee Ann Manrillo Foundation
Almeida & Carlson Insurance (Banner)
Upper Cape Ski & Sports Club
Longfellow Design/Build (Banner)
Mark of The Promise Missionary Church
Cavossa Companies (Banner)
Clancy Construction, Inc.
Seven Stars Academy of Martial Arts
Falmouth Figure Skating Club
Cape Verdean Club of Falmouth
Cape Cod Hospital (Banner)
Aleppo Cape Cod Fire Brigade
Northeast Insurance (Banner)
St. Barnabas Episcopal Church
Newcomers Club of Falmouth
The Cooperative Bank of Cape Cod (Banner)
Us Coast Guard Auxiliary Flotilla 11-02 (INR)
Massachusetts Maritime Academy Band, Honor Guard and Drill Team
M. Duffany Builders (Banner)
White Tie Limousine (Banner)
Amvets Post 70 With Santa