Town Meeting on its last night approved a municipal plastic bottle ban.
The ban prohibits the sale of any beverage in single-use plastic containers on town property. "This is a Cape-wide effort," petitioner Christine Kircun said at the meeting November 14. "As of this meeting, 10 towns have adopted the municipal bottle ban, and I hope tonight we can join them as number 11."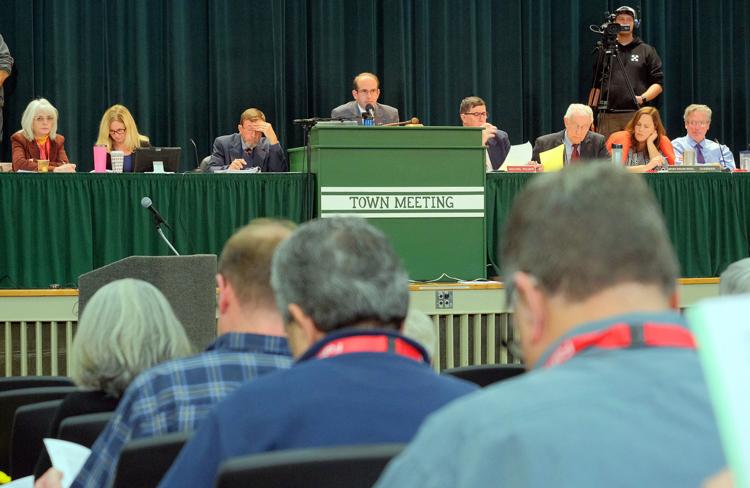 Ms. Kircun highlighted the need to do so, saying 50 billion single-use plastic bottles are consumed annually, including 30 billion in the United States. Only one-third of these bottles are recycled. These recycled bottles "are rarely made into new bottles."
"This ban focuses on a behavioral change in favor of reusables," she said. "At a Town Meeting earlier this spring, members allocated funds to the Falmouth Water Stewards to install eight water stations at seven recreational sites in town, and that will greatly encourage this necessary behavior change."
Robert V. Antonucci, Precinct Six, said additional work needed to be done before enacting the article.
"I would support this if we have alternative providing refill stations in all of our town buildings and all of our fields," Dr. Antonucci said. "The road race purchased three of these stations in that attempt. We need about 25 to 30. It isn't against this article, but I don't like this over-regulation. I don't think enough study has been done."
Dr. Antonucci said he is on the Falmouth Road Race board of directors.
"We use, and I hate to say, thousands of water bottles at the road race," Dr. Antonucci said. "The way this article is written, because we use town streets, town sidewalks and the field at Woods Hole, would we be prohibited from having vendors sell us water bottles for that race?"
Ms. Kircun confirmed the article would ban the sale of water in single-use plastic bottles on municipal property. However, water in single-use plastic bottles could be freely distributed, or vendors could sell water in alternative packaging.
"The market has already responded with alternative packaging for water," she said.
Susan L. Shephard, Precinct One, said the regulation would help address the ongoing littering problem in Falmouth.
"I have dogs, I've always had dogs, and I walk my dogs all over town," Ms. Shephard said. "I'm appalled at all of the plastic bottles I see on the ground, even in places like our playing fields."
Moderator David T. Vieira called out litterers.
"You folks who are throwing your plastic bottles all over the town of Falmouth, grow up and put them in a recycling bin, regardless of whether this article passes or doesn't pass," Mr. Vieira said. "There is no need to be throwing plastic bottles anywhere, other than in the recycling bin."
Noting she was the coordinator of the annual Falmouth spring cleanup, Leslie R. Lichtenstein, Precinct Eight, said she "would love to see plastic bottles go bye-bye." However, she asked how the proposed regulation would impact the distribution of water bottles by the Federal Emergency Management Agency and other departments during emergencies.
The bylaw includes an exemption for local, state and federal agencies during emergencies. In addition, any town department engaged in public health or safety operations is exempted from the bylaw.
An amendment to delay implementation of the regulation until 2025 by Gerald C. Potamis, Precinct Two, was rejected on a voice vote.
Falmouth High School student Philip Gessen spoke against the amendment, saying it specifically bans the sale of single use plastic bottles on municipal property, and does not impact the sale on private property.
"This ban isn't a wide-reaching ban," Philip said. "It is not commercial yet, it is a town ban."
Joseph A. Netto, Precinct Nine, added that those in business exist to make money, and will find a way to package water that allows them to continue to do so. He said this would just be the latest step taken by Town Meeting to protect the environment, starting with the plastic bag ban.
"We passed it, and guess what, it disappeared," Mr. Netto said. "Lo and behold, guess what, the industry came up with a recyclable plastic bag."
He noted the same happened with the Styrofoam ban, with restaurants transitioning to cardboard takeout containers. The bottling industry can adapt as well, he said.
Maureen S. O'Connell, Precinct Four, questioned the effectiveness of just banning the sale of single-use plastic bottles on municipal property. While it would remove water bottles from town-owned vending machines, water bottles would still be available elsewhere in town, she said.
"People will just go across the street and get what they could have gotten from the machine," Ms. O'Connell said.
Selectman Douglas C. Brown said the regulation would allow the town to set a good example.
"Change is always difficult, but as a town, we should lead by example and do the right thing," Mr. Brown said.
The ban passed on a voice vote.