Holding a black walnut seedling that she pulled from the field, Falmouth farmer and US Army veteran Jennifer L. Christian, 34, of Feather Light Farms walked—tan, toned, and barefoot—this week along a path between a large patch of thriving garlic and rows of young lettuce plants interspersed with kale, talking about her passion for growing food for the community in which she lives.
Although she has not yet been told the exact amount, Ms. Christian is one of 47 female military veteran farmers—of 130 veteran recipients from all over the country—to receive a 2021 Farmer Veteran Fellowship Fund grant.
The grants are awarded to small, veteran-run farms in their early years of farming and ranching to purchase specific equipment.
As she gave a tour of the East Falmouth farm property, one of two Feather Light Farms locations in Falmouth, Ms. Christian spoke about the ways in which her eight years in the Army National Guard shaped the farmer she is today.
"I think farming is a really cool opportunity for veterans because we are such hard workers; we have been pushed beyond most people's fathomable limits and so we're willing to work hard," she said. "We're a little gruff sometimes, but the vegetables don't mind."
During her tenure in the military Ms. Christian was deployed to Iraq and Kuwait, where she worked in a combat heavy equipment transport unit maintaining more than 300 pieces of equipment that were "up-armored" to protect the troops. Everything had steel plates and extra things to remove, she said.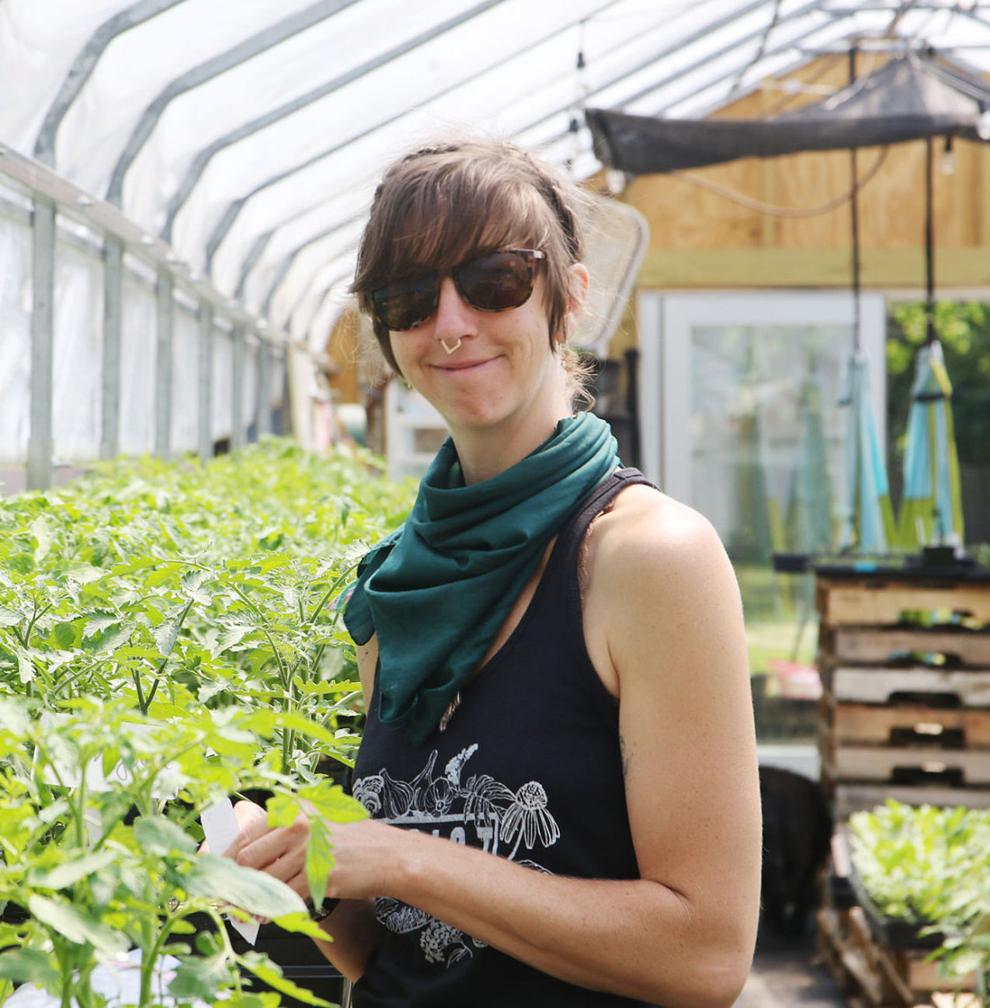 "I was in the maintenance shop most of the time in charge of inspections," she said. "Hubs, axles, wheels and brakes—that was kind of my specialty. I did a few engine pulls in my day in pretty sketchy ways—that's the Army; you do what you have to do in a combat zone even if you don't have the proper lift to take an engine out."
"I was really good at inspecting, because I cared about the men and women who were drivers. I'm a civil servant at heart; I care," Ms. Christian said.
Working with machinery in the Army gave Ms. Christian mechanical skills she will always be able to use. "I am very capable; I can do anything," she said.
It also taught her that she does not like machinery. At Feather Light Farms, she doesn't have any.
"I know the money, time, and frustration machinery takes," she said. "I don't need the hassle and I'm not interested in using fossil fuels." Further, the lack of farms on Cape Cod means there are no mechanics or parts here for farm machinery, she said.
A farm would normally have a tractor with all sorts of implements, Ms. Christian said. Instead, she has a little rototiller that runs off an electric drill. All of her equipment is electric.
"Instead of having to rototill and disc and harrow, I have a broad fork and an electric tilther," she said. "Occasionally I'll use a little rototiller if I'm opening up a new field and I want to dig the walkways."
Ms. Christian has a very specific preparation method for her planting fields, which she says gives her a lot of "beautiful results."
"I use tarps for everything; the worms are my rototiller," she said, pointing to the large black tarps in the field where the next planting beds will go once the worms have done their work.
"I'm just harnessing nature, not using chemicals, and keeping the microbes and minerals that get the vitamins and minerals into our food in the soil. Tilling destroys them, and releases carbon into the atmosphere," she said. "We try to be light on the land and value the ecosystem for what it is doing."
Shade cloth, plastic and "tunnels" are the equipment for which Ms. Christian sought grant money from the Farmer Veteran Fellowship Fund. This equipment would be used to create little "greenhouses" in the field, she said.
Shade cloth would cover the tunnels in the summer to protect the tender greens she produces for local markets from the hot sun. In the cold weather, the shade cloth would be replaced with plastic to retain heat and extend the growing season.
"I haven't previously had the infrastructure or the capital to do this," Ms. Christian said. To do it right, with irrigation, she said, would cost about $5,000—the amount of grant money for which she applied.
Farming is the way Ms. Christian does her part to provide food security in the community, something about which she is passionate. It is also personal for her.
"I love to eat and I love to cook," she said. "All my favorite people love food as much as I do. It ends up being a very connecting piece for me."
"Being in the military gives you a huge dose of all the big, scary things about this world, and it makes you feel like a protector," she said. "You really do embody a lot of the Army values, and they're good values."
"There is a lot of freedom wrapped up in gardening and farming for me," she said. "It's about independence, and I love teaching that to people.
"Anybody could do this with any tarp; it doesn't have to be a fancy tarp. I encourage people to turn their lawns into this—it doesn't have to be a farm, it could be a vegetable garden to feed the family."
"I think a lot of people in the military have that sort of communal yet independent attitude because of the way of the military. You really have to trust and work well with other people in your community toward a mission," Ms. Christian said. "A lot of what we're trained to do is on the basis of the greater good."
After giving a tour of the crops in the field, Ms. Christian walked to the newly built greenhouse, which is filled to capacity with vegetable and flower starter plants, to put labels onto trays as she talked.
"I'm constantly jittery during the day because there is so much to do," she said as she surveyed her plants which are, she said, "so healthy and beautiful."
"I love people having healthy plant starters. It makes such a difference," Ms. Christian said.
Feather Light Farms, in its second year, already has cause to celebrate.
Of the garlic, Ms. Christian said she managed to get some "miracle garlic," and she planted as much of it as fast as she could in December, which is late. "I'm lucky it came up," she said.
"I got a new label maker this year, which is so nice," she said as she placed labels on plants in the greenhouse. "I got a walk-in cooler this year, and someone gave me an anonymous gift through Farmer's Friend, where I order many, many pieces of equipment. And I got the Fellowship grant, which is amazing."
"Farming is a fulfilling thing," Ms. Christian said. "You really feel like you're benefiting your community. There's a lot of honor being in the military, and after you serve there's a desire to serve in daily life with that same honor. It feels good when you wake up in the morning."
Farmer Veteran Coalition is a national nonprofit, nongovernmental organization that mobilizes veterans to feed America and transition from military service to a career in agriculture, the organization's website states. The coalition has given out more than $2.5 million in grants to veterans through the Farmer Veteran Fellowship Fund.
The Heather Light Farms website states that the organization is "powered on all fronts by volunteers, collaborators, and community..." And, one might add, by the Army's core values—Loyalty, Duty, Respect, Selfless Service, Honor, Integrity and Personal Courage.
Customers can purchase Feather Light Farms vegetable and flower starter plants at www.featherlightfarms.org for pickup at the Falmouth Farmers Market on Thursdays, or at 18 Lewis Street in East Falmouth on Sundays, from 10 AM to 2 PM. Delivery options are also available.