The word "Massachusetts" derives from a misspelling of the older word "Massachuset," which means "at or about the great hills." The Blue Hills, that is. It refers to a tribe of native people who called themselves the "Massachuseuck" and who nearly died out in the King Philip's War of the late 1600s.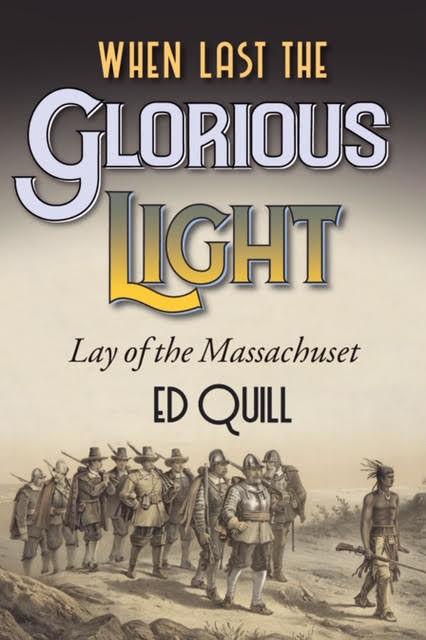 Edward W. Quill, a Pembroke resident, will share the tribe's story, as chronicled in his book "When Last the Glorious Light: Lay of the Massachuset" (Silver Lake Press) at 2 PM Saturday, December 7, at St. Elizabeth Seton Church at 481 Quaker Road in North Falmouth.
Educated at Boston University and Harvard University, Mr. Quill is a former archivist at Boston City Hall and onetime chief librarian at The Boston Globe, where he also served as a city hall reporter and editor of its "Ask the Globe" column.
He is the brother of the late James J. Quill and brother-in-law of Marjorie E. Quill of North Falmouth.
"I was originally a Boston kid, and when my wife and I moved to Pembroke, I learned that the town, then called Mattakeesett, was one of the last strongholds or campsites of the Massachuset tribe as it decreased in numbers," Mr. Quill said Tuesday, December 3.
The new book focuses on four Massachuset chieftains, or sachems: Chickataubut; Obbatinewat; Chickataubut's brother Cutshamekin; and Chickataubut's son, Wampatuck.
In Mattakeesett, Wampatuck, who accepted and then rejected Christianity, sold land to English settlers and later led 700 warriors to fight the Mohawk tribe in what is now northern New York, where he died in battle.
"I was part of the Pembroke Historical Society and got interested in the tribe. They've been mentioned in various history books and articles, but nobody had ever written a full-length book about the tribe, its history, customs and legends. I thought, 'Why not?' and got it into my craw to do the research and write the book."
Despite the book's 700 footnotes and extensive bibliography, Mr. Quill wrote in his introduction that it "lays no claim to be an academic historian's definitive work."
"It is, however, a storyteller's telling of the highlights he has spotted that tell this people's tale, that sings their song as it were, their lament, and gives call to their joyous chant now, and only now, that their tale has been told, that gives drumbeat to this lamentable lay at long last—the Lay of the Massachuset," he wrote.
"My book is definitive until someone else does a better job," he said.
The Massachuset were allies with the Wampanoags, and chieftains from both tribes signed peace treaties with the English settlers in 1621, along with seven other tribes.
"The Massachuset never violated that peace treaty, despite small skirmishes, and the reason they never got to be well-known was that they never went to war in any big way with the settlers," Mr. Quill said.
Of the tribe's fate, he wrote in the book, "The tribe's tragedy began its fatal drumbeat by the prevailing pestilence brought to the New World by French and English settlers who were immune to these deadly diseases brought over from Europe. The second devastating death toll came during King Philip's War (1675-76) when most of the remaining Massachuset were incarcerated on wintry windswept Deer Island in Boston Harbor, where over half of their numbers died from frostbite and starvation."
Another group from the same tribe had been herded onto Clark's Island in Plymouth Harbor.
"There are still some Massachuset around, and they are trying to get state and federal recognition, but it's been a struggle," Mr. Quill said.