"I'm shocked at how fast orders are coming in. People are definitely gardening more," Jennifer L. Christian said as she pulled garden tools out of her red Toyota truck.
Ms. Christian is the manager of the Falmouth Farmers Market and a farmer who is raising money to start Feather Light Farms in East Falmouth. She was referring to the farm's first weekend online sale of vegetable plants for home gardeners.
"We have many new gardeners," said Andrew J. Cannessa, an employee at the Cape Cod Wholesale Nursery on Martin Road in Falmouth.
"People are finding a way to keep busy. The parking lot is full and the lines are heavy, but people are happy to wait in line just to get out of their houses," he said, talking through his face mask.
"We are seeing a lot of first-time gardeners," M. Terry Soares, owner of Soares Flower Garden and Nursery on Sandwich Road in Falmouth, said last week as she tended potted plants between customers, wearing a face mask and gloves. "They are planting in containers, whisky barrels and raised beds—people are being very creative," she said.
Ms. Soares said that while by chance the nursery ordered more vegetable plants this year than last, it can still hardly keep up with demand.
"Vegetable gardening is huge, but it's not just vegetables," she said. "People are also buying fruits such as strawberry plants, blueberry bushes and fruit trees."
"This pandemic is going to shake our fragile global food system to the core," Ms. Christian wrote in an online appeal for volunteers to help prepare new Feather Light Farms fields for cultivation.
"West coast farmers will not have the labor they need to grow all the food they usually do, so we need to re-localize our food system now," she wrote.
"I think of this as a great homecoming," Ms. Christian said of the COVID-19 pandemic. "People are at home together, people are in the kitchen together. Domestic tasks were looked down upon for so long; now people are re-learning to grow food, not as a job, but as a joy. I think this is a blessing for the community."
The gardeners also spoke about the impact of gardening upon their lives, from the practical to the emotional and spiritual, during a time of fear and uncertainty.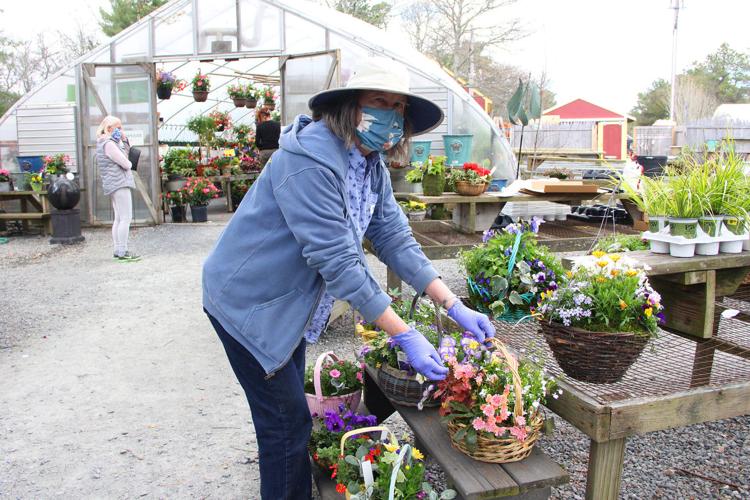 Patricia Halpin, who lives near the Mullen-Hall School in Falmouth, is an avid walker who goes past the school garden several times a week on her way to Main Street.
The garden was left untended this spring, with students and teachers home from school and the garden committee mothers becoming home-schooling teachers.
She realized that nothing would be happening at the Mullen-Hall School garden during the pandemic, and though she had not undertaken vegetable gardening in many years, her walking friends inspired her to plant vegetables there, as her own yard is too small.
Ms. Halpin sent an email to Mullen-Hall School Principal Nancy A. Ashworth asking permission to work in the garden. Ms. Ashworth, who added the garden coordinator position to the school to bring in more volunteers, teachers and students to the garden for educational activities, agreed immediately.
"I can walk over easily and work, and no one else is here," Ms. Halpin said, pointing to the raised beds she had cleaned out and made ready for planting.
"There are perennial bushes and grasses which need attention, and I will get to those later," she said.
"I love the fresh air, and being outside," she added.
Ms. Halpin hopes to grow enough vegetables to feed herself. If she has enough, she will donate extra produce to the Falmouth Service Center. She will tend the garden, she said, until students come back to school. One member of the Mullen-Hall School garden committee called her "the garden angel."
On the other side of town, at the Marina F. Andrews Community Garden at Tony Andrews Farm in East Falmouth, all 55 plots at the one-third-acre garden lot have been taken for the season.
"A lot of people are happy this garden is here," board of directors member and gardener Dick Pooley said as he showed off the new community garden, which until last year was located next to the Falmouth Service Center on Gifford Street.
"It gives the gardeners security as far as having vegetables for the summer at a time when there is uncertainty about where we are headed and where our fresh vegetables will come from," he said.
Board of directors member and gardener Ilene N. Karnow showed off the young spinach and pea plants sprouting in her garden plot then moved along the wood chip-covered paths, pulling weeds as she talked.
"This community garden has been a wonderful way for people to meet and have community," Ms. Karnow said. "People are getting their gardens ready early this year, because this is a place where they can be with others safely."
New vegetable gardeners can become overwhelmed thinking about how to start.
"Start with something you like to eat," Michael A. LaRocca of East Falmouth advises new vegetable gardeners. "I like carrots. Everyone says they are hard to grow, but they aren't. Carrots like loose, sandy soil. Make your own compost pile. Have fun with it."
Mr. LaRocca refers to gardening as "my little peaceful place to go." He is planting more lettuce than usual this year because he does not want to shop for it in grocery stores during the pandemic.
Woods Hole gardener Sarah A. Fuller described her garden plot as "a conduit for creative thought that will render tangible results," sometimes immediate, and sometimes months down the line.
"In times when many feel helpless or not in control, gardening reminds us of the value of staying in the present while planning for the future," she said.
"Gardening soothes me," said Pamela C. McCarthy, who is part of the leadership of the Engage Falmouth group. "It is physical proof that I still have hope, that I haven't given up, that what I plant will grow and I can eat and share," she said.
This year, for the first time, Ms. McCarthy has started seedlings under grow lights. "I would encourage people to share their knowledge and their resources," she said. "If you have extra seeds or seedlings, share them!"
"Gardening gives me something to look forward to," Woods Hole gardener Amanda H. Sutherland said. "I put in some effort today, and next week there will be sprouting beans. Last month I planted tomato seeds; in July there will be red and yellow treats ready for me."
"We have a lot of families coming through," Mr. Cannessa of Cape Cod Wholesale Nursery said. "Parents are showing their kids and then going home to plant," he said.
"I won't plant this yet because I know it's too cold," Wholesale Nursery customer Pattie King-Oberg said on a cold day before Mother's Day weekend, referring to the six-pack of parsley she held in her hand. "But I just had to get outside."
Back at the Feather Light Farms greenhouse, Ms. Christian leaned over to check a row of thriving plants. "I'm so happy that you are so happy," she whispered to them.
The original intention of Ms. Christian and her friends who are helping her start Feather Light Farms was to grow micro-greens to sell to local restaurants, many of whom told her they would buy as much as she could grow, and to sell in bulk to small local markets, which would eliminate plastic packaging.
Then the pandemic hit and the restaurants closed, and Ms. Christian had to "pivot fast," she said. Growing plants for home gardeners became a priority.
"I try to grow plants that will appeal to home gardeners," she said. "Greens such as kale, Swiss chard, and lettuce, as well as tomatoes, eggplant, peppers and herbs. Instant garden," she said.
"We need to have healthy local food options for people so they can have robust immune systems so their bodies can fight this virus…Food when grown the right way is medicine," Ms. Christian wrote to her supporters last month.