A miniature red sports car rolls down a ramp and hits an upright textbook, which sets in motion a domino effect that knocks down two other textbooks, tugs a string, pulls a trigger, fires a Nerf gun, topples a line of wooden letters that spells out "ALEKS"—the name of an online learning program—and continues on without stopping.
That was one of many sections of the gigantic, sprawling "Rube Run" that Robert M. Porto's 8th grade engineering students from Team 5 constructed at Lawrence School auditorium last Friday, November 22.
"Rube" refers to a Rube Goldberg device, named after cartoonist Rube Goldberg, which is intentionally designed to perform a simple task in an indirect and overly complicated way.
This end-of-trimester project, which took place over two weeks, was the result of funding from the Falmouth Education Foundation, and this is the fourth annual Rube Run.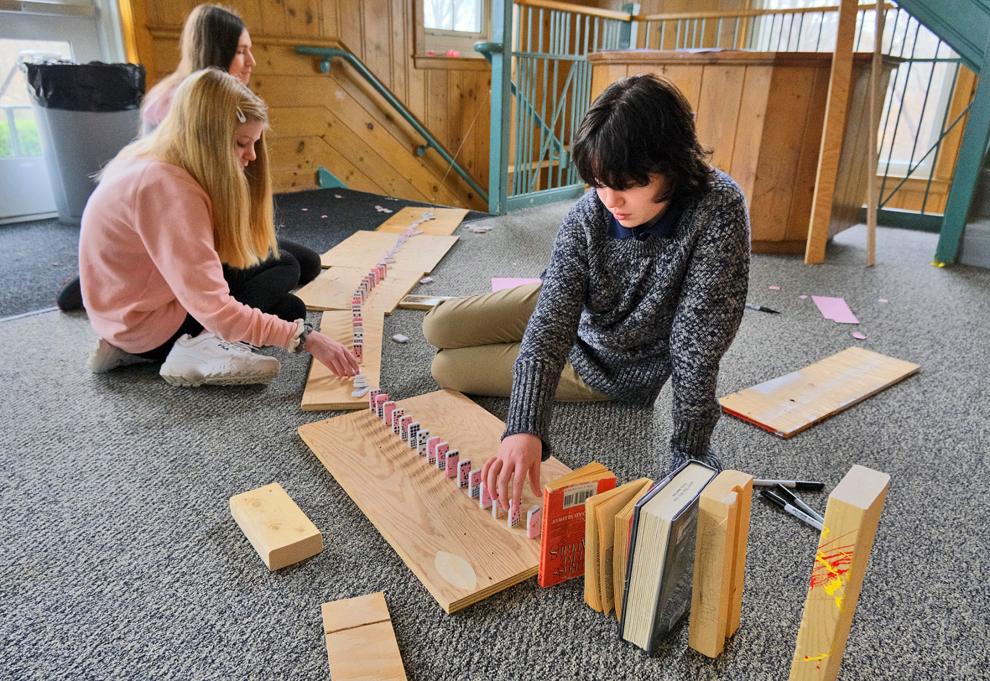 "Bob Porto, STEM teacher at Lawrence School, is a grantee every year and does phenomenal stuff in his engineering lab; whole-grade events that require kids to use physics and engineering principles," foundation board president Ellen Barol said. "He has also gotten grants for after-school activities, including bicycling and paddleboarding. He loves to include community service in his classes, and there are many examples around town."
Mr. Porto thanked the foundation for its support.
"Part of having an engineering program here is because of FEF. It helped us purchase new tools to start up the wood shop here about 10 years ago, and we've extended our programs from 8th grade to 7th grade and it has grown from there," Mr. Porto said. "Last year we built benches, display kiosks and tables using materials purchased with grant money."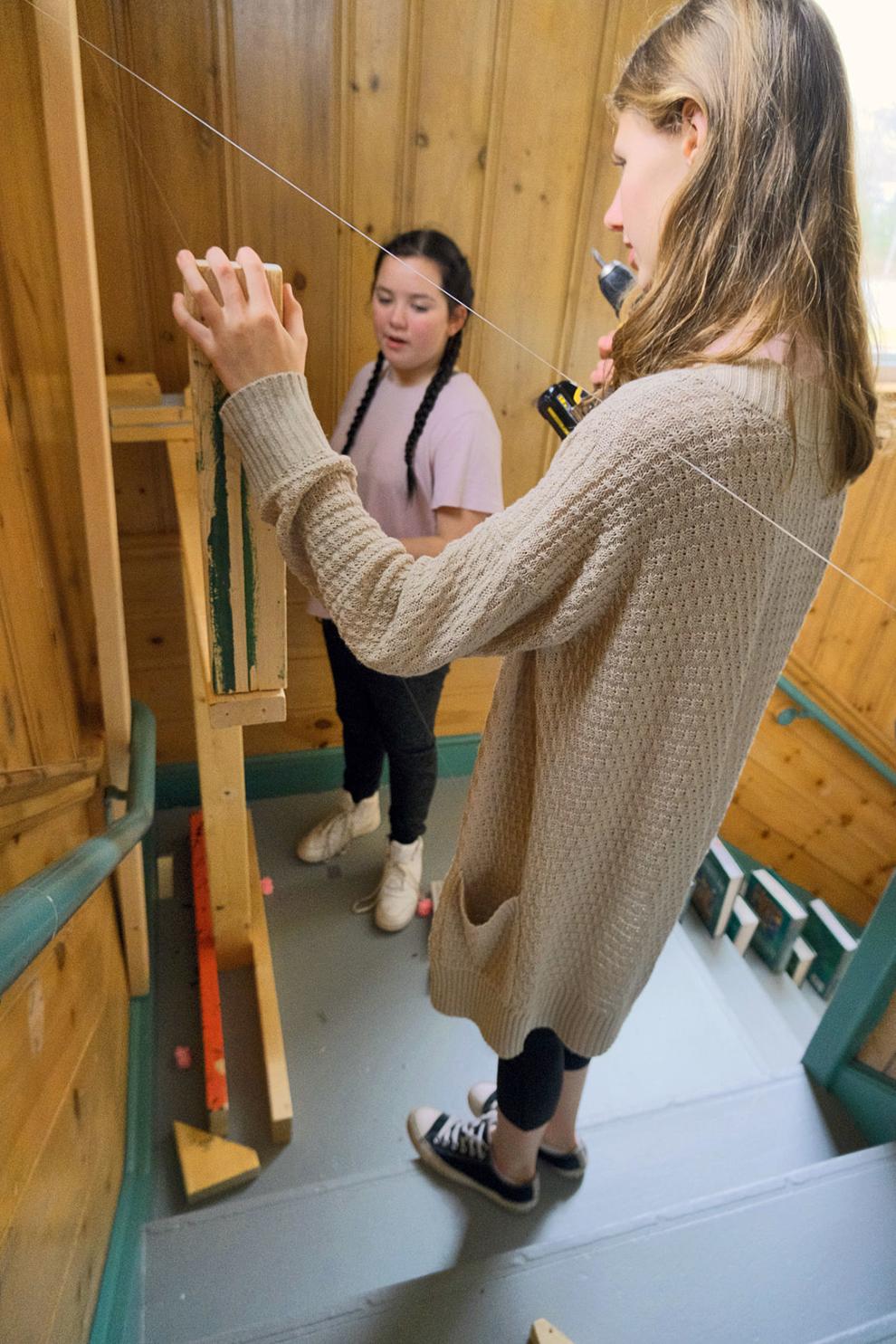 Students have raised additional funds through an annual trash clean-up fundraiser.
For the past three years Mr. Porto and his students have completed a variety of end-of-trimester projects, including the Rube Run, the da Vinci Dash, an Engineering Olympics and an Iditarod-style dog-sled project.
This year's Rube Run involved more than 75 students, most of whom were hard at work last week setting up individual sections of the massive machine in small groups. Some worked in the auditorium's lobby; others worked down in the aisles or up on the balcony and the stage.
"By Friday morning, every class aimed to have their sections set up so that we could run through the entire thing from start to finish and work out any kinks," Mr. Porto said. "It's organized chaos, with everyone scrambling for most of the day."
Parts of the different interconnected sections included dominoes, marbles, vacuum tubes, bowling balls, blow-up globes, strings, ropes, tables, chairs, drills, nails, tape, aluminum foil, wooden structures, ladders, signs and more.
There are also visual nods to concepts from English, math and other subjects, such as a math teacher's face on a wooden sign.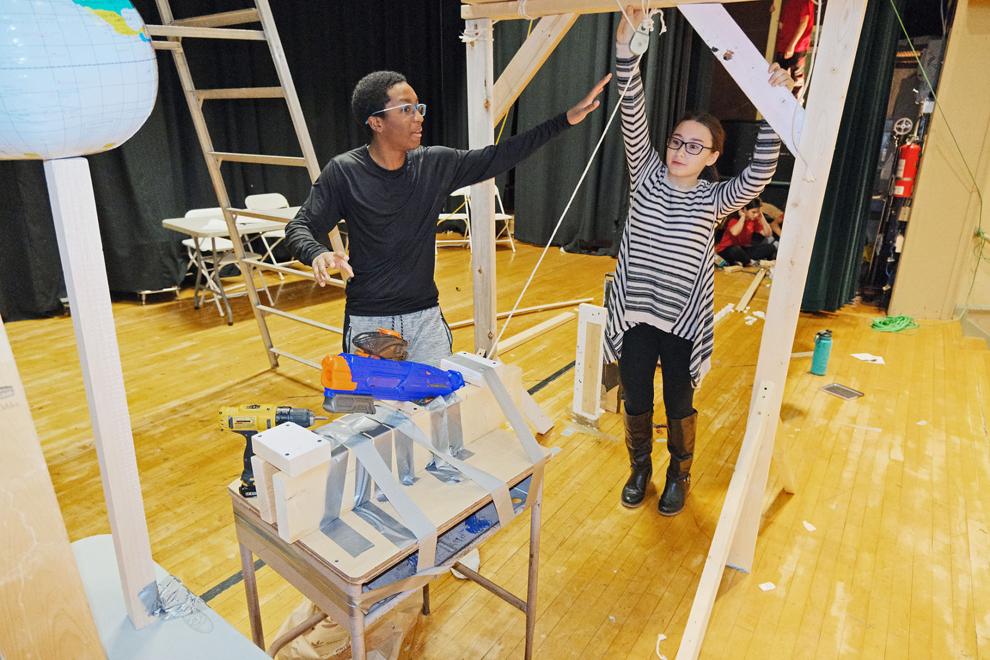 Thomas Ghossien's three-person group used a model Ghostbusters car that goes down a ramp and strikes a series of wood pieces that turn on a slide projector that shows a slideshow on a wall screen.
"It's all pretty fragile, so we have to make sure we don't knock things over in advance," he said. "It's a lot of fun."
Nearby, Connor Moniz tests out his group's section, which includes an air compressor and an inflatable waving person.
Terrance Ray and Louis Yuricic-Farrar are among the students recording the construction and interviewing their fellow students on iPads.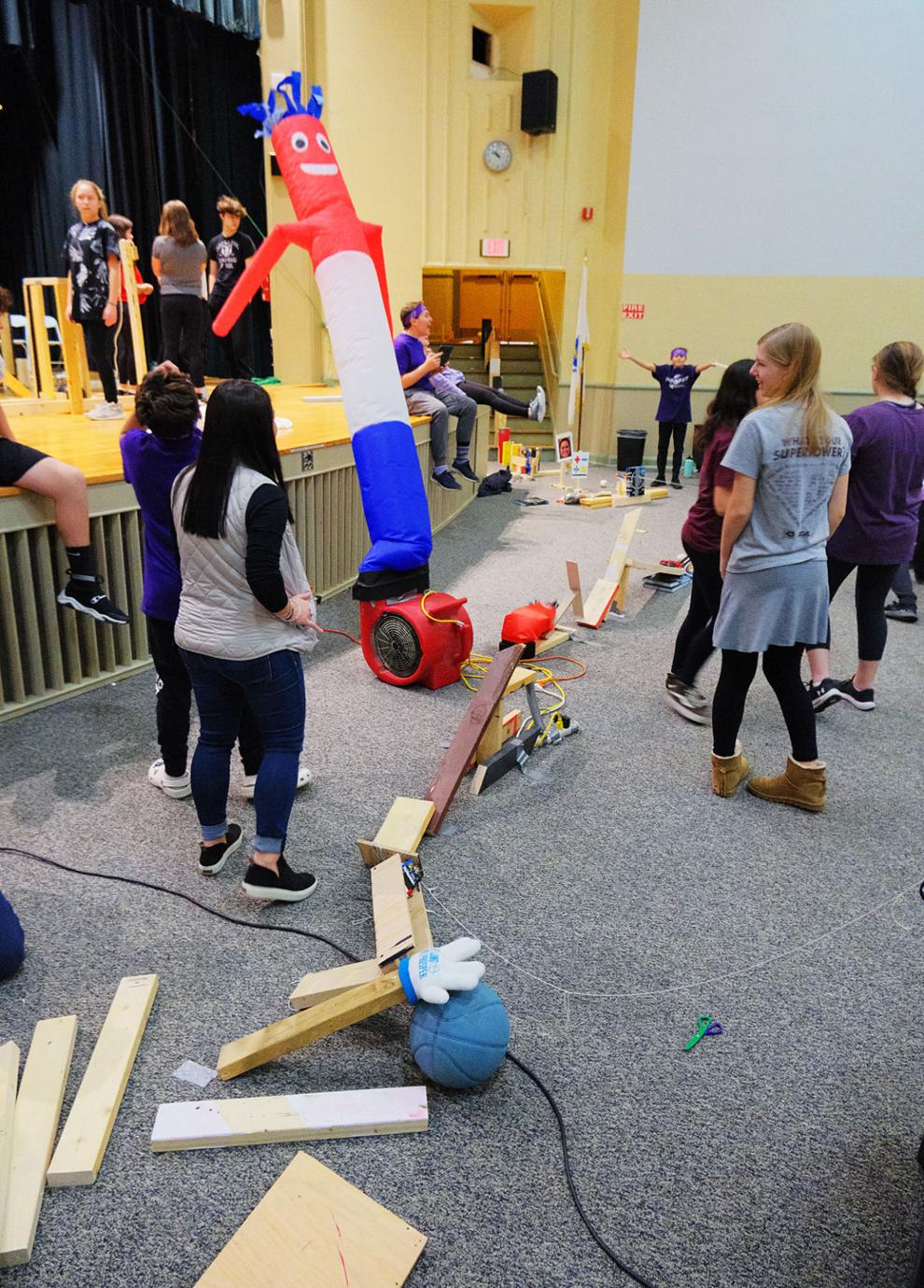 Mr. Porto will edit together some of the best shots from last Friday's test runs to be shown online and in the school cafeteria.
"Some schools around the country will compete with one another by trying to capture the entire Rube Goldberg device operating in single tracking shot, but that's a bit too complicated for our purposes," he said.
At the section with the sports car and the ALEKS letters, Jackson Falcone and Grace Gavin had a successful test of their section and worked to put all their pieces back in place.
"There's a lot going on, and it looks a little crazy, but I think it's all going to work," Jackson said.
And later that day the Rube Run succeeded, with balloons and confetti raining down from a rainbow banner after the final step.