A pilot project to install and monitor a "liquid" permeable reactive barrier on a town-owned parcel in East Falmouth will begin early next year with the injection of an underground wall of emulsified vegetable oil, or EVO, to remove nitrogen from groundwater entering Great Pond, Matthew A. Charette told his fellow Falmouth Water Quality Management Committee members November 21.
Dr. Charette is a senior scientist and director of the Woods Hole Sea Grant at Woods Hole Oceanographic Institution.
The project partners are the Town of Falmouth, WHOI, Cape Cod Commission and two environmental remediation companies, ISOTEC Inc., and Terra Systems Inc.
The 30-month project received $298,598 in Southeastern New England Program watershed grant funding from the US Environmental Protection Agency earlier this year.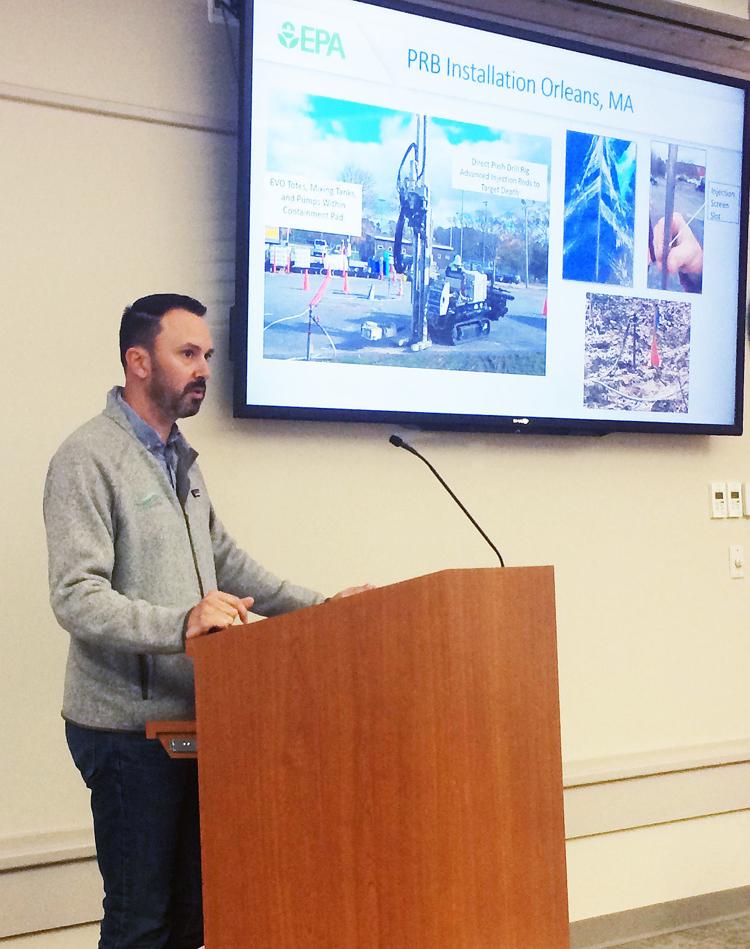 The Town of Orleans has been testing the process with the other project partners since 2016, with encouraging results, Dr. Charette said.
This "liquid solution," as committee chairman Eric T. Turkington called it, is an alternative to the "solid" method of creating an underground barrier as a 50-feet-deep trench that is installed perpendicular to groundwater flow and is filled with wood chips as a denitrifying carbon source.
The added carbon in the soil turns in-flowing nitrates into harmless nitrogen gas, reducing the amount of nitrogen pollution exiting the barrier and entering nearby estuaries.
Anaerobic bacteria naturally found in the soil perform the denitrification, using a process similar to the one used to remove nitrogen in the Blacksmith Shop Road wastewater treatment facility, Dr. Charette said.
Mr. Turkington said the solid method would not be used in Falmouth, calling it "expensive and impractical."
EVO was chosen for ease of injection, minimal impact to permeability, and depth of treatment, Dr. Charette said.
The proposed EVO, an environmentally safe and food-grade proprietary formulation from Terra Systems that uses soy milk as an emulsifier and offers customizable viscosity and droplet sizes, has been redesigned for higher-permeability soils, he said.
"The special formulation of EVO we'll be using is tailored to our specific site conditions," he said, adding that using the wrong EVO can result in having tens of thousands of dollars of the product flushed away by groundwater flow.
Well sampling and soil column tests are now in progress or soon to begin, with installation of six new monitoring wells upstream and downstream of the barrier early next year. Injection of EVO will take place in the spring, with post-injection monitoring to take place quarterly over a two-year period, Dr. Charette said.
The five-acre, town-owned parcel where the project is being conducted is near the intersection of Route 28 and Shorewood Drive, not far from Falmouthport Condominiums.
The EPA has deemed the site suitable for the planned barrier—120 feet in length and 20 feet in depth—which is estimated to remove up to 530 kilograms of nitrogen per year. That is equivalent to 130 homes at four kilograms of nitrogen per year, Dr. Charette said.
In creating the water quality committee, Town Meeting in April 2011 funded a demonstration project for a permeable reactive barrier as one alternative to sewering, along with innovative/alternative septic systems, shellfish cultivation, Bournes Pond bridge replacement and inlet widening, and a nitrogen control bylaw for fertilizer.
While the Orleans project has a double row of injection wells, the Falmouth project will have a single row, with injection wells 10 feet apart.
The EVO spreads about five feet in all directions between injection wells, creating the full underground wall, Dr. Charette said.
Among the test objectives are to evaluate carbon loading rates to see how much EVO is needed and how long it will last before groundwater carries it away. The team will also study the effects of pH and groundwater velocity on the denitrification reactions.
The monitoring will take place not only at the ground surface but also at multiple depths underground throughout the injection zone, Dr. Charette said.
"The biggest cost of the PRB, at least right now, is the vegetable oil, and so we'll have two sides to the PRB. One 60-foot side of the PRB will have what we think is a one-year supply of EVO, and the other half will have a two-year supply," he said.
"Because we have a roughly three-year project period, we're essentially trying to design this PRB to fail. Whereas in the Orleans test they injected as much EVO as they safely could to see how long it was going to last, we want to see it fail within the time period of our project so that we know the true cost of installing a PRB when the time comes."
For example, if what the team thinks is a one-year supply ends up lasting two years, then they will know that the estimated cost of the barrier will come down significantly in terms of the amount of oil to be injected and the number of times re-injection must be done to keep the treatment process going, Dr. Charette said.
In addition to nitrogen removal in Falmouth's estuaries, technology transfer to other municipalities and regions is one of the pilot project's end goals.
"PRB technology has existed for decades, though most applications are for treating chlorinated solvents. A major project deliverable will be an open-source design tool for denitrification PRBs in southeastern New England and beyond—for example, in Long Island, which has similar a geography to the Cape," Dr. Charette said.