Kevin Pease of West Falmouth, owner of Kevin Pease School of Tennis, is proposing to build a sports facility in Falmouth Technology Park. Mr. Pease brought his proposal to the Falmouth Economic Development and Industrial Corporation on Tuesday, April 13.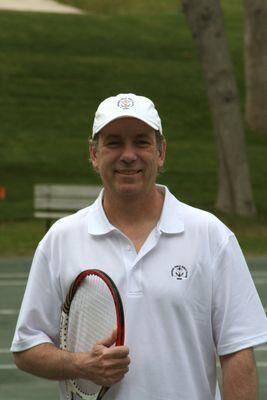 Mr. Pease, a lifelong Falmouth resident and graduate of Falmouth High School, operates the tennis school with his daughter Kara Pease, who is also a Falmouth High graduate and the girls' varsity tennis coach there. Both competed in Division One college tennis programs and have held national United States Tennis Association rankings, are certified tennis professionals and members of the United States Professional Tennis Association. Mr. Pease is the former head coach of the men's varsity tennis team at Salve Regina University and also coached both the girls' and boys' tennis teams at Falmouth High School.
The project would include four indoor tennis courts, as well as three outdoor French Open-style red clay courts, a fitness area, a pro shop, a meeting room, a childcare area and a café. The upper level would contain a balcony with stadium seating overlooking the indoor courts. There would also be spaces for platform tennis as well as other racket sports.
The facility was designed by a team of architectural designers, Katie Solien of Falmouth and two of her classmates from Rhode Island School of Design, Aaron Teves and Jake Lefeber. All three graduated last year.
Mr. Pease calls the design a big motivation for him, after seeing how they took "the idea for what the facility would be and then see the work of art that these three young people came up with. I couldn't imagine anything more beautiful."
"We want it to be an eclectic, family attraction," Mr. Pease said, a place that could be used by "the community and the corporate world." Mr. Pease went on to add that the building, which features a translucent, industrial design, could also be used for other events, like concerts, lectures, and meetings.
The vision includes being a welcoming, inclusive space for families, corporate professionals, community members, children of all ages, students, athletes and teams. Adaptive provisions will be available, so the facility is accessible to all.
"It would be a self-sustaining facility, run by the constituents," Mr. Pease said.
Falmouth EDIC executive director Michael DiGiano said, "Overall, that kind of use at the Tech Park could be something that would help provide some amenities for the employees of the businesses up there. Something that we've heard from talking to some of the tech owners up there is that some of their employees would like to have more amenities at that location. A food element would be very beneficial and something that employees up there would appreciate."
When asked by EDIC board member Michael Galasso about the possibility of adding solar panels to the roof, Mr. Pease replied, "Let's harness it and get it back into the community."
The project is being set up as a nonprofit, which is in line with zoning restrictions in the Tech Park.