The Falmouth selectmen, town administration and representatives from Falmouth Firefighters Local 1397 have signed a memorandum of understanding indicating a commitment to staff the West Falmouth fire station with voluntary overtime shifts.
A staffing change goes into effect at the Falmouth Fire Rescue Department on July 1 and while the change increases the number of firefighters at the start of shift from 10 to 14, none of those firefighters will be assigned to the West Falmouth fire station.
At a community forum on the present and future of fire protection services on January 21, the town presented four options to continue serving the West Falmouth area, including through voluntary overtime shifts. This agreement advances that option.
"The memorandum of understanding that is before the board this evening, that we have discussed and worked out in conjunction with our colleagues in the fire union, who as you noted are here this evening, and Chief Small as well, is a furtherance of one of those alternatives, which is to provide voluntary overtime staffing of two positions each shift, beginning July 1 of this year, which will allow Chief Small to assign those two positions to the West Falmouth fire station at the start of shift," Town Manager Julian M. Suso said at the Monday, February 24, board of selectmen meeting.
Mr. Suso said the voluntary overtime system is similar to the staffing situation at the Woods Hole fire station. One firefighter is currently assigned to the Woods Hole station, with a voluntary overtime shift available to bring the staffing level at the station to two firefighters. This shift is filled approximately 80 percent of the time. Starting July 1, the Woods Hole fire station will be staffed with two firefighters, and this voluntary overtime shift will no longer be available.
"I'm a little bit apprehensive about our level of success, given we are 80 percent successful with one guy, and now we are going to do two," Selectman Douglas C. Brown said.
Firefighters union president Michael Mueller said he polled union membership. Of the 70 percent of firefighters to respond, 85 percent indicated they would be interested in working an additional overtime shift at the West Falmouth fire station.
Currently, Mr. Mueller said, firefighters are subject to call-back overtime throughout the day. This will change with the new staffing arrangement on July 1.
"Conceivably, after July 1, the people who participate in that continuous overtime aren't going to be able to do so, in theory," he said. "The thought is that, having this type overtime available to be taken will be more appealing and more likely to be taken by our members."
Mr. Suso agreed with this assessment of the union poll.
"I feel very positive about this," he said. "I know there are no guarantees, but I will put my money on them and be highly confident in this moving forward in a positive way."
Chairwoman Megan E. English Braga praised the union for this agreement.
"This group of leadership and the members of our fire department right now are really putting their heads together with the chief and the town manager, trying to come up with a solution," Ms. English Braga said.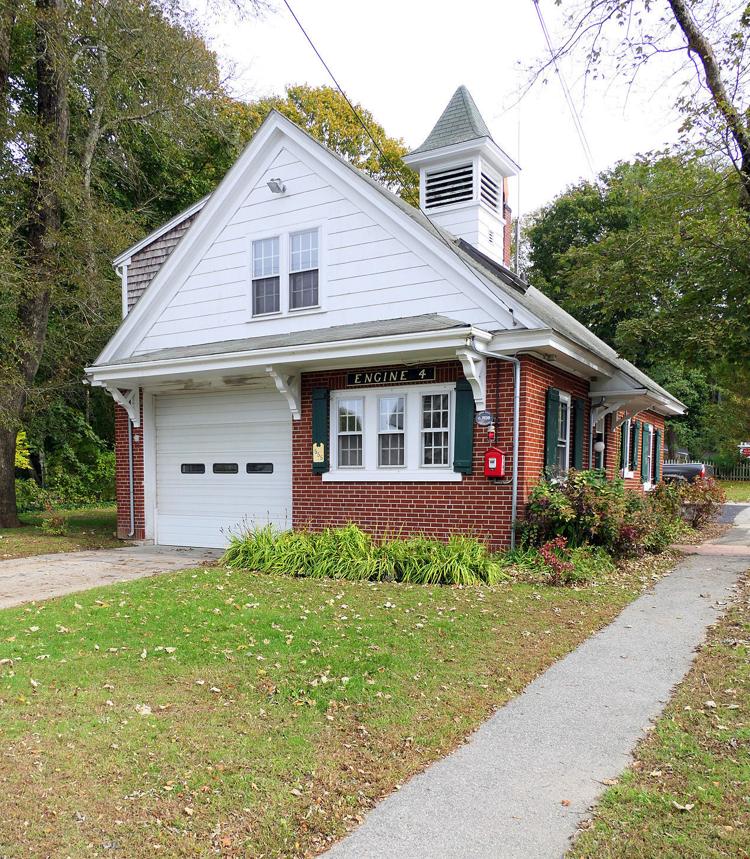 Retired firefighter Todd A. Taylor of West Falmouth said he suspected these overtime shifts will not be filled during the summer, particularly during weekends.
"You can't expect guys to sacrifice their time with their families to volunteer a position at a fire station because it is unstaffed by the town," Mr. Taylor said. "It is a complicated matter, it is not an easy solution, but I think we are pushing into this a little too fast. We only have a July 1 deadline, but there must be a better way. We have a full-time, paid fire department and we're going to staff one of our stations voluntarily. That doesn't sound like a full-time, paid fire department."
Amy Sellers of Old Dock Road, West Falmouth, also asked about the effectiveness of voluntary shifts.
"I'm still trying to understand why we have to close the West Falmouth fire station under Chief Small's plan, so imagine my great surprise when I opened the Friday, February 21, Enterprise and the headline reads the West Falmouth fire station will stay open," Ms. Sellers said. "I was elated. However, when you read the fine print, it is going to be open only if our firefighters volunteer to staff it on an overtime basis."
She asked what happens if firefighters do not volunteer for those overtime shifts, including on the July 4 weekend.
As the new staffing agreement requires two firefighters for any responding apparatus, Ms. English Braga said if only one firefighter volunteers for an overtime shift, that firefighter will be assigned to the North Falmouth station.
While emergencies can happen any day, she said, the fire rescue department knows its busiest days, and administration is involved in conversation with firefighters to provide staffing on its peak days.
"That is part of the conversation the chief and the union is already talking about," she said. "You are raising a good point. There is no 100 percent guarantee, 365 days, till we have a new station."
Selectman Douglas H. Jones said this policy is not meant to serve until a new station is built, but until eight additional firefighters are hired through the proposed override. This assumes the $1.3 million override to hire eight additional firefighters, which goes before Town Meeting in April, passes.
"The goal here is to come up with a solution," Ms. English Braga said. "If we don't get that override, we'll have to come up with another solution."
This override will address firefighting service throughout the entire town, not just West Falmouth.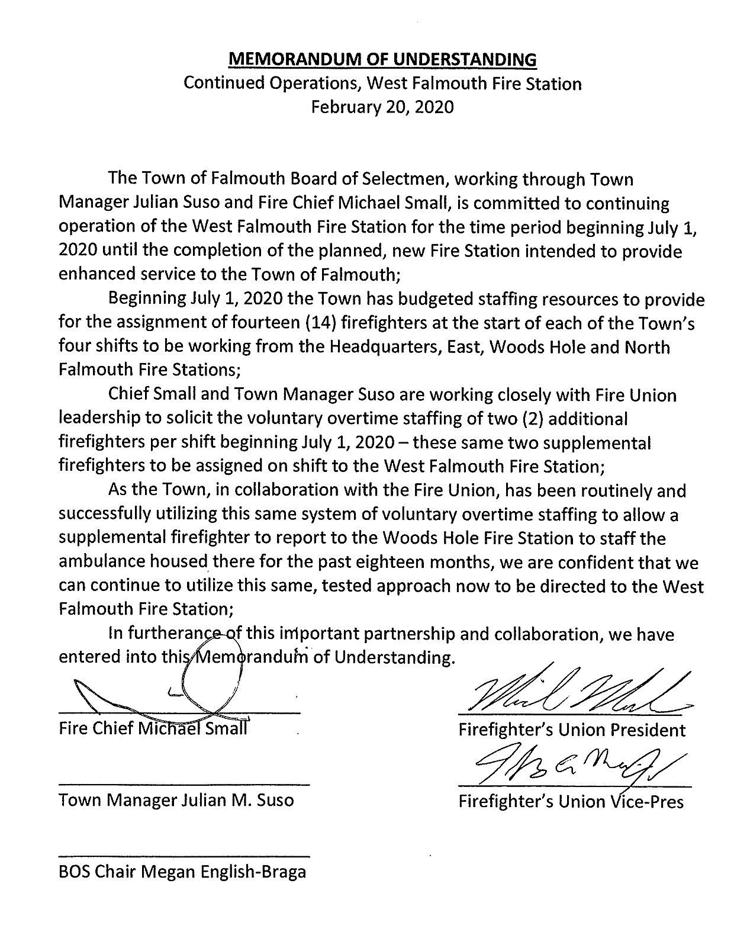 "This board is putting forward the article about the firefighters because there is a very significant need we cannot meet within our constraints," Ms. English Braga said.
The town has added seven firefighters in the past four years, despite the constraints of Proposition 2½. The proposed Fiscal Year 2021 operational budget includes two additional firefighters. The override, separate from the operational budget, would add eight more.
"I think it is important for the people who are going to be voting on this override to understand this is really about equity in public safety," Selectman Samuel H. Patterson said. "If we are going to be slightly a part of town, that's right. We really need to have this staffing. As you can tell from the number of calls, the level of calls keeps going up, and we're getting old. That means there are going to be more calls because we have more health issues as we get older. We have to recognize that there is a need, and we can't slight one part of town because we can't afford it."
Michael D. Zmuda of Woodland Road asked if the town had considered per diem firefighters and paramedics, instituting a system similar to what is seen in the health care industry.
"I think exploring that should be an option," Mr. Zmuda said. "I did speak to some of the Bourne rescue guys and the Sandwich rescue guys at the hospital, and presented the problem that we are having here. I asked if Falmouth were to create per diem positions, would you come and work, and three out of the four said yes because three out of the four are driving private ambulances, probably making $8 to $10 less [per hour] than they would if they came here working per diem."
Mr. Suso said the town has explored the per diem option.
"We have talked about it," he said. "It sounds very appealing, but it's not a reasonable solution."
He asserted that there is not a large pool of fully trained, civil service-qualified individuals who meet the standards of the state and Falmouth Fire Department who could step in and work on a per diem basis.
Marc P. Finneran of Grand Avenue, Falmouth, said these staffing issues date back to a 2008 hiring freeze. Its impacts extended beyond the fire rescue department, he said.
"The recession is long since over, and we're a little late to the dance with this override and addressing this problem," Mr. Finneran said. "I just want to point out to the people in this town, and I hate to be the person up here once again wiping the lipstick off the pig, but before this we saw that we're short on police officers, and we had to cancel a children's parade that was very popular, and we're also very short staffed at the DPW. We can't maintain our water system or our fire hydrants because we just don't have the manpower."
Mr. Finneran was referring to the annual Fourth of July bike parade sponsored by the Falmouth Village Association. While the bike parade is happening this year, it was rescheduled to Saturday, June 27. Police Chief Edward A. Dunne said he did not have the staffing necessary to assign nine officers to the children's parade on July 4.
"At some point, we've got to right this ship, because it certainly is wrong at the moment," Mr. Finneran said. "It really is not proper the way we're maintaining our town."