Every summer, students come to the Marine Biological Laboratory and Woods Hole Oceanographic Institution to research with renowned scientists from all over the world. This summer, the MBL has 55 undergraduate students and 53 graduate students conducting research. There are more than 200 students at WHOI through the joint program with MIT and as Summer Student Fellows and guest students.
They come to Woods Hole with a wide variety of backgrounds and interests.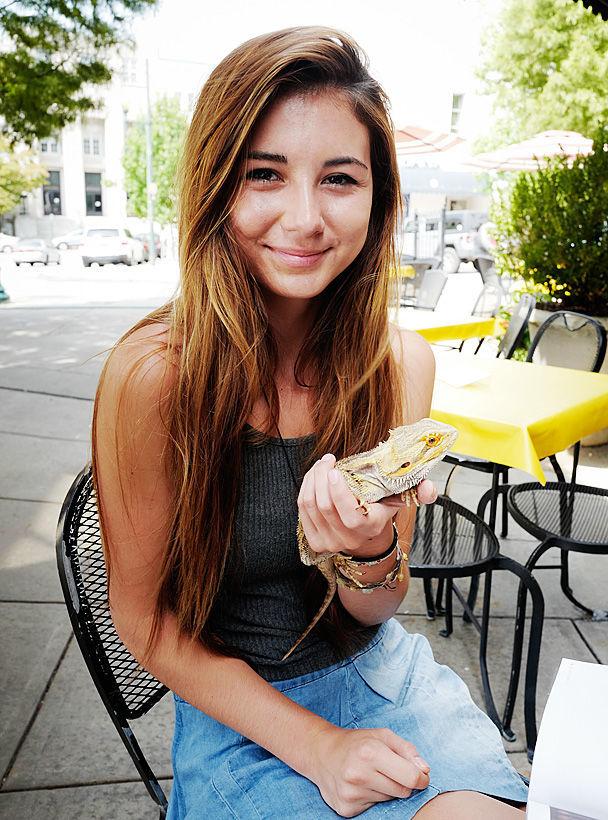 Lili Rangel-Parra, an undergraduate student at Appalachian State University in North Carolina, is working in Loretta Roberson's lab through the National Science Foundation's Research Experience for Undergraduates program at MBL. She is researching symbiosis, the interaction between two living organisms in close proximity, between coral animal polyps and algae cells in hopes of understanding animal-plant relationship mechanisms better.
"We know it is happening but we want to figure out why it is happening," she said.
She has been excited about the natural world her whole life but it wasn't until she took Advanced Placement Biology in 10th grade that she found a specific branch of science she was passionate about.
"I remember just looking up at [her biology teacher] and wanting to be that excited about something," she said.
This summer, Ms. Rangel-Parra is trying to collect her first set of research data.
"I'm noticing every day how much I'm growing," she said.
She is in awe of the brilliant scientists who have preceded her at the MBL, calling it a "recycling area of intelligence, I can feel it all around me."
As she looks to the future, Ms. Rangel-Parra is hoping to take a gap year once she has graduated to "put [her] hands in the dirt," but hopes to go graduate school afterwards.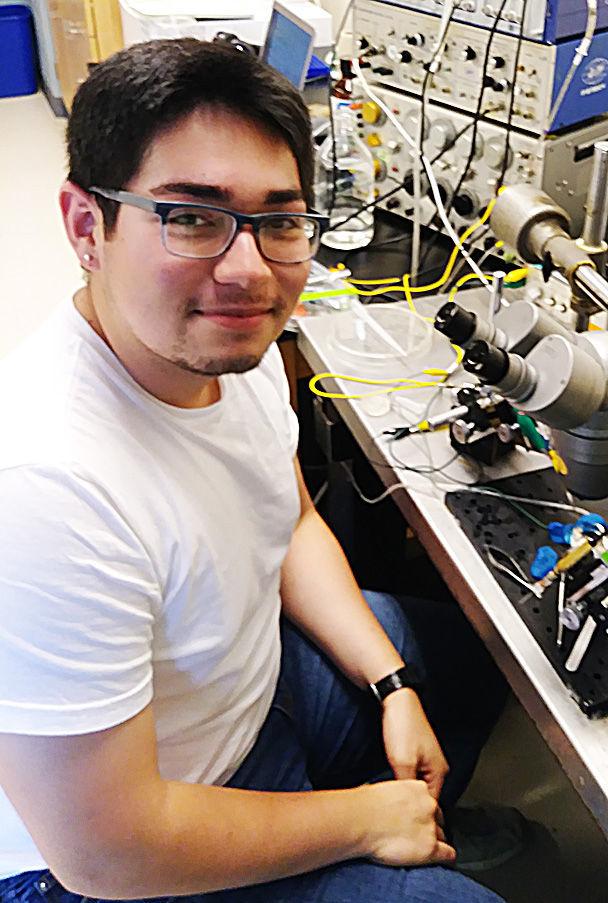 William Ramos is an undergraduate student and Metcalf intern from the University of Chicago. He is conducting electrophysiology experiments at the MBL on the squid giant axon, which controls the water propulsion system in squid, in an attempt to understand what occurs when the mitochondria are not working properly in neurons, like what is seen in neurogenerative diseases.
He is especially interested in molecular mechanisms within the cell, particularly because he feels he is the type of person who thinks "you have to understand the smallest unit to understand the big picture."
Science captured Mr. Ramos's interest in 2nd grade when his teacher had a two-headed turtle as a result of living near a radioactive plant.
He has found that doing research at MBL "makes the world of science seem so small." He has especially enjoyed Friday Evening Lectures, especially Manu Prakash's lecture, which was about "driving the community around you to be invested in science," Mr. Ramos said. It is something he hopes he can do one day in his community.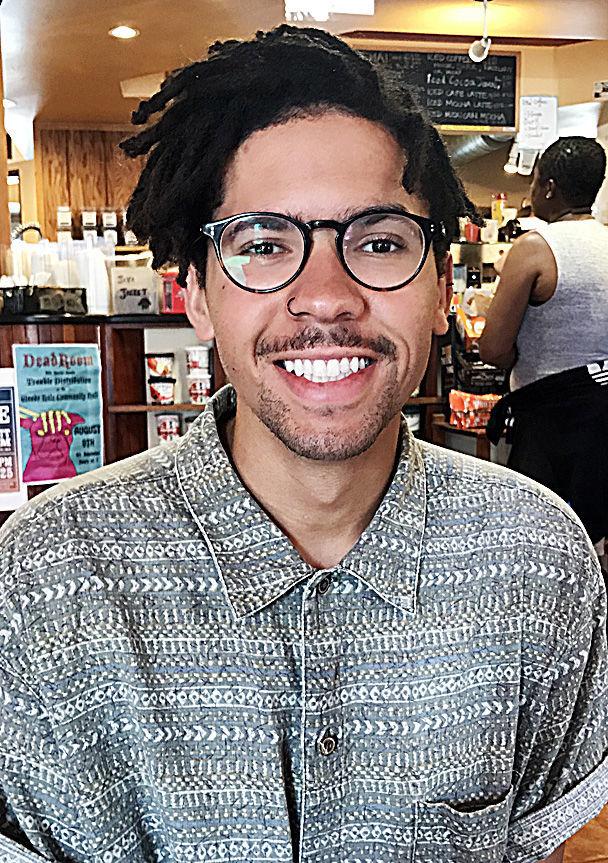 Loranzie J. (LJ) Rogers, a graduate student from the University of Minnesota–Duluth, is working in Allen Messinger's lab at the MBL this summer. He is researching sensory physiology in the oyster toadfish, which can be found in Eel Pond and the Waquoit Bay area.
He designed 3-D printed micromanipulators, which are being used as neural implants to learn how the toadfish detect sound.
Mr. Rogers first came to Woods Hole three years ago, through a National Science Foundation Research Experience for Undergraduates run by University of Minnesota–Duluth. This is his second summer in Woods Hole as a graduate student.
After getting his master's degree, he hopes to get his PhD and have a research lab of his own.
Mr. Rogers said the "lifelong connections and community of scientists" have made his experience researching at MBL even more memorable.
There is also exciting research being conducted at WHOI, especially by those involved in the MIT-WHOI Joint Program.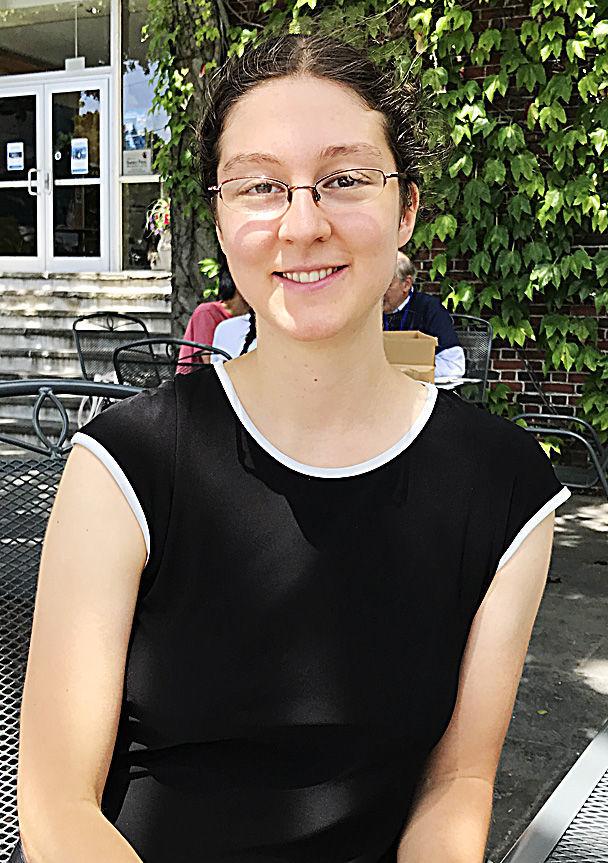 Hannah Mark is a PhD candidate who is fascinated by plate tectonics. One of her most recent projects is looking at the boundary between the lithosphere and the asthenosphere to determine its composition in physical terms using seismic data and receiver functions.
She was attracted to geophysical studies because "it gives me a sense of scale when I think of the world."
Ms. Mark first came to Woods Hole after her junior year of college to participate in the WHOI Summer Student Fellow program, where she worked with her current thesis advisor. She enjoys researching in Woods Hole because of the high concentration of scientists; she feels "like science is just in the air we breathe."
"Where else can you go to a coffee shop and overhear a bunch of conversations about sea water chemistry?" she asked.
While she appreciates the science community in Woods Hole, Ms. Mark has also found non-science activities to take part in. She is a member of the Falmouth Chorale and an English longsword group called Vineyard Swordfish.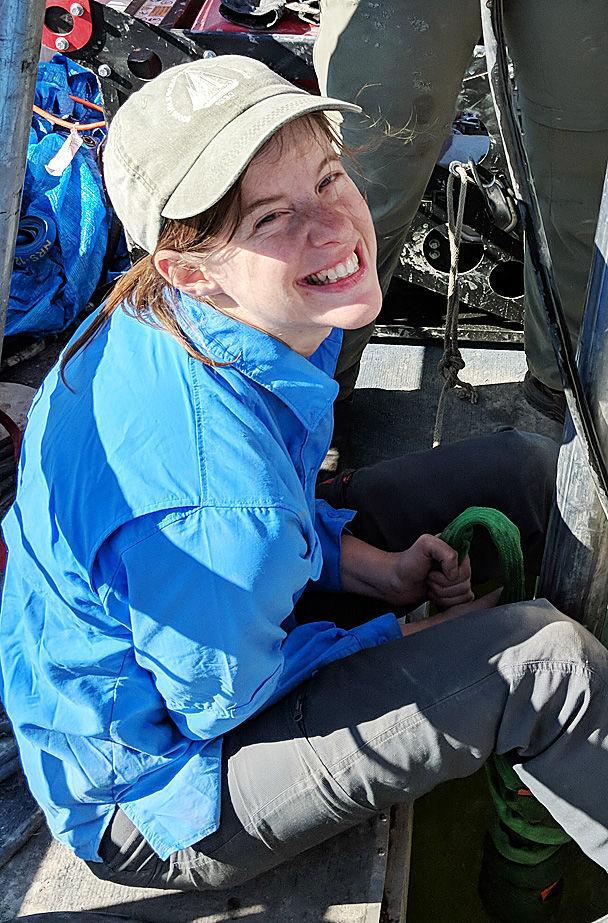 Elizabeth Wallace, another PhD candidate researching at WHOI through the joint program, is reconstructing past hurricanes using sediment cores in the Caribbean.
"It's really cool to learn about things that happened before humans settled in the area; I feel like an investigator," Ms. Wallace said. Her research is especially relevant to people outside of the science community because they want to know if hurricanes are common in their area.
"I wanted to do science that will help people; otherwise I would have a hard time being motivated," she said.
Ms. Wallace is based in Woods Hole but she studies Caribbean hurricanes. She takes a two- to four-week cruise each year to collect sediment cores, then returns to her lab to analyze the data.
Currently, she is working through sediment cores from South Andros, Bahamas, and getting some pretty interesting data. The island has only seen two hurricanes in the last 150 years but thousands of years ago, there was about one each decade.
"It is amazing to be surrounded by all of these famous scientists that are doing this really cool stuff and you get to sort of contribute to this stuff, which is really cool," Ms. Wallace said.
It is common sentiment among the students.