Emmy Lou, Roux and Chowdah exit the elevator on the second floor of Falmouth Hospital's inpatient area, leading their handlers along the brightly lit corridor. Each wears a hospital ID badge as an official hospital employee, and each is focused and ready to visit with patients.
These are members of Cape Cod Healthcare's new Dogs On Call, or DOCs, pet therapy program, in collaboration with the Hyannis-based Companion Animal Program, which provided the 12-week training class to certify the dogs and their handlers for working in a busy hospital setting.
Dogs On Call organizes 15 pairs of trained dogs and volunteer handlers who visit Falmouth Hospital, JML Care Center in Falmouth and Cape Cod Hospital in Hyannis.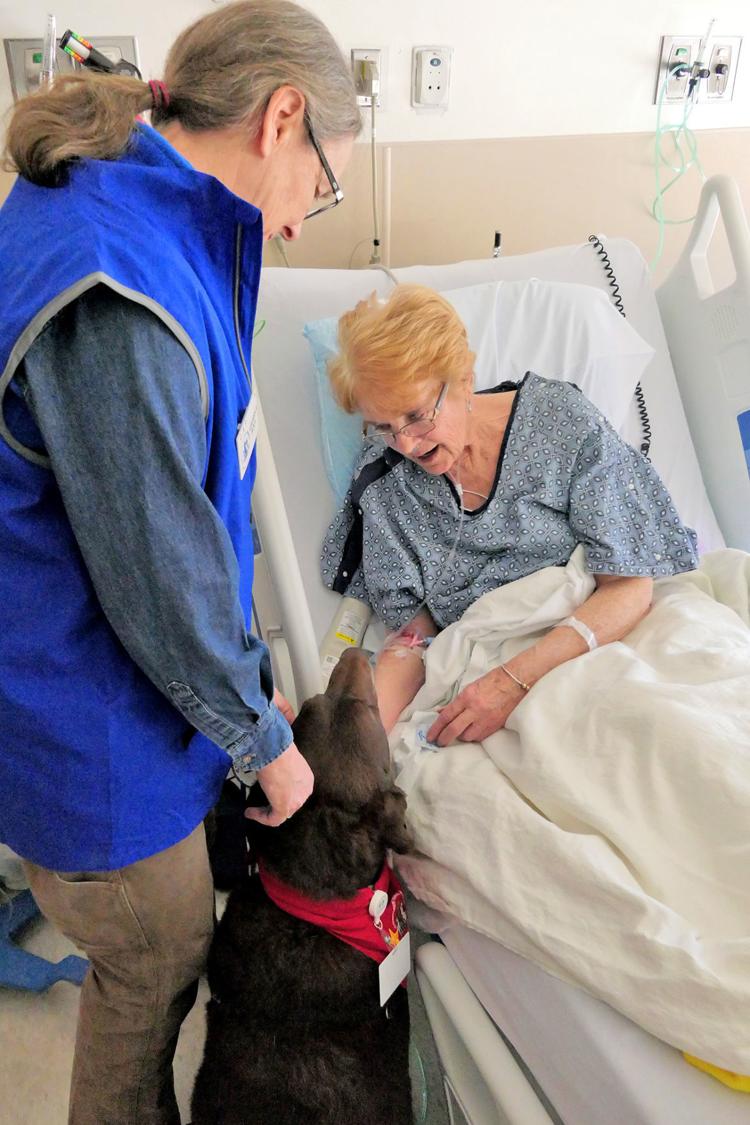 "Established in 2019, the Dogs On Call program brings pet therapy services to create a healing environment that fosters positive connections and improves patients' experiences, well-being and recovery," the program's brochure says. "Studies have shown the invaluable impact the human-animal bond can have on an individual's health. Therapy dog visits have been shown to have a positive effect on patients' pain levels and increase satisfaction with their hospital stay."
In addition to lessening a patient's worry, anxiety and loneliness, in-room visits offer a welcome distraction for family members, friends and other visitors, as well as physicians, nurses and other staff working throughout the hospital, according to Christina Peaslee, Cape Cod Healthcare's executive director of marketing communications and content strategy.
"Many nurses have asked to switch their shifts to Wednesday, when the dogs come to the hospital," Ms. Peaslee said. "It's the highlight of everyone's day. Patients' faces light up, and people want to take photos with the dogs. They're celebrities."
Ms. Peaslee said she was impressed by how "professional" the dogs are.
"They're so laser-focused and are trained to drown out all the noises, smells, distractions, food and people in the really busy hospital environment," she said.
Emmy Lou, named after singer Emmylou Harris, is a sprightly white shih-poo, and her owner, Cindi Bucken of East Falmouth, said they visit Falmouth Hospital patients and staff about twice a month.
Roux is a 9-year-old Chesapeake Bay retriever who has been doing therapy dog work for the past three years. His owner, VeeAnn Cross of North Falmouth, said Roux's French name comes from being born in Louisiana.
Chowdah, an 8-year-old labradoodle, started as a therapy dog at the age of one and has done more than 400 patient visits on the Cape and beyond, owner Susan Hunt of Falmouth said.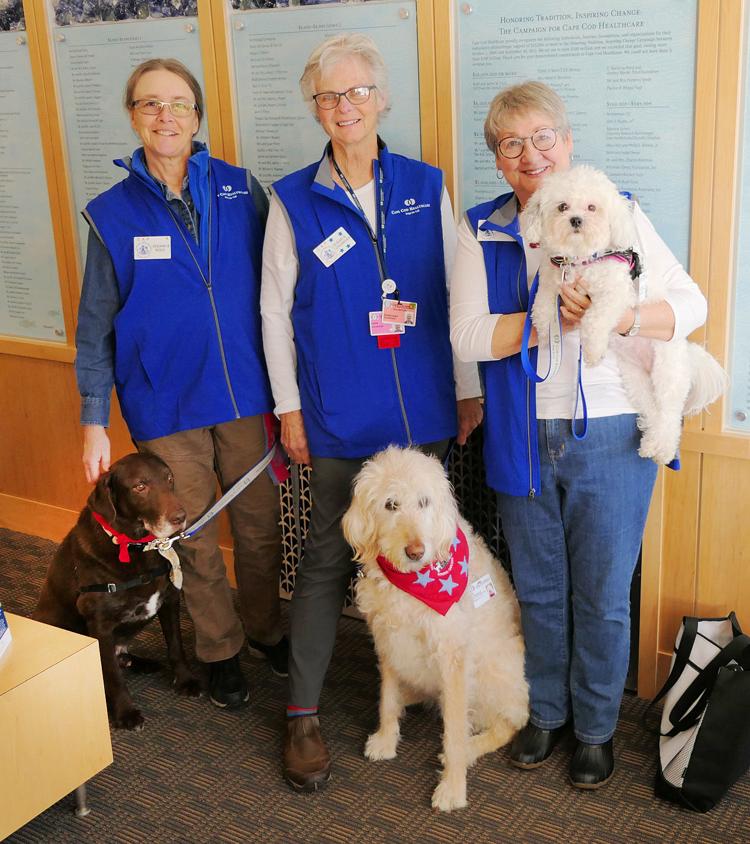 Jessica Gelatt, a patient experience specialist for Cape Cod Healthcare, said the program launched at Falmouth Hospital in October and at Cape Cod Hospital last month.
"The dogs bring so much joy. They're like a bright spot of sunshine for the patients and the staff," she said. "There is definitely a 'pre-dog' mood and a brighter 'post-dog' mood. We don't have many pediatric patients at Falmouth Hospital in the inpatient areas, but when we do, we try to make a special exemption for a visit with the child."
The program is at Falmouth Hospital every Wednesday from 1:30 to 2:30 PM, at JML the first Monday of each month and at Cape Cod Hospital on Tuesdays and Thursdays.
"We always have at least three teams, but they are not always the same. We try to visit all floors in the inpatient areas," Ms. Gelatt said. "The length of the visit is up to the handlers. They will read the patient's mood and tiredness level and decide on a quick visit or a longer conversation."
Patients must give signed consent to have the Dogs On Call teams visit their rooms, and there are "dogs welcome" signs outside each door where visits are approved.
"All therapy dog visits are arranged by the Dogs On Call coordinator working directly with patients and their care teams," the program's brochure says. "Participating dogs are not service or emotional support animals."
On Wednesday, January 8, the three teams visited with Patricia Stecchi of Mashpee and Cynthia Tufts of Cotuit, among several others.
"All handlers are unpaid volunteers, and John and Marjorie McGraw, donors to Cape Cod Healthcare, were instrumental in getting this extraordinary program started," Ms. Gelatt said.