With 200 miles under their belt and 30 extra pounds around their waists, three like-minded adventurers will be departing Cape Cod this weekend bound for Ireland in a rowboat. They have 60 days to complete the crossing before the possibility of encountering dangerous winds that the hurricane season could bring in late August.
Boat owner and ringleader Réamonn Byrne, a native of Ireland who lives in New York City, is accompanied by two Americans who responded to an advertisement he placed online seeking participants. The trio unexpectedly landed in Falmouth earlier this week when the batteries they need died on their journey up the coast. Two-hundred miles in, they were towed to Falmouth Harbor from Nantucket Sound. With freshly charged batteries and auxiliary power in place, the plan now is to continue northeast to Nova Scotia and then 2,700 miles across open sea.
"We have zero rowing experience," the 40-year-old said candidly. "But it's not about technique, but just being stubborn. "We have to keep a ton-and-a-half boat moving, so it's just a matter of just keeping at it, day and night."
An accomplished endurance athlete, this is not Mr. Byrne's first foray into epic, slightly irrational contests. He finished in the elite category of the Marathon des Sables, a 170-mile self-supported stage running race through the Sahara Desert. More recently, he won the TGNY 100 Mile running ultra in New York. Chris McCaffrey of Boulder, Colorado, and Ryen Cosgro of San Luis Obispo, California, round out the team.
Audacious problem-solving is Mr. Byrne's motivation.
"I am definitely interested in solving problems, especially when it comes to a project with consequences, where I have to be the organizer. That led me to the idea of rowing back home."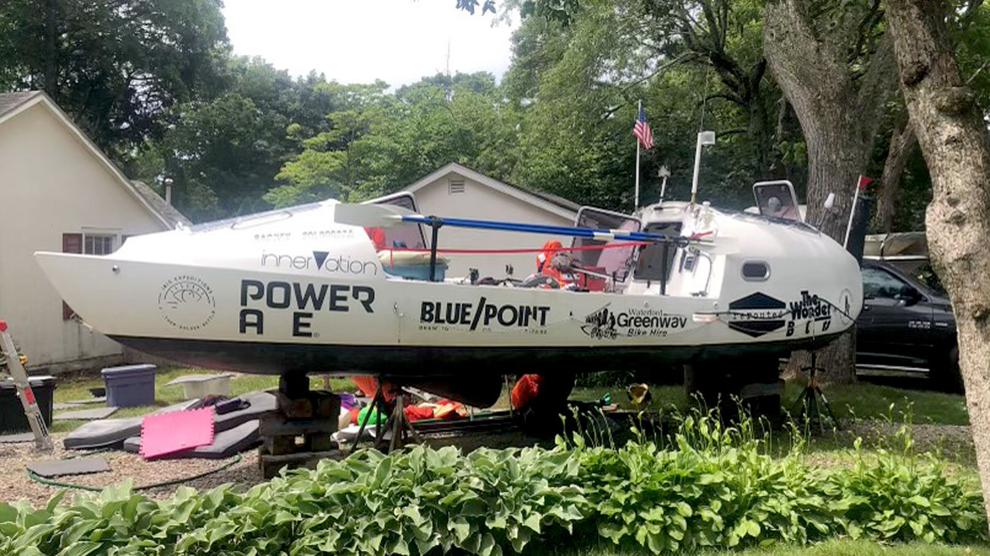 After convincing others to join him, he bought the 25-foot long, eight-foot-wide custom rowing vessel from a man who attempted to row through the Northwest Passage.
It is also a spiritual journey.
"It's a quest to go home after 20 years abroad. Only, we are taking a long and winding route and part of it is figuring out how to do it."
The three shoved off from Brooklyn and soon after encountered fog that required the constant use of AIS—automatic identification system. The upshot is the tracking system allows them to identify ships to avoid collisions, but it also drained their batteries, which, up until the fog settled in, were being recharged by solar rays.
After being towed in last Wednesday from Nantucket Sound, they called around for a boat-hauling service and hired Timothy Farren of In MOcean Boat Transport in Falmouth. Without a place to store the rowboat, Mr. Farren offered to keep it at his house on Maravista Avenue until they departed.
As of this week, Mr. Byrne was still planning how and when the boat would be re-launched and was considering leaving from Chatham, where he said the launch would be easier.
The custom-built vessel is drawing attention.
"It's been great," Mr. Farren said. "There's a strong curiosity by people driving by, asking what the heck kind of boat it is. There's a huge interest in it."
Mr. Byrne said the outpouring of assistance in Falmouth has been overwhelming.
"The number of people who have offered to help us has been amazing. This town is full of heroes," he said. "I mean, without a specified launch date and without knowing us, Tim offered to keep our boat for us. That says something about the character of this town," he said.
Through local connections, the rowers were offered a place to stay and use of a car. They even found a new backup power source while in Falmouth—an Efoy fuel cell that runs on methanol.
For the trip, they will be carrying rehydrated meals, oatmeal and dried fruit and nuts. The goal is to consume 4,500 to 6,000 calories per day, which Byrne admits may be difficult.
"We made sure to put on at least 30 pounds each before doing this, for reserves," he said.
They outfitted Barney (the boat is named after Byrne's father) with a water desalinator for fresh drinking water. There is an aft cabin big enough for one to sleep comfortably.
The boat is designed for big seas. In case of capsizing or an emergency, they can use an EPIRB position locator. There is a separate life raft in case the boat does capsize, and each of them is carrying personal safety gear.
They received training from respected North Atlantic sailor and author Peter (Stokey) Woodall on navigation and weather patterns.
"He basically taught us how not to die on a daily basis," Mr. Byrne said. "But our survival technique is to stay in the boat."
Through their journey, the group is raising money for The Kevin Bell Repatriation Trust, which aims to alleviate the financial hardship of bereaved families repatriating back to Ireland the body of a loved one who has died abroad in sudden or tragic circumstances.
For anyone interested in learning more or keeping up on their progress, go to www.thehardwayhome.com or on Instagram at @thehardwayhome.