As one of the first women accepted into the US Coast Guard Academy in the late 1970s, Sandra L. Stosz would rise through the ranks of the predominantly male armed forces to eventually become a vice admiral and then earn the distinction of becoming the first woman superintendent of the service academy where she got her start.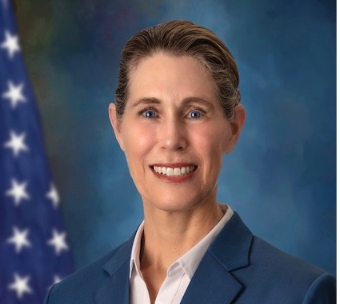 Admiral Stosz, now retired from the Coast Guard, was raised in the small town of Ellicott City, Maryland, but spent summers at her maternal grandparents' home on Great Bay in Falmouth. It was in her grandfather's wooden rowboat, paddling off the shores of Falmouth, that she first learned to navigate the open water and cultivated a lifelong passion for a life at sea. Although no one in the family prior to Admiral Stosz spent time serving in the military, she attributes her maternal grandfather's "influence to water" and a lifelong desire to sail as significant factors in her decision to join the Coast Guard.
"Summers were so idyllic here," said Admiral Stosz, who listed biking around the harbor, going fishing or digging for quahogs and watching the sunset at Bristol Beach as some of her favorite memories on the Cape.
From a young age, Admiral Stosz was intellectually curious. She spent the bulk of her childhood exploring the outdoors, enjoying family activities like hiking and shooting. She is the older sister of three brothers, all less than four years apart. Her early experiences in a mostly male environment prepared her for a career in leadership in a predominantly male organization, she said.
Prior to 1975, women were not admitted into the US service academies.
But that all changed with Public Law 94-106, which was signed by President Gerald R. Ford and allowed women admittance to the institutions. This offered the same educational and career opportunities previously available only to young men, to young women like Admiral Stosz.
Admiral Stosz jumped at the chance to join after graduating from Mount Hebron High School in 1978. She entered the third class to admit females into the US Coast Guard Academy in New London, Connecticut.
She said the core values of perseverance and hard work, instilled through her parents, shaped her perspective on leadership and remained with her throughout her education at the academy and into her professional career. Admiral Stosz's initial tours of duty as an ensign on the polar ice breakers Glacier and Polar Star were spent conducting missions spanning from the Arctic to the Antarctic.
Admiral Stosz said she was taught through her upbringing to always deliberately pursue learning.
Beyond graduating from the Coast Guard Academy in 1982 with a bachelor of science degree in government, Admiral Stosz earned a master of business administration degree from Northwestern University's J.L. Kellogg Graduate School of Management in 1994 and a master's in national security strategy from the National War College in 2005.
"Curiosity kept me motivated to stay in the Coast Guard," Admiral Stosz said.
Admiral Stosz continued to break down barriers during her 12 years at sea as one of the few women on board during many of her assignments. A self-described introvert, Admiral Stosz altered her approach to leadership to better fit her personality, while still commanding the same respect bestowed upon other officers. Admiral Stosz's ability to stay strong to her core values and align them with those of the Coast Guard contributed to her progress forward.
Admiral Stosz was the first female graduate of the Coast Guard Academy to achieve flag rank and the first woman to command an ice-breaking tugboat, the 140-foot Katmai Bay, in the Great Lakes, among many other distinguished leadership positions throughout her 40-year career in the Coast Guard.
She served as the commanding officer of the US Coast Guard Training Center in Cape May, New Jersey, and served as the director of Reserve and Leadership in 2010 at Coast Guard headquarters in Washington, DC. There, she was responsible for developing policies to recruit, train and support Coast Guard Reservists. In her final position, Admiral Stosz assumed the duties of deputy commandant for Mission Support, where she led the 17,000-person organization that enables the Coast Guard to perform its operation missions efficiently.
In June 2011, Admiral Stosz returned to her alma mater and assumed the duties of the 40th superintendent of the US Coast Guard Academy.
In her role, Admiral Stosz was responsible for developing 1,000 cadets into effective leaders of character. Admiral Stosz was the first female to lead a US service academy and the first-ever admiral to continue service after completing her term as superintendent of the academy in 2015.
She retired from 40 years of active service in 2018.
Admiral Stosz attributes her success not only to her own personal dedication to knowledge and commitment to hard work, but to a diverse group of peer and senior mentors. Throughout her career, Admiral Stosz said, "There weren't many women to look up to" as one of the first female officers to serve in the Coast Guard.
Mentors like former Secretary of Transportation Samuel K. Skinner solidified her perspective that "you don't have to see someone like you" in a mentor to learn from the relationship. Admiral Stosz considers Mr. Skinner to be one of her most influential mentors still to this day.
"Secretary Skinner was passionate about advancing women and minorities," said Admiral Stosz, who said he gave her "a rare opportunity" as his military assistant "to see a broad view of the Coast Guard and how it fits into government."
In retirement, Admiral Stosz completed her first book, a long-term goal she didn't have much time to accomplish during her years of active duty. Admiral Stosz's forthcoming book on leadership development, "Breaking Ice and Breaking Glass: Leading in Uncharted Waters," is now available for preorder.