There has been a lot written in this space about the achievements of the Cape Cod Curling Club's junior program over the past several years.
The juniors have earned numerous accolades for their outstanding play and—even more important—their outstanding sportsmanship and attitudes. There are no egos here, although one could understand if one tried to rear its ugly head. Especially after what the juniors did over the past two weekends.
The juniors hit the road for two bonspiels, first at The Country Club in Brookline from November 8 through 10, then at Broomstones Curling Club in Wayland.
How did they perform? Well, surely you've already ascertained that they played pretty darn well. The real question is, how well? Check this out:
The club sent a total of 12 juniors to the two events. Every single one of those curlers made it to at least one event final.
That's right: Every. Single. One.
Cape Cod sent nine curlers to TCC in Brookline. Eight of the nine played in an event final. The club also sent nine junior curlers (including six who played at TCC) to Broomstones. All nine played in an event final.
Let's start with what happened at TCC, where the nine Cape Codders were spread out over four teams. Team Hebert had Cape Codders William Gerlach at vice skip and Nicholas Cenzalli at second. Cape Codder Petra Bienza played second for Team Wee, while Cape Cod twins Nathan and Silas Gartner played vice skip and second, respectively, for Team Church.
The remainder of the Cape Cod delegation—skip Brody Gerlach, vice skip Ryan Waite, second Vivian Bannister and lead Anna Bennett—comprised a team that had never before played together in that lineup combination. Keep that in mind when you read this: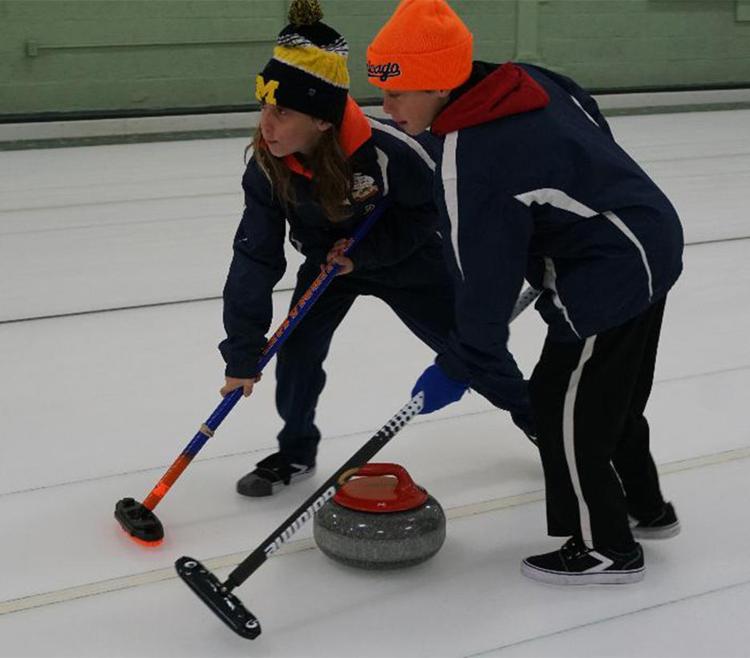 Team Hebert was the "A" event winner after defeating Team Gerlach. Meanwhile, the Gartner brothers advanced to the "B" event final, where they were defeated.
"1st event of the season and we finish it with an A event win!" an excited Lyn Cenzalli, mother of Nicholas, posted on her Facebook page.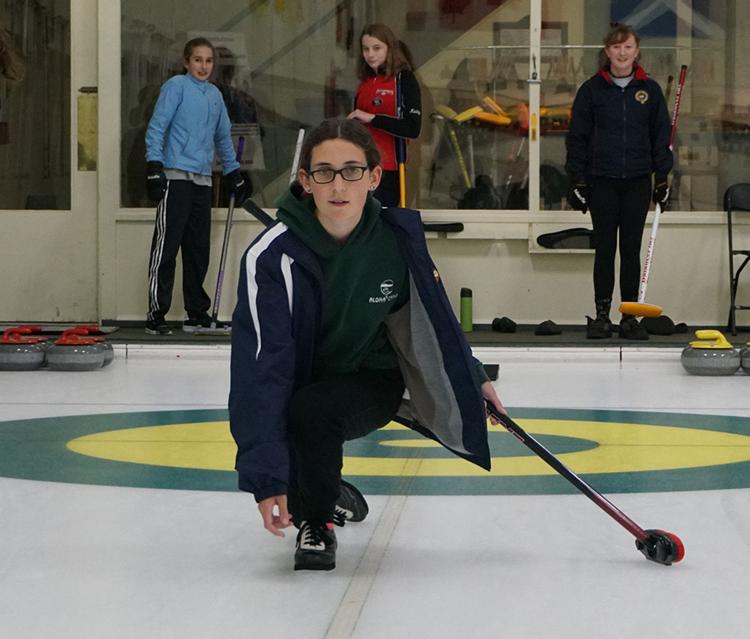 That left Petra, who was filling in on an otherwise all-Broomstones team, as the only Cape Cod curler not to make it to an event final at TCC. Kind of a bummer, huh? Maybe a little, but remember, every Cape Cod curler who played in the bonspiel at Broomstones made it to an event final.
Petra was one of those curlers.
Team Wee asked Petra to fill in again. This time she played vice skip, and the team advanced all the way to the developmental "A" event title game, where it was defeated.
In competitive action at Broomstones the Cape Cod players were spread out over four teams. Cape Codder Marius Kleinas played vice skip for Team Kennedy, which finished as the runner-up in the "A" event, and Team Hebert, this time with William and Nicholas trading positions, cruised to an easy win in the "B" event final.
Also enjoying an easy victory in an event final was Team Gerlach, which took the "C" event with a slightly different lineup than the one that hit the ice at TCC. This time, Brody remained at skip and Anna at lead, but Vivian moved up to play vice skip and Connor Hardin played second.
Let's see...there was one more Cape Cod junior who played at Broomstones. Who was it? Thinking... Thinking... Oh yes, that would be Anna Cenzalli, Nicholas's sister, who started out playing vice skip on Team Black but switched positions with skip Diana Black midway through the bonspiel. Team Black made it to the "C" event final.
Joanne Brianna-Gartner, mother of Nathan and Silas, put a bow on the Cape Cod juniors' two-weekend run of excellence when she said, "The kids all did great. Holy cow!"
Talk about an understatement.
Cape Cod played a role in the Grand National Curling Club's 13-point victory over the Ontario Curling Association in the Ross Tarlton International Bonspiel at the Mississauga (Ontario, Canada) Golf & Country Club in early November.
Frank Sylvia skipped the Cape Cod Curling Club team, which also included Mike Minior, Richard Lousararian, Ken Voorhees and Joe Cammarano.
The Ross Tarlton International is an annual invitational men's competition that pits teams from clubs in the Ontario Curling Association against teams in Grand National Curling Club. The winner is determined by total rocks scored by each side in the two-day event. The purpose of the event is to promote friendly international competition and fellowship among curlers from Ontario and the eastern United States.
On a sad note, the curling community will say goodbye to Frank Balas during a Celebration of Life Mass Saturday, November 30, at St. Margaret of Scotland Church in Buzzards Bay. Frank died November 14.
Frank was a past president of the Cape Cod Curling Club who was known for his loud curling attire; he sported colorful curling pants before they were "in." The Pocasset resident, who was involved with many charitable endeavors in his community, could also be seen helping out the ice crew.
Our thoughts and prayers go out to Martha—Frank's wife and a fellow curler—and the rest of his family.