With superior hitting and passing the Falmouth High School volleyball team scored a straight set sweep of their rivals from Sandwich High on Tuesday, March 16, at SHS. The Blue Knights, coming off a win against a clearly overmatched Rising Tide squad, had a bit of trouble with the step up in competition as Falmouth was able to keep their hosts at an arm's length for most of the match.
FHS got stronger as the match progressed and earned their first win of the year, sweeping by scores of 25-21, 25-17, and 25-14. Falmouth had lost its initial match of the 2021 season a few days earlier, but showed promise in a 3-1 loss to defending league champion Barnstable.
FHS junior Camille Leite had a little extra motivation to have a good day, with her older sister Giulia coaching the Sandwich ladies team. The setter for FHS showed big sis what she's all about with a great afternoon for the team, serving 12 points with 12 assists, two aces, and two kills. The Leite representing Falmouth had her best game in the second, where the match clearly turned in the Clippers' favor. The first game had played out closely, but a hot start to the match saw Leite serve Falmouth to eight straight points to put her team up 8-3. Sandwich never got closer than five the rest of the game and had things turn further south for them when middle hitter Ella McCabe went down with an ankle injury during the early part of the game. She tried to return to the match with the ankle taped in the third game, but was not able to get the same height on her jumps.
Coach Leite was proud of the way her sister played in the match, opening her post-game comments, with "that Leite is pretty good, huh?" She went on to say that Falmouth played with more cohesion, and that losing McCabe was difficult to overcome. "Losing your hitter is tough. She does a lot and we missed her," the coach said.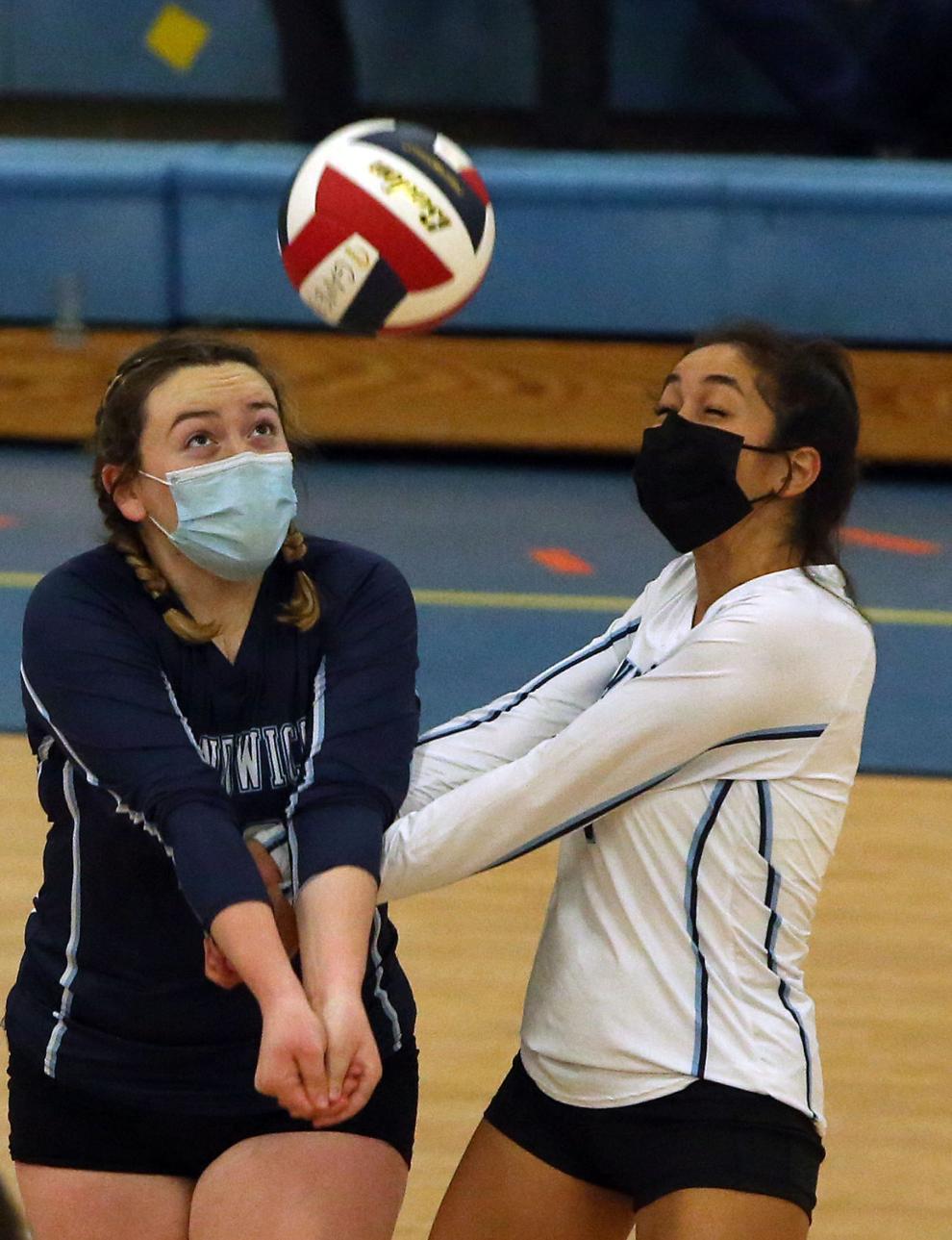 Sandwich rallied from 22-10 down to 22-15 with a nice surge. Paula Tanguilig and Haley Barove made some nice plays to make it closer, but Falmouth's power up front was key in putting the match away. Shea Macleod and Paige Farrington each came up with some key hits, as did Lily Craft, to ultimately give FHS a 2-0 lead.
The third game was all Clippers. Falmouth jumped out to an early lead and built on it, putting the match away in the minimum. Macleod finished with 10 kills in the match for FHS with 10 service points, three aces and four assists. Farrington had 11 service points, three kills, three assists and four aces.
Sandwich was led by Sydney Hanlon, who had nine assists and six kills in the match. Erica Sundermeyer finished with two assists and two aces. Barove had five kills and Aneka Piggot had two kills.