When it comes to celebrating the holiday season with family and friends, nobody does it better than the members of the Cape Cod Curling Club and the people who love them.
Two weeks after celebrating Thanksgiving with the Great Gobble Spiel the club was at it again, hosting the ChrisMix from December 12 to 15. Sixteen teams with names and costumes appropriate for the season participated in the festivities, which included a lot of food, frivolity and friendly competition that will be remembered for the whimsical (and adorable) curling garb of Renee Voorhees and the crowning of an unlikely champion.
That unlikely champion was the Secret Santas, skipped by Gabriele Bruce. Only Gabriele wasn't really the skip. OK, she was the skip, but only on paper. Gabriele was supposed to be the skip, but she had an injury that kept her from playing. So Darryl Christensen, who was listed as the vice skip, moved up to skip and Ken Voorhees stepped in to play vice skip. Joanna Schaffer was listed as the second and Brad Chagnon as the lead, but at some point the two switched positions.
The end result of all the changes: The Secret Santas on the ice when the team wrapped up the ChrisMix title looked nothing like the Secret Santas listed in the bonspiel program.
The championship game was close through five ends. Secret Santas was clinging to a 5-4 lead over Sleigh Riders, skipped by Brian Pijanowski. when Darryl nailed a spectacular shot with his hammer stone to secure four points and a 9-4 lead for Secret Santas after six ends.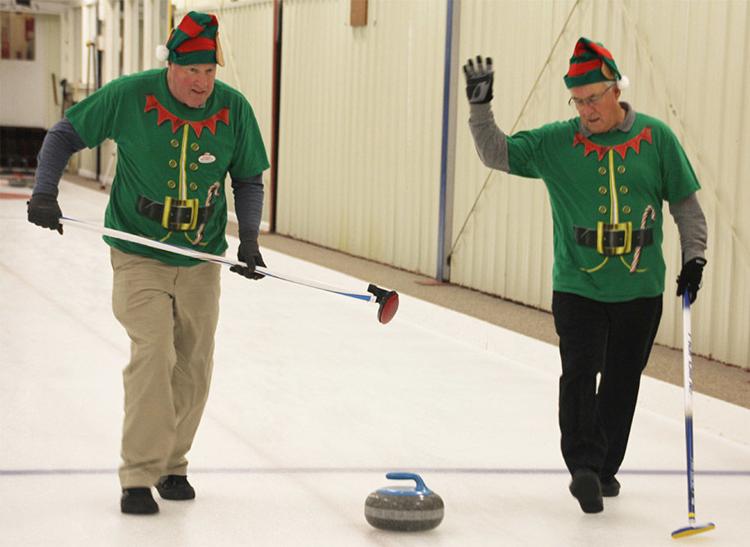 An end like that can be devastating for some teams, but the never-say-die Sleigh Riders didn't give up. The team scored one point in the seventh end and kept things interesting until it was mathematically impossible to win or tie.
Brian's teammates included vice skip Al Duester, second Ross Palioca and Renee, who was subbing for Paul Sheerin at lead.
Tree Toppers, skipped by Natalie Galligan, defeated White Beards in the second event final. White Beards was skipped by Coco Wellington. Santa's Elves (Meghan Lino) topped Balsam Firs (Barbara Enos) in the third event final and Sugar Plums (Diane DiMassa) outscored Holly Berries (Davin Windsor) in the fourth event final.
It was a particularly satisfying victory for Secret Santas and Darryl, who didn't know he was going to be skipping until shortly before his first game was scheduled to begin.
"You shouldn't even be here," event chairman George Bagley joked while congratulating Darryl for his victory.
Darryl lauded his teammates and said that while he was surprised about his ascension in the lineup, once it sunk in, "I was looking forward to playing skip....I was totally relaxed the whole time."
Darryl's victory might be the top memory from a ChrisMix loaded with them, but Renee easily checks in at number two. While all the players were being watched in the top three finals it was difficult to take one's eyes off Renee, who was curling in a red one-piece reindeer number with white polka dots, a hood with reindeer antlers and a white heart on the backside.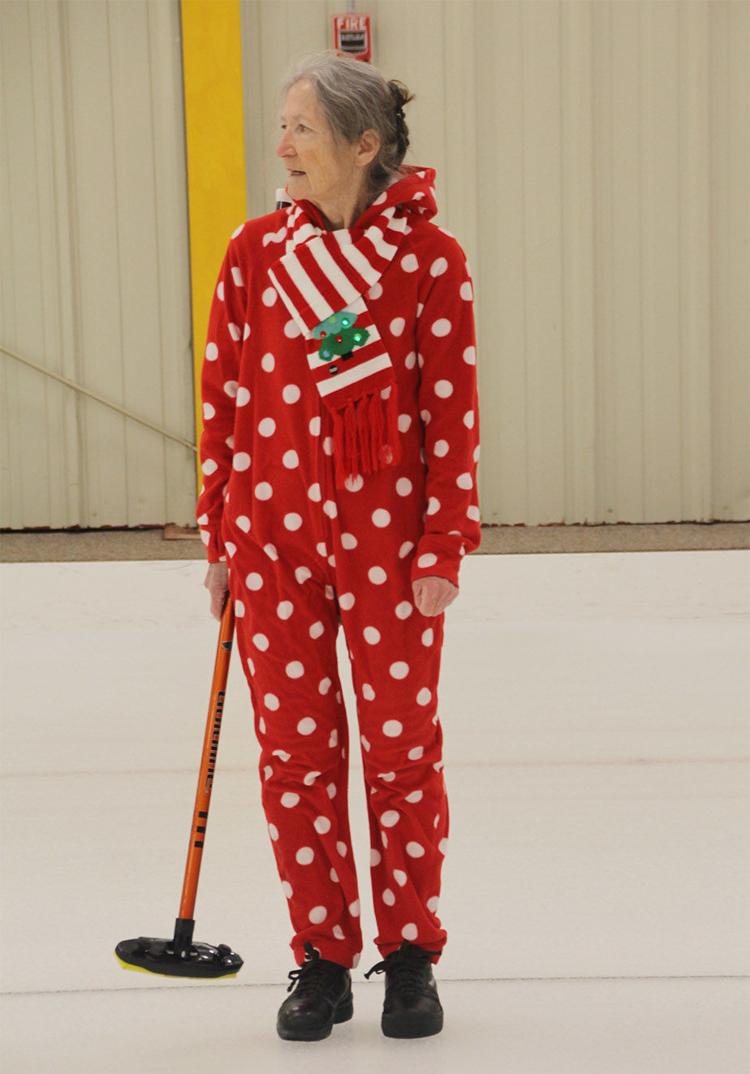 Renee said she purchased the outfiit (which is, in reality, pajamas) in a Goodwill store in Peru, Illinois, in 2016, when she was playing in in the USWCA Senior Women's Bonspiel with three other members of the Cape Cod Curling Club. "We didn't realize we needed a costume," she said, noting she found it in the children's section for $3.
Glad she did. It added to the joy of a festive holiday event.
Said Renee, "I'm pleased that at age 68½ I can still get my silly on."
The event winners and finalists at the 2019 ChrisMix Bonspiel (skip, vice skip, second, lead):
First event winner: Secret Santas (Darryl Christensen, Ken Voorhees, Brad Chagnon, Joanna Schaffer);
First event finalist: Sleigh Riders (Brian Pijanowski, Al Duester, Ross Palioca, Renee Voorhees);
Second event winner: Tree Toppers (Natalie Galligan, Margaret McNabb, Matt DeLuca, Penny Gallagher);
Second event finalist: White Beards (Coco Wellington, Cathy Offinger, Bryan Hamilton, Jane Hannon);
Third event winner: Santa's Elves (Meghan Lino, Donna Pijanowski, Artie Howe, Kerry Bissonnette);
Third event finalist: Balsam Firs (Barbara Enos, Dave Benton, Glenn Savoy, Justin Drakos);
Fourth event winner: Sugar Plums (Diane DiMassa, Barb Sheerin, Joe Tamucci, Lynn Parks);
Fourth event finalist: Holly Berries (Davin Windsor, Peter Rohner, Bob Reed, Joe Walsh).
On to the juniors. It just wouldn't be Curling News without something about the accomplishments of the Cape Cod Curling Club's younger players.
So what did they do this time?
Let's start with Anna Cenzalli, whose Under-21 team qualified for the U-21 Junior Nationals at the junior qualifier in Centerville, Wisconsin, at about the same time the ChrisMix was wrapping up back home.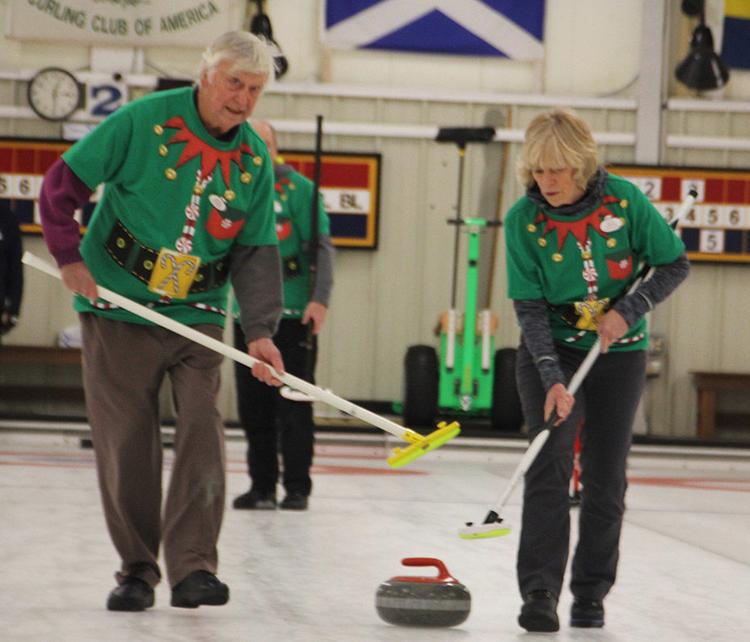 Anna plays second for Team Normandeau, which also includes Anya Normandeau at skip, Rachel Kawleski at vice skip and Celeste Taylor at lead.
Anna, as always, is going to be busy. The U-21 Junior Nationals will be held in Eau Claire, Wisconsin, in January. She'll also be playing in the U-18 Junior Playdowns at the Country Club in Brookline next week.
More on the club's juniors: In one weekend (December 6 to 8), four of them combined to play in two out-of-state bonspiels. The results: All four Cape players participated in an event final. Three played on teams that won their event final. The fourth fell one point short of winning an A event final.
Well done, Nicholas Cenzalli, William Gerlach, Marius Kleinas and Anna Cenzalli.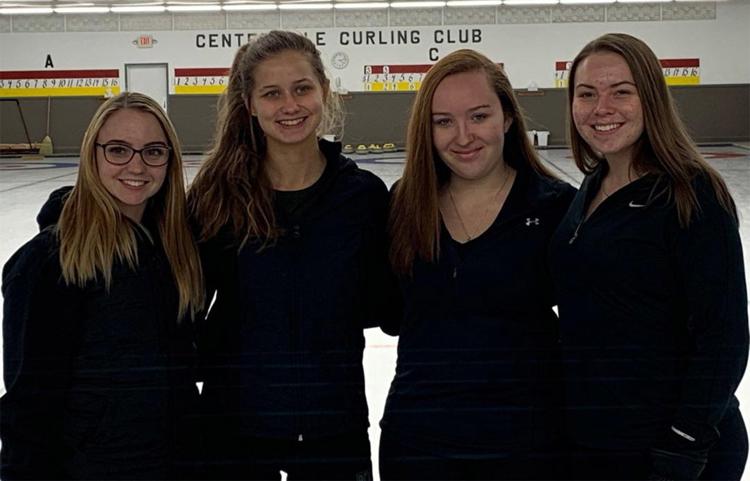 Anna skipped her under-18 team in the Women's Mid-Atlantic Bonspiel at the Potomac Curling Club in Laurel, Maryland. Team Cenzalli, which included Diana Black at vice skip, Odessa Howera at second and Jane Kobylinski at lead, dropped its first game then never lost again on the way to a 4-1 record and the B event championship in the 24-team field. The final game wasn't close: Anna's team led 10-1 after four ends on the way to an easy victory over Team Dunnam from Philadelphia.
"So proud of these girls! Can't wait for U18 playdowns starting December 26th!" Anna posted on her Facebook page after the game was over.
A short while later Anna's mom, the tireless Lyn Cenzalli, posted a similar sentiment on her own Facebook page: "Can't wait to see what else these girls are capable of. They have worked so hard."
One more important note from the Women's Mid-Atlantic Bonspiel. It's easy to miss, but it is tucked neatly inside one of the preceding paragraphs: As the name of the bonspiel indicates, this was a women's event. Anna was skipping a U-18 team. Take a moment to let that sink in.
Kinda makes that B event win look even more impressive, huh?
Lyn was obviously ecstatic about Team Cenzalli's good news, but her mind wasn't completely on Anna's title game. That's understandable; while Lyn's daughter was wrapping up her last game at Potomac, her son was playing in the A event final at the Philadelphia Junior Bonspiel.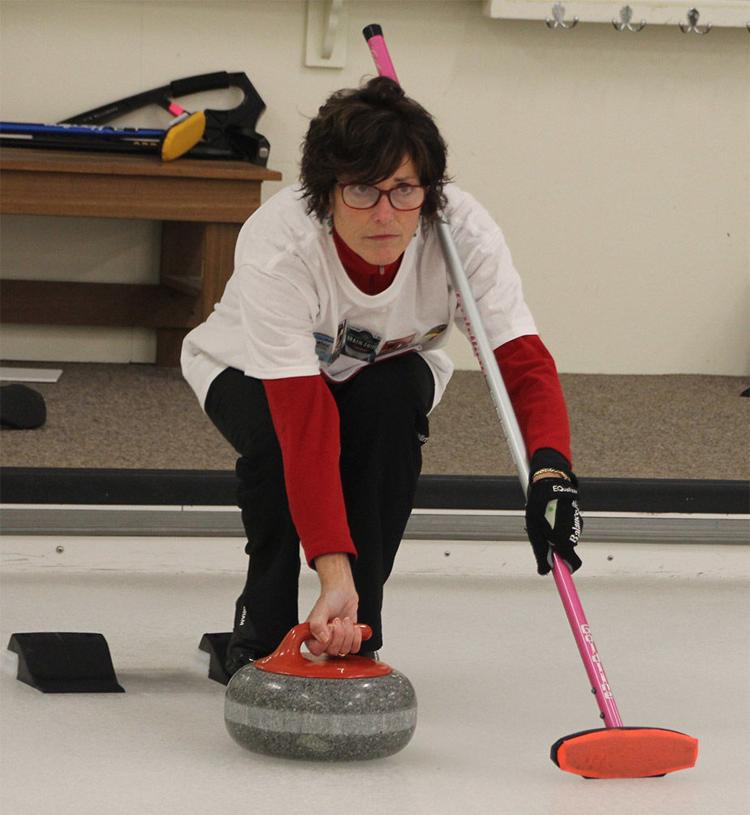 Nicholas was the vice skip and fellow Cape Codder William played second on Team (Ethan) Hebert. Lead Shaheen Bassiri completed the foursome. Team Hebert's opponent in the final was Team (Cedar) Kennedy, which included Marius at vice skip; Hudson Kennedy, Cedar's brother, at second; and Daniel Laufer at lead.
As expected, the game was close from start to finish. Team Hebert stole a point in the first end. Team Kennedy responded with three in the second end, then Team Hebert took one in the third end. Team Kennedy scored one in the fourth end for a 4-2 lead.
Team Hebert surged ahead by one point when it scored one in the fifth end and added two more in the sixth. So what did Team Kennedy do? You guessed it: scored one point in the seventh to tie the game at 5-5.
Team Hebert had two stones in the 12-foot and one in the four-foot when Cedar released his last shot, a draw intended to out-count the stone in the four-foot. The stone headed for its intended target on the ice but looked like it was going to come up short. Three members of Team Kennedy swept furiously, then backed off and watched as the stone skidded to a stop in the back of the four-foot.
Game over. Team Hebert had won the game 6-5. By a fraction of an inch.
It was the perfect ending for a title game between two evenly matched teams. And the best part was at least one Cape Codder was going to be on the winning team, no matter what.
Dang, are these kids good, or what?
Another post on Lyn's Facebook page: "Oh my goodness what a weekend for my two. While Anna's off one way Nicholas is doing this with a great group of young men. So proud of him and them. They have grown up so much since we started last season with this same event."
On the same weekend the Cape Cod Curling Club's juniors were playing impressively in bonspiels on the road, the club's youngest curlers were participating in a bonspiel of their own at home. On December 7 three Cape Cod teams and one from Broomstones Curling Club in Wayland squared off in the Little Rockers Bonspiel.
The Cape Cod 1 team of Silas Gartner, Wyatt Mangus and Will Thrasher bested Cape Cod 2 (Nathaniel Gartner, Jude Savage and Grace Bennett) in the A event final, while the Cape Cod 3 team of Marley Rogers, Max Donovan and Ellie Bennett was the B event winner.
Corbin Armstrong defended his title in the sharpshooter contest.
Parent volunteers Angela and Dan Armstrong manned the kitchen for the event. Games were four ends each.