Two teams with Cape Cod players will be representing the Grand National Curling Club of America at the boys' 2020 Under-18 National Championships in Wausau, Wisconsin, from March 17 to 20. One of those teams is the newly crowned boys' GNCC champion. The other team fell just short of the boys' GNCC title.
It's a great story, a story about curling skill and teamwork that showed once again why the Cape Cod Curling Club is considered one of the best in the country. But to understand just how great this story is, you really need to know about all the Cape Codders who competed in the GNCC U18 Playdowns from December 26 to 30 at The Country Club in Brookline.
Here's how it all went down:
Seven teams headed to The Country Club for the playdowns. (The event was originally scheduled to be held at the Cape Cod Curling Club, but the venue was changed due to the potential for ice issues at the Falmouth facility.) Their mission: Win the GNCC championship (the GNCC is the largest curling region in the United States, with clubs from Florida to Maine) that guarantees a spot in the U18 National Championships, or at the very least grab the other qualifying berth for the U18 Championships.
Six boys from the Cape Cod Curling Club participated in the playdowns. Those six were spread out over three teams. Skip Brody Gerlach, vice skip Ryan Waite and second Connor Hardin represented Cape Cod on Team Gerlach, which also had Rory Klauber at lead.
Team (Ethan) Hebert included Cape Codders Nicholas Cenzalli at vice skip and William Gerlach at second, and Shaheen Bassiri at lead. The sixth Cape Codder was Marius Kleinas, who played vice skip for Team (Cedar) Kennedy. Hudson Kennedy and Daniel Laufer played second and lead, respectively.
All seven teams had every reason to feel confident as the playdowns began. By the time the playdowns were over, most of those teams were wondering if anyone got the license plate number of the truck that hit them.
Readers of humor columnist Dave Barry are familiar with the phrase he uses before writing something so outlandish it can't possibly be true (but is): "I am not making this up."
Believe me when I tell you, I am not making this up:
After 11 games had been played in the boys' GNCC U18 Playdowns, the three teams with Cape Cod players had a combined record of 9-0. The other four teams had combined for two wins.
In their nine victories the teams with Cape Codders outscored their opponents by a collective 96-30. They weren't just winning; they were dominating, with scores like 15-4, 13-2 and 11-1. Scorched-earth stuff.
Things looked pretty bleak for the non-Cape teams. Was there any way to stop the Cape Cod juggernaut from going undefeated? Well, yes. This was a round robin event, so the teams with Cape Codders would have to play each other at some point, and a Cape Cod team would have to come out on the short end in those games.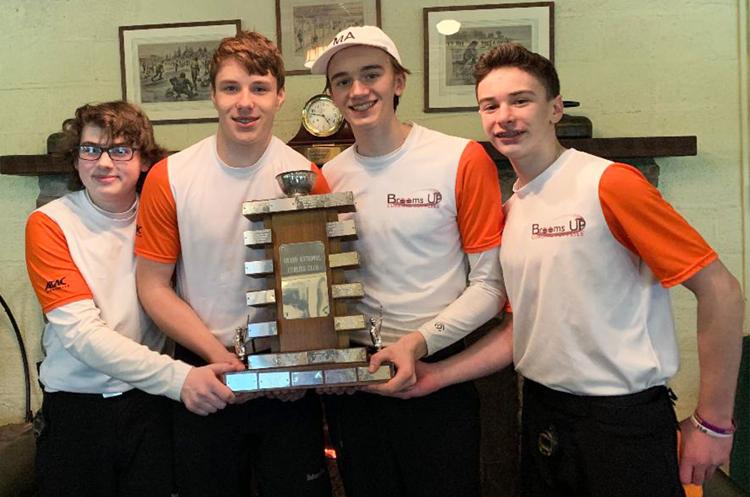 It finally happened when Team Gerlach fell to Team Kennedy by a 6-4 score, then fell to Team Hebert 6-2.
Meanwhile, the carnage continued. Cape Cod teams kept winning by huge margins, with Team Hebert and Team Kennedy both racking up 5-0 records heading into the final draw—where they were scheduled to face each other.
Perfect. The two best teams in the playdowns, each with unblemished records, each having qualified to play in the Nationals, each with at least one Cape Cod player, squaring off on the last draw of the playdowns in a game that would determine the GNCC champion. Could it get any better?
All those blowout victories in their previous games? Forget about it. This was a hard-fought duel to the end.
Lyn Cenzalli, mother of Nicholas, pointed out later how evenly matched the two teams are. "Anytime these two teams play each other, they trade wins," she said. "It was a matter of who was going to pull who up."
Team Hebert got the battle rolling when it took three points in the first end. Team Kennedy answered with two in the second end. Team Hebert took one in the third and Team Kennedy scored two in the fourth.
Halfway through the championship game, and it was tied 4-4.
Team Hebert broke the tie and held a 6-4 lead after scoring one in each of the next two ends. That lead didn't last long; Team Kennedy took three in the next end.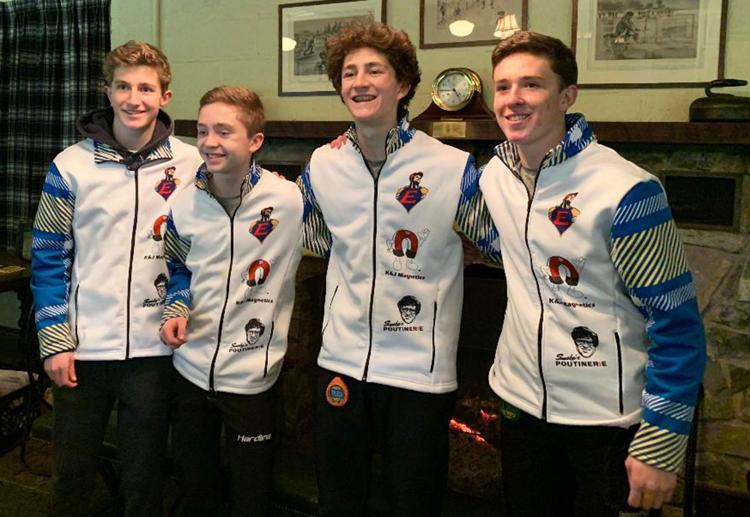 Eighth end. Team Kennedy with a one-point lead. Team Hebert with the hammer. Championship on the line.
It's a blur now for everyone involved, but it all came down to this: Team Hebert was sitting two before Cedar Kennedy took his last shot. There is some debate about whether the skip was trying to draw in or was going for a controlled takeout. It didn't matter; Cedar missed, Ethan didn't have to throw his last shot, and Team Hebert was crowned GNCC U18 champion.
Lyn said she was nervous about the game but admitted she didn't give it her full attention because of divided loyalties; Nicholas's sister, Anna, was playing at the same time in a game that had major ramifications. (See related story on this page.)
But Lyn couldn't be prouder of Nicholas and the rest of the Cape Cod boys.
"Team Hebert has come a long way since last year," she said. "The maturity...everything has come together."
Oh yes, one last thing: Two of the teams with Cape Cod boys were locked in an epic championship game at the playdowns, so it would be easy to forget about the third team. How did things end for those kids?
Just this: While the top two teams were playing, skip Brody Gerlach and the rest of his team were on another sheet destroying yet another opponent, to the tune of 14-2.
As mentioned in this space before, no one celebrates the holidays better than the members of the Cape Cod Curling Club. Take the 2020 New Year's festivities; the club celebrated not once, not twice, but three times.
The club rang in the year early with an end-of-decade potluck and social curling Saturday, December 28. The second celebration came when the club hosted a Pop-Up Mid-Atlantic New Year's Eve Party with games in the warm room for friends and family. The new year was rung in at 10 PM (midnight in the mid-Atlantic).
The final leg of the celebration was Stone Wars: Return of the Curlathon, on New Year's Day. Eight dedicated teams of curlers arrived at the club early to play three consecutive, six-end games in a test of endurance.
The bonspiel had a "Star Wars" theme. Points were awarded for wins (30), ties (20), losses (15) ends won (5) and stones accumulated (1).
When it was over, Jedi (skip Mike Minior, vice skip Maura McCarthy, second Dave Benton and lead Laurie Benton) stood as the only unbeaten team.
But Jedi wasn't the winner. That honor went to Porgs, a bit ironic and head-scratching since Jedi had handed Porgs their only defeat.
"I think the story here is that you can go undefeated and not win," Maura cracked.
Yes, but Jedi had made an unintentional, understandable tactical error when it defeated Porgs (by one point); Jedi woke up a monster that went on a tear in its next two games, racking up huge point totals and completely destroying its opponents. The final point total: Porgs 171, Jedi 164.
Oh, you want to know the names of the Porgs team members? Here they are: Anna, Nicholas, William and Brody. I'm pretty sure you know their last names.