When the final horn sounded neither the Falmouth or Sandwich High School field hockey teams was really happy, but neither was that upset, either. The top two teams in the Cape and Islands League played to a 0-0 draw at the Falmouth High All-Purpose Field on Wednesday, September 29, in a game that proved that the two rivals are matched very evenly.
"I'm sure (FHS coach Courtney Lima) wanted to win, I wanted to win, we're both intense coaches and we both have great teams, but that was some really good field hockey," SHS head coach Kelsey Beaton said after the game. "I don't think it was one of those ties where one team should have won, or one should have lost, or missed opportunities, I just think it was great field hockey."
Sandwich held the overall edge in shots on goal (3-1) and penalty corners (4-1), but the game could not have been any tighter than it was. Neither team had any real chances in the first quarter. Falmouth's best chances came in the second period. Sandwich carried the play in the third quarter. The fourth quarter was much like the first, with the majority of the action being played between the 20-yard lines.
"I'm not disappointed. Obviously, I would have loved to have won, but that was just some great field hockey," Lima said.
Both teams' goalies spent a lot of the afternoon watching the action, but not participating in it much. Falmouth keeper Lola Russell faced all three shots that she saw in the third quarter, with Quinn Jordan getting off one quality bid that midfielder Natalie Bosselman stopped with her stick. The ball then found Emily Souke in front, and Russell kicked aside her shot with about 5:30 left in the third.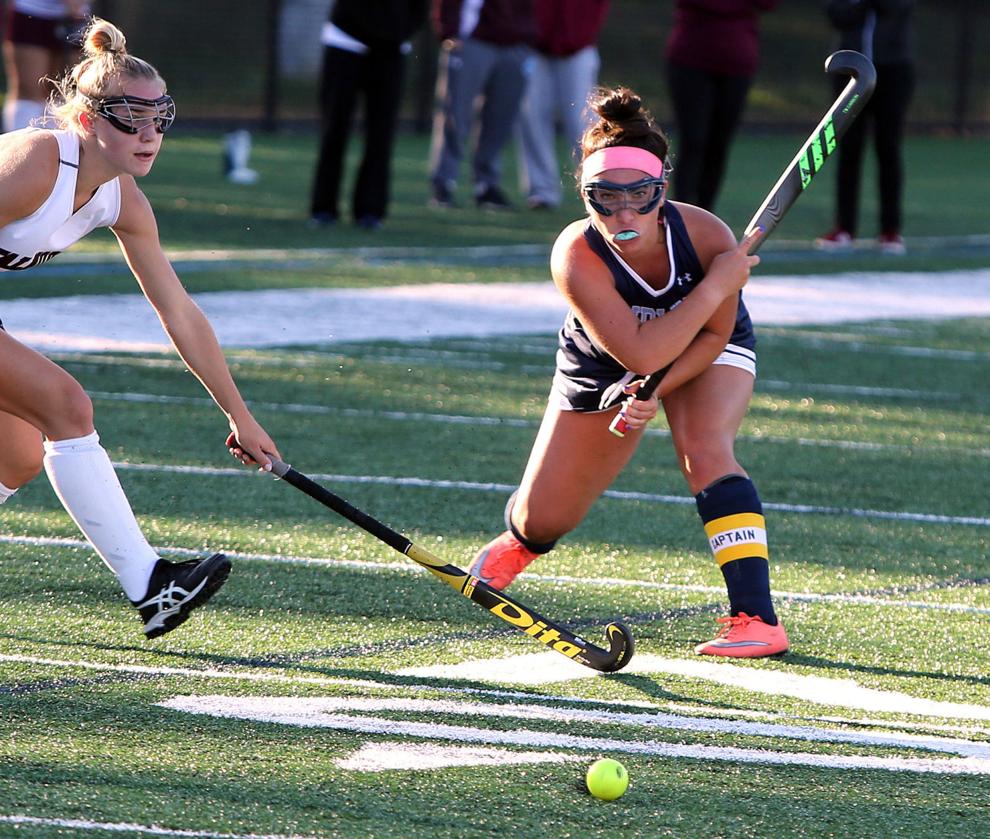 Lima said that Russell, who has been starting in place of the injured Kyleigh Waggett, was outstanding.
"Given the circumstances, Lola is playing as well as she possibly could. She's outstanding, she's a great teammate. She's inspirational to her defense in front of her, and just awesome to be around," the coach said.
Sandwich goalie Sarah Currey had to make just one save, and it came early on off of the stick of Colleen Caswell late in the first quarter. The Falmouth senior let her shot fly from about 10 yards out, trying to pick the left post. Currey worked across the crease and got a leg on it.
Currey was under pressure in the second quarter, with Falmouth owning the territorial edge, but the Clippers were unable to slip one all the way to the net and had their one penalty corner opportunity broken up. The Clippers' next best chance came in the final minute of the game when Hope Oliveira—who had a fantastic two-way game for Falmouth—slid a pass over for Abby McDonald. The FHS forward fired toward the net with 20 seconds left but her shot was tipped wide by the SHS defense and hit the side of the cage. FHS tried to set up for one more bid after that but ran out of time.
Currey said that even though she wasn't overly busy the game itself was fun to watch and be a part of, joking with a teammate that it was "a stressful game where nothing really happened." She credited her defense with doing a great job.
"Our defense was amazing today. Our defense has already been really strong, which is a good thing for me as a goalie. The communication was really good today, everybody knew where they had to be," Currey said. "The kids that always play strong played amazing, and then Khloe (Shultz) did an amazing job of covering her player that was on the post."
FHS is back in action on Wednesday, October 6, when the team will visit Dennis-Yarmouth High. The Knights square off with Monomoy High School on Friday, October 1.