In the fictional book "Moby-Dick," a whaling ship captain is on a quest to find and kill a great white whale that took his leg.
At the Cape Cod Curling Club from February 7 to 9, 10 teams were on a different kind of quest; they were all attempting to win the Scrod Bonspiel, the annual event for curlers with five years of experience or less. They were also on a quest for fun while playing with family.
This year's Scrod Bonspiel, which was celebrating its 40th anniversary, had a "Moby-Dick" theme. Teams were named for characters in the book.
Those familiar with "Moby-Dick" know things didn't end well for Captain Ahab, the whaling ship captain. He found his nemesis, but...well, if you don't know what happened, you're going to have to read the book to find out.
On the other hand, the 10 teams in the Scrod Bonspiel enjoyed a lot of success. Things went particularly well for Team Peleg, which defeated Team Daggoo in a seesaw championship game.
And that quest for fun? Ask anyone who played in the Scrod Bonspiel: mission accomplished.
Team Peleg was skipped by Doug Jones (yes, that Doug Jones, the same guy who serves on the Falmouth Board of Selectmen). Team Daggoo was skipped by Dave Benton.
Team Tashtego, skipped by Deb Cubillos, prevailed over Team Stubb (Jim Woodworth) in the second event final, and skip Eric Robillard led Team Fedallah past Team Bildad (Laurie Benton) in the third event final. The fourth event, which was determined by points, saw Candace Teixeira-skipped Team Queequeg prevail, with Team Pip (Bryan Hamilton) coming in second in a four-way contest.
Dave had a simple explanation for his team's loss in the fist event final. "Doug's team was just too powerful for us," he admitted.
Doug graciously acknowledged his opponent, then said, "We were the family team." Doug was referring to his second, Chuck Teixeira, whose daughter Candace and wife Kathy skipped Team Queequeg and played lead for Team Bildad, respectively. Then there was Jean Canty Schwartz, the lead for Team Peleg who in the title game faced off against her son, Jared Schwartz, who played second for Team Daggoo.
That's a lot of players with other family members playing in the Scrod Bonspiel, but hold on just a dang minute. I'm not so sure Team Peleg can claim the title of the event's "famly team." Check this out:
Team Daggoo didn't have just the Schwartz connection. You may have noticed that Laurie Benton skipped Team Bildad and wondered if she is related to Team Daggoo skip Dave Benton. She is. They're married. Then there was Team Daggoo vice skip Lisa Palioca, who is married to Team Stubb second Ross Palioca. And Team Daggoo lead Jean-Pierre Riu is married to Quiqueg lead Denise Riu.
Add it all up, and you had every member of Team Daggoo with a relative playing in the Scrod Bonspiel. Sorry, Doug. Your team won the Scrod Bonspiel, but Team Daggoo, your opponent in the championship game, was the true "family team."
And let us not forget that there was one other set of relatives playing in the Scrod Bonspiel. That would be the husband-and-wife duo of Mike Azarovitz and Jen DiGiammarino. Mike played vice skip for Team Stubb and Jen played second for Team Elijah.
But the Scrod Bonspiel family connections don't end there. Those who play in the event are all members of one big family, a curling family with memories that will last a lifetime.
And like any family, some members will be departing. Oh, they'll come back, but it won't be the same for curlers like George Clondas and Bob Kleinrath, who have been curling for five years and have "aged out" of future Scrod Bonspiels.
No matter. All of those "old timers" will be welcomed back with open arms. And they'll pass their memories and advice on to the next generation. Family will always be family.
Krista Longnecker, a curling veteran and member of the Competitive League (which ran the Scrod Bonspiel), summed it up perfectly when she told the Scrod Bonspiel curlers: "I hope in a few years you'll be looking back fondly at what happened here."
Oh, they will. Guaranteed.
The 2020 Scrod Bonspiel winners and finalists (skip, vice skip, second, lead):
First event winner: Peleg (Doug Jones, George Clondas, Cuck Teixeira, Jean Canty Schwartz);
First event finalist: Daggoo (Dave Benton, Lisa Palioca, Jared Schwartz, Jean-Pierre Riu);
Second event winner: Tashtego (Deb Cubillos, Peter Mili, Tyler Holloway, Dennis Stone);
Second event finalist: Stubb (Jim Woodworth, Mike Azarovitz, Ross Palioca, Patti Connor);
Third event winner: Fedallah (Eric Robillard, Sharon Cicchetti, Andy Bailey, Bill Ferzoco);
Third event finalist: Bildad (Laurie Benton, Ken White, Dan Smith, Kathy Teixeira);
Fourth event winner: Queequeg (Candace Teixeira, Bob Kleinrath, Kerry Bissonette, Denise Riu);
Fourth event runner-up: Pip (Bryan Hamilton, Lisa Meeks, Ryan Owens, Wilfred Bindler-Desbiens).
Here come the women again.
The last time they had a large chunk of space devoted to them here, they were coming off a fun-filled three days at the Ladies All American at the Cape Cod Curling Club.
This time? Well, it is our pleasure to report that two Cape Cod teams performed especially well at the 2020 Bay State Ladies Bonspiel hosted by Broomstones Curling Club in Wayland on the same weekend the Scrod Bonspiel was being played.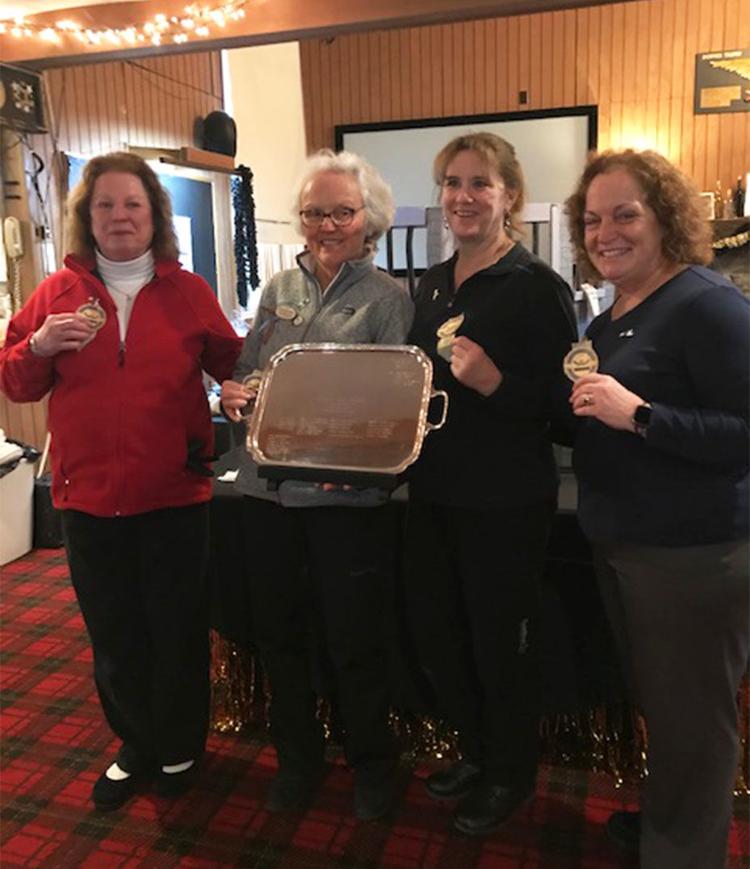 The theme for the event was "The Roaring Twenties."
Team (Mary) Colacchio (the Falmouth Flappers) won the Babson Tray second event. Filling out Mary's team were vice skip Cathy Offinger, second Virginia Bristol and lead Nanci Pacheco.
Meanwhile, skip Gabriele Bruce led her team, Bonnie and the Slides, to victory in the Nesbit Biscuit Box third event. The team also included vice skip Martha Kenney, second Jeanie Yaroch and lead Jamie Hutchinson.
Another Cape Cod team, skipped by Natalie Galligan, weighed in as The Big Shots. Natalie was joined by vice skip Patty Oakley, second Paula Howe and lead Penny Gallagher.
An added bonus for the Cape Codders: Bonnie and the Slides and The Big Shots finished in a three-way tie for first in the Best Costume competition.
Ya know, it just occurred to me...seems like every time I write about the women at the Cape Cod Curling Club, they're having a whole lotta fun.
Please set aside Saturday, March 21, on your calendar. That is the day Curling for Compassion, an event to raise awareness and funds to support the ALS community, will be held at the Cape Cod Curling Club.
Twelve teams of five will compete; each team is required to pay a registration fee of $1,000 to secure a spot. This is a community event where only the inexperienced are permitted to curl. There will, however, be experienced curlers from the club who will be assisting the participants every step of the way.
So gather your friends, your co-workers and anyone else you think would like to curl, and help raise funds for a truly worthy cause. All proceeds from Curling for Compassion will benefit Compassionate Care ALS.
Payment can be made by donating to any team member or by mailing a check to PO Box 1052, West Falmouth, MA 02574.