Falmouth Country Club member Nancy Rogers couldn't wait for her golf course to open up last week. As soon as she heard that Governor Charles D. Baker Jr. had lifted the ban on rounds of golf, she dusted off her clubs and was out on the course the next day.
Like so many golf enthusiasts around Massachusetts, Rogers could not wait to chase the little white ball around the links and add a little bit of normalcy back to life. On Wednesday, May 13, she headed out for her third round of the season since the game's return.
Rogers, who works on Martha's Vineyard, said she was frustrated not to be able to be out on the courses earlier, because she has more time on her hands than usual. A work furlough freed her up more than ever before, but with the course closed she was relegated to using FCC's 27 holes as a hiking trail rather than working on her short game.
Across Cape Cod the return of golf has been celebrated by the players. For the courses, it has not been a complete hole in one.
Joe O'Connor, the owner of Holly Ridge Golf Course in Sandwich, said the state did not change its stance on allowing play with barely a "fore" being yelled. "We had about 12 hours," O'Connor said. "We had an idea that it might happen, but (the golf advisory committee) asked for three days' notice...they caught a lot of golf courses shorthanded."
John Monroe, the manager at Cape Cod Country Club in Hatchville, echoed that sentiment.
"We all had to scramble. No one had any staff, I was glad to get the place open, but the hardest part is no one had any staffing," Monroe said.
Having the courses open for business certainly helped to get cash flow heading in the right direction for local courses, but the restrictions put in place by the state leave the business side of things a bit messy. With the limitations on tee times to every 16 minutes, courses are losing the ability to book nearly half as much play as they usually would.
"We're only doing about half of the play that we usually would," Monroe said. "We're hoping that they ease the restrictions before Memorial Day."
Additionally, and of perhaps greater importance, is that without the ability to rent golf carts or open up pro shops, clubhouses, snack bars, bars, and food carts, the only revenue stream for the courses is from greens fees. Maybe the biggest loss for local courses, though, is the high number of canceled golf tournaments that have accumulated since the pandemic's start. Some will be rescheduled, but the numerous charity tournaments that are hosted around the Cape during the prime months are big moneymakers. The loss of wedding revenues at courses that act as a host to those events is also huge.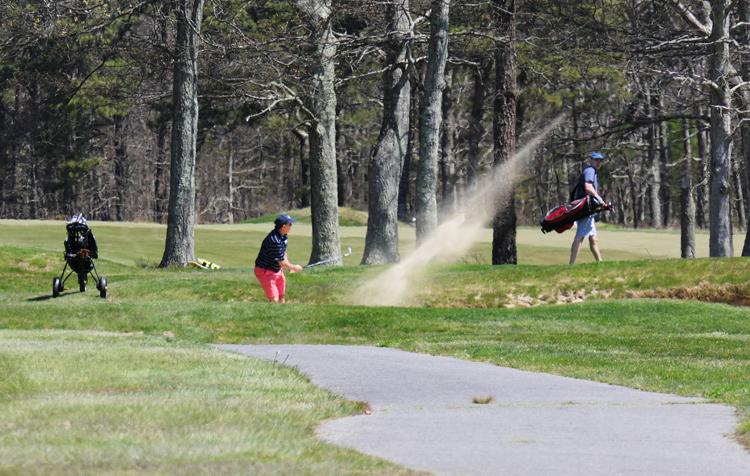 "Not having food and beverage open, we're getting killed," Monroe said. "But, at least we have people playing."
"It's really nice to be open, but we're generating just 30 percent of the revenue that we normally would. It's hard with no range, no carts, no bar and no instructional programs," he said.
After finishing a recent round at Falmouth Country Club, friends Tim Ball of Cotuit and Greg Boyd of Sandwich sat in the parking lot trying to figure out what to do after their round. They finally decided on takeout pizza, which they said would be brought back to their shared office.
"Usually we'd stay here and have a drink and then head out to dinner somewhere," Ball said. "I mean, I get it, but it isn't the same."
Ball said that playing golf again for the first time since the re-opening was great. He said it was certainly more exercise than normal, since the duo walked the course. He said booking the tee time online was easy enough, but there is one change in "the new normal" that he dislikes quite a bit.
"They aren't allowed to give you a scorecard, or a pencil. I didn't like that at all," he said. "That's annoying."
Holly Ridge has a solution for that, one that was figured out before the pandemic began. The course invested in having a phone app developed over the winter that was unveiled this spring. In addition to being able to book tee times straight through the app, it allows users to score their rounds on the phone and to post scores.
"That was a good thing, we'd been developing it during the winter and it helps since we can't give out the scorecards and pencils," O'Connor said.
Like any round of golf, the return of the game to Massachusetts is not perfect. Still, most agree, the fact that it is back is a good thing overall.
"All in all, I don't have any complaints," Rogers said as she adjusted her face mask and headed over to grab her clubs. "This is something new for all of us, but it's nice to get out and play."