What is Santa Claus going to do with his sleigh and reindeer when he comes to Mashpee, the Land of the Wampanoag, next week? Watch out, the legendary Granny Squannit said she is coming also. We have plenty of The Three Sisters (corn, beans and squash). Also venison, trout, bass—and maybe some fried herring.
It's 8 PM and Mashpee looks beautiful with all the Christmas lights on, full moon shining, and stars hanging like diamonds.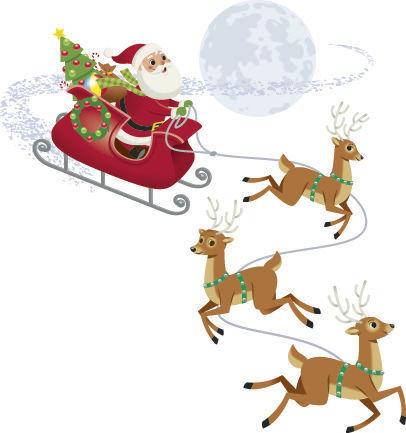 Here comes 12-year-old Standing Pipe with his sister, Cranberry Two Shoes, running as fast as they can trying to catch Santa as he slows down and parks over near the Mashpee Wampanoag Indian Museum.
Oh, gee! Lots of pretty packages. The reindeer are big with long legs. Standing Pipe is thinking, "I need help!" He takes out his Jitterbug cellphone and tries to call all the children in Mashpee. No one is answering. It's time to share before Granny Squannit stops by.
All of a sudden it starts snowing. Santa and his reindeer move to the top of the herring run. Cranberry Two Shoes hollers to Santa, "Please leave the presents!" but he does not hear her and she starts crying. The phone rings, and it is Brother Little Neck telling them to go rest so Santa can do his work.
Off they go to the museum and sleep in Nokomis's bed. Brother Little Neck floats down to the root cellar and falls asleep on the jars of homemade jelly and squash.
Knock-knock: It is Granny Squannit planning to take all Mashpee's children who have been good to the North Pole to see the magical Northern Lights and several Elves at work making homemade chocolate chip cookies and Christmas toys. Soon it is 4 AM and time to get back on the clouds to Mashpee.
You should know Granny has long hair that falls over her face covering her one eye (remember, her eye has spirit and power that may take you along to another place on Cape Cod); however, back in Mashpee Chief Silent Drum has been cooking all night making quahog panny-kakes with acorn broth for breakfast. As we sit on top of this big cloud, she tells the children, "You know you should respect your elders, your community and friends, and be kind to everyone. Say Merry Christmas to all with a nice smile."
Oh! I forgot to tell you that they found Santa and the reindeer over Mashpee-Wakeby Pond. He went down to Jordan with all the presents and now is wrapping more for everyone and the Grinch is helping. Also, he has candy canes. Every day is a new journey on beautiful Mother Earth.
Merry Christmas and Happy New Year! Keeping faith, hope, and sharing the love for all is good medicine.