Every day is precious. Together we can make 2020 a year of amazing moments! With the arrival of a new year comes a time to reflect on the past year and to make resolutions or goals for the future. People who set goals are more likely to succeed than people who do not. Setting a goal is about making a commitment in words, and words have the power to create a better future. Goals communicate, to ourselves and to others, the belief that we are capable of overcoming obstacles. For 2020, let's each commit to being a better version of our 2019 self. Choose kindness and generosity.
There are many reasons to be proud of the Mashpee Public Schools. We are a small, student-centered school system that thinks BIG. Our innovative partnerships, programs and learning experiences, together with a culture that values relationships, set us apart from other districts. We live by a "whatever-it-takes" mindset. This year, we are asking all members of our connected community to go that one degree further and experience achievements that we may have never thought were possible #212TheExtraDegree.
Congratulations to Mashpee Middle-High School sophomores Colin Spencer, Calia Eaton, Cheyenne Hendricks, William Henley, Ava Christo, and Samantha Morry (alternate) who have been selected to participate in the 2020 Hugh O'Brien Youth Leadership Conference (HOBY). These students were chosen based on their outstanding essays and interviews. The Massachusetts HOBY conference will take place at Bentley University from June 12 through 14. Our students will build their leadership potential through an inspiring seminar based on three leadership perspectives: Personal, Group, and Societal.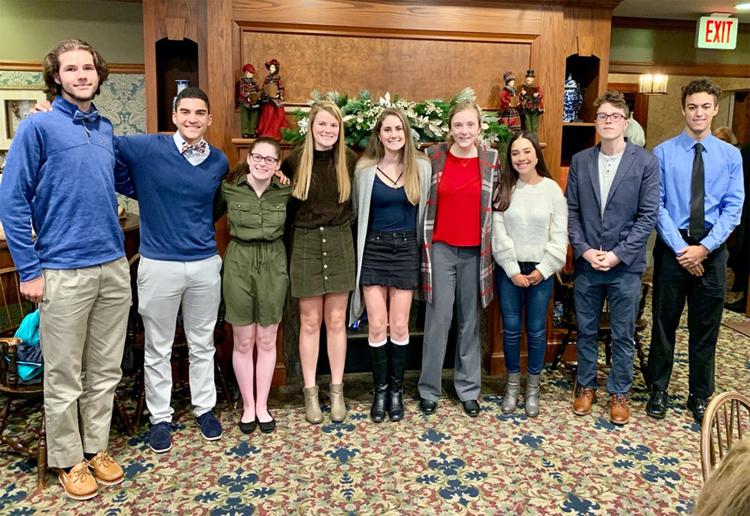 Thank you to Mashpee Men's Club for celebrating a group of amazing MMHS seniors at their annual High-Five Celebration held on December 17. CJ Cliff, Peter Gonzalez, Caitlin Boyd, Anna O'Neill, Kelley Skantz, Peyton Dauley, Dasia Peters, Stephen Robinson-Wahl and DeShawn Adler not only answered questions, but also shared their educational journeys and accomplishments, their challenges, their future plans, and their outside-of-school lives. We are grateful for the guidance and support we receive from Mashpee Men's Club. As the students pointed out, we are a connected community, and it is important to us.
Community Reminder: MMHS senior and Key Club member Julie Cambra needs our help. Julie has chosen Thirst Project for her senior project and has the goal of raising $12,000 to construct a well to help address the water crisis for several African villages. Forty-three percent of African children don't have access to clean water and 1.6 million kids die every year due to waterborne illnesses. As of right now the Thirst Project has created 13,018 wells and helped more than 413,427 people get access to clean drinking water in 13 different countries. If you would like to learn more, please visit www.thirstproject.org. Julie is hoping that her Mashpee community will choose to donate to this project. Donation checks can be made payable to Mashpee Middle-High School with reference to Thirst Project in the memo. As little as $25 can help give clean water to one person in Africa for life. All donations go directly into the construction of a well. Julie thanks you for your support.
MMHS student Kelley Skantz is thankful to the MPS community and to the greater Mashpee community for supporting her senior project—the collection of new backpacks filled with toiletries, socks, gloves, a hat, a blanket, hand warmers and inspirational notes. Sixty backpacks were assembled and delivered to the health and human services organization Vinfen for distribution to those experiencing homelessness or adversity in our area. It is so wonderful to be part of such a generous Mashpee community.
Our MMHS Techsperts will be at Mashpee Public Library tomorrow from 10:30 to 11:30 AM to provide free technology support to Mashpee residents. Please join us on Thursday, January 16, for the MMHS Science Fair at 6 PM followed by the MMHS choral concert at 7 o'clock. The MMHS instrumental concert is scheduled for January 21 at 7 PM. We hope you will be able to join us on January 28 at 5 PM for the MMHS Art/Music Showcase, followed by our National History Day Exhibition, and our Program of Studies night.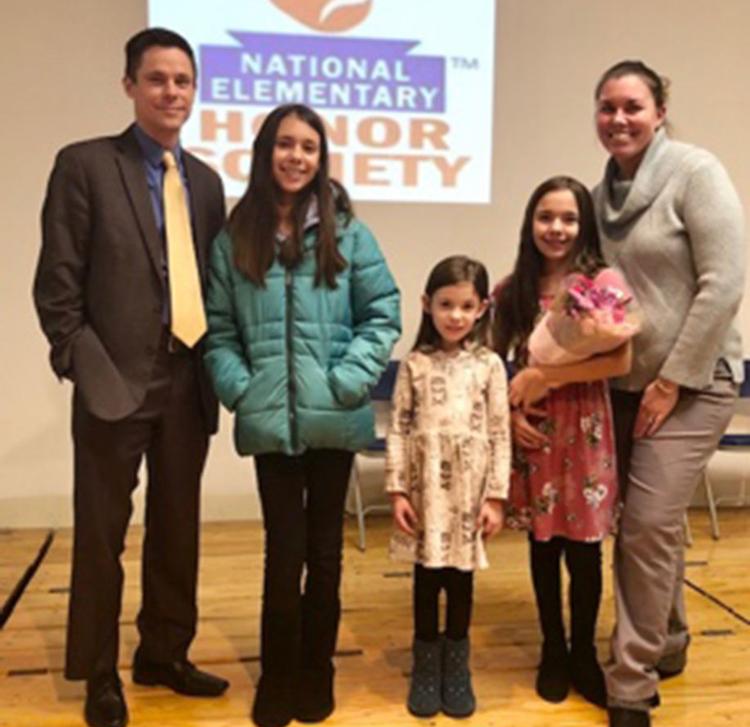 Thank you to Quashnet teacher and National Elementary Honor Society (NEHS) advisor Elizabeth Babich for organizing last Monday's induction ceremony. This event was student-centered with powerful and meaningful messages for both the students and their families. The Quashnet chapter of the NEHS welcomed 26 new members. Congratulations to Liam Assad, Carmen Bartlett, James Benners, Anna Blackburn, Colin Burdge, Lyla Charboneau, Aryana Cuozzo, Madalyn Damron, James Dean, Paul Dehelean, Quinnlan Donovan, William Driscoll, Abigail Glen, Gabriel Hanscom, Aquilla Hendricks, Alexander Johnson, Oliver Josselyn, Seamus Kehoe, Maverick Kelly, James LaMontagne, Fernanda Lima, Addison Losh, Gavin Mulligan, Logan Puma, Addison Schafer and Hayden Shvonski.
In regard to community and global connections, Quashnet Elementary School is excited to be welcoming 12 exchange students from Beijing, China, for a weeklong visit. The students are expected to arrive tomorrow and will be welcomed by their Quashnet host families. This cultural exchange program is an outstanding educational opportunity.
Congratulations to Quashnet School educators Mairead Mayen and Courtney Ream for receiving $500 Cape Cod Five Mini-Grants. Mrs. Mayen's grant will support the SeaPerch Collaborative Project for 5th graders, and Ms. Ream's grant will support a bilingual book collection for the Quashnet library.
Please join us on Wednesday, January 15 at 6 PM for the Quashnet School's winter instrumental concert.
The Kenneth C. Coombs School staff, PTO, and Nurse Stacey hosted a successful Giving Tree event that provided an enjoyable evening for our families and also served as a way to collect donations for families in need during the holidays. Thank you to preschool teacher Catherine McDonough and her fiancé, Corey, for their wonderful reading of "The Giving Tree" book and for leading attendees in a holiday sing-along. In addition to our school community, we are very grateful to Cape Cod Church, Kinlin Grover Realtors, and the Kiwanis Club of Mashpee for their generosity. Thirty-six Coombs School families (44 children) had a brighter holiday season because of the generosity of our connected community.
We are excited and proud that students from the Coombs School have been invited to present at the Learn Launch Conference in Boston on January 31. Coombs educator Kim Palmer and MMHS educator Amanda Hough will be accompanying Coombs and MMHS students to this conference, where our students will present/share their cross-age collaborative mini-golf project with educators from across Massachusetts.
Please join us on Thursday, February 6, at 5:30 PM for the Coombs School Family Math Night.
As of today we have completed 80 days, or 44.4 percent of school year 2019-20. On a daily basis we strive to ensure that academic engaged time is maximized for each student and that each student is able to demonstrate growth. In my visits to classrooms I am impressed with the instructional strategies and learning opportunities provided to all students and designed to improve outcomes. The success and well-being of every student in our district are always at the forefront of our daily work and every decision we make. We need our wonderful students to be present every day in order for our well-planned instruction, standards-based curriculum, and supportive learning environments to positively impact their academic and social/emotional growth. When students improve their attendance rates they improve their academic prospects and chances for graduating. If your child has been absent eight or more days so far this school year, he/she is considered to be chronically absent. We will continue to work closely with each family to improve attendance, with the shared goal of every student being present as many days as possible for the remaining 100 days of school year 2019-20. For more information about the impact of student absenteeism on learning, please visit www.attendanceworks.org.
We look forward to expanding opportunities to build and nurture a connected community that is filled with strong partnerships and productive relationships designed to improve the educational outcomes for every Mashpee student while also enriching the lives of all involved.
We are grateful for the opportunity we have been given to serve the families of Mashpee. Through our use of a multi-tiered system of supports (MTSS) framework, every student has access to instruction, curriculum, and an environment that ensures achievement of his/her academic and social/emotional projected growth. Thank you for trusting us with your children.
As Rita Pierson says, every child deserves a champion—an adult who will never give up on them, who understands the power of connection, and who insists that they become the best that they can possibly be. The children of Mashpee are embraced by a Connected Community that is filled with champions—and for that we are very grateful!
Please stop in and visit us at #WeAreMashpee, our outreach site at 11 Greene Street at Mashpee Commons.