The Polar Cave Ice Cream Parlour in Mashpee planned to open quietly on May 8 two days ahead of Mother's Day. The business, which operates out of a pink-and-white cottage off Falmouth Road, instead became a centerpiece in the national debate over reopening the economy.
The small business's first attempt at serving ice cream amid the COVID-19 pandemic became laced with expletives thrown by customers disgruntled with the long wait times. The incident made national headlines.
Boston 25 News reporter Kirsten Glavin was tipped off to the opening-day chaos.
Ms. Glavin, a Massachusetts native who grew up in Grafton and Orleans, said in an email that she learned of the events at the Polar Cave from a post on the business's Facebook page on Friday.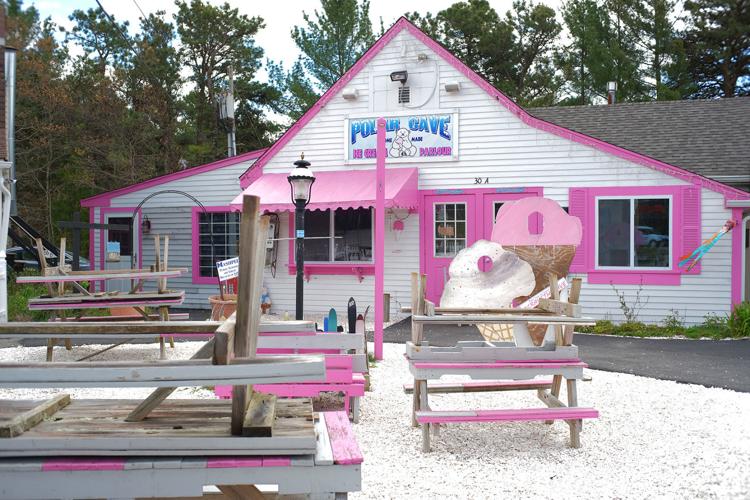 By Saturday, CNN and the Washington Post had picked up the story, citing the Boston 25 report and Facebook posts on the business's page.
On Monday, May 11, the "Inside Edition" report jammed a few seconds of their interview with Mark Lawrence, owner of the Polar Cave, between video footage of a crowded restaurant with an armed guard that opened in defiance of Colorado public health orders, photos of armed protesters ordering sandwiches at a Subway shop in North Carolina, and video of packed beaches in Florida.
Mr. Lawrence said he had received messages from individuals across the country as well as from Australia, Sweden and Germany.
Back in Massachusetts, a reporter on Monday asked Governor Charles D. Baker Jr. a question with an apparent reference to the Polar Cave after the governor announced a phased reopening of businesses in the state.
A GoFundMe campaign raised almost $40,000 in less than three days for a college fund for the 17-year-old employee of the Polar Cave Ice Cream …
"An ice cream stand on the Cape tried to open up this weekend, it turned out to be pandemonium down there," the reporter said. "Are you concerned that as these are phased in that is going to be commonplace?"
"I've actually been to that ice cream place," Gov. Baker replied, praising Mr. Lawrence as "one of the most decent people you'd ever want to meet" before addressing the question.
"I think we've all got to stand up and recognize that this is going to put almost everybody in a somewhat different position than they've ever been in before, day in and day out," the governor said of the pandemic. "I believe the vast majority of people in Massachusetts will stand up and accept that responsibility."
Mr. Lawrence said that upon opening Friday, the ice cream parlor requested in a Facebook post that orders be placed an hour ahead of time to give the staff time to test new procedures to minimize contact and deliver ice cream straight to customers in their cars.
But, as those who ordered ahead lined up in the parking lot, others passing by in their car began saying, "Oh my God, Polar Cave is open," and pulled into the parking lot to order a scoop for themselves, Mr. Lawrence said.
Before long, between 40 and 50 cars had lined up in the dirt parking lot and the phone was ringing off the hook as the Polar Cave's eight employees—all high school and college students—scrambled to prepare orders and deliver them to the correct car.
"We lost it. It got out of control," Mr. Lawrence said.
As customers continued to show up, the wait times grew longer. Many regulars of the parlor waited patiently in their cars for up to three hours, Mr. Lawrence said. Other customers grew impatient and irritated, exiting their cars to lash out at the employees.
"The F-bomb was flying everywhere," Mr. Lawrence said. At one point, a customer aimed an even more vulgar profanity at a 17-year-old server.
The parlor was supposed to close at 8 PM, but did not close until 9:30 that night due to the number of orders. After the shop closed, the young woman who was the recipient of the vulgar comment texted her boss, Mr. Lawrence.
"I can't do it, this is my resignation," Mr. Lawrence said she told him in the text. He asked her why she had not said something earlier in the evening.
"I didn't want to disappoint you or our regular customers," he said the girl told him.
"My heart just melted, really nobody should be subjected to that," Mr. Lawrence said.
Mr. Lawrence estimated that about 10 percent of the 300 or so customers on Friday had acted like "complete and utter disgraceful animals."
Mr. Lawrence said he had worked closely with the local board of health and watched webinars from the National Ice Cream Retailers Association for advice on best practices before opening. Even so, Mr. Lawrence compared opening a small business during the pandemic to assembling the contents of a box from IKEA with no instructions.
"The box comes from IKEA but there's no instructions and there's missing pieces, and now you have to assemble this 500-piece thing," he said. "Everyone is going to build it a little differently."
"My theory behind all of this at this point is we've caged humanity up and some people have gone back to animalistic ways," Mr. Lawrence said. "It's like they prey on the weak."
The Polar Cave has resumed business on a limited basis since the opening-day fiasco. Mr. Lawrence has invited about 500 regulars to a private Facebook group where they can place orders in advance for pickup during designated slots.
On Wednesday, May 13, four of Mr. Lawrence's employees posted a video on Facebook.
"We just wanted to say thank you so much for the outpouring of love and the support we've received," one of the young women says in the video. "From our regulars who we know and love, we miss you dearly, to people all across the world, we appreciate your kindness so much, we hope to be back to normal as soon as possible."
"And remember," the Polar Cave employee says, "be nice to people wherever you are."