Federal regulations that could go into effect as soon as this summer will lead to the seasonal closure of some Mashpee shellfishing areas in Popponesset Bay and Waquoit Bay, while placing the status of other shellfishing areas in limbo.
Natural Resources Director Ashley Fisher outlined the potential changes to the classification of the town's shellfish areas for the Mashpee Board of Selectmen during its meeting on Monday, March 22.
The federal Food and Drug Administration through the National Shellfish Sanitation Program is requiring that shellfishing areas near mooring fields with more than 21 boats be classified as anything but "approved to harvest," Ms. Fisher said.
"They're worried about the spillage or discharge of marine sanitation devices that are onboard," she said. "What this means for Mashpee is we're going to have to change our approved for [harvest] shellfishing areas to be conditionally approved."
Under the conditionally approved status, a shellfishing area may remain open during all or part of the year depending on flow patterns, the type of vessels moored in the area and occupancy of those vessels.
Ms. Fisher said she has worked with the Division of Marine Fisheries to assess the shellfishing areas in Mashpee and does not anticipate that any family shellfishing areas will be affected by the changes.
She warned, however, that the FDA could come down "at any time" to do a pollution assessment for any of the conditionally approved areas that are open and determine that they should instead be closed while boats are moored in the area.
The Seconsett Island family area is in excess of 21 moorings and will be changed from an approved to harvest area to a conditionally approved area. The area, however, can remain open throughout the year should the town enact a bylaw to restrict overnight occupancy on Mashpee moorings, Ms. Fisher said.
"We will have to go out with the division again once the season starts and assess what boats are actually on those moorings," she said. "We've had a history of good water quality there so I don't see them closing that area."
The natural resources department might also consider breaking the mooring area near Seconsett Island into two mooring areas, she said. One area would only have smaller boats that do not contain marine sanitation devices, or bathrooms, and one area would have larger boats with the bathrooms on board.
Should the FDA require that the town close the Seconsett Island family shellfishing area during the summer months, the town has preliminary plans with Falmouth to open a small area in Waquoit Bay to the north of the Seconsett Island causeway as a family area, Ms. Fisher said.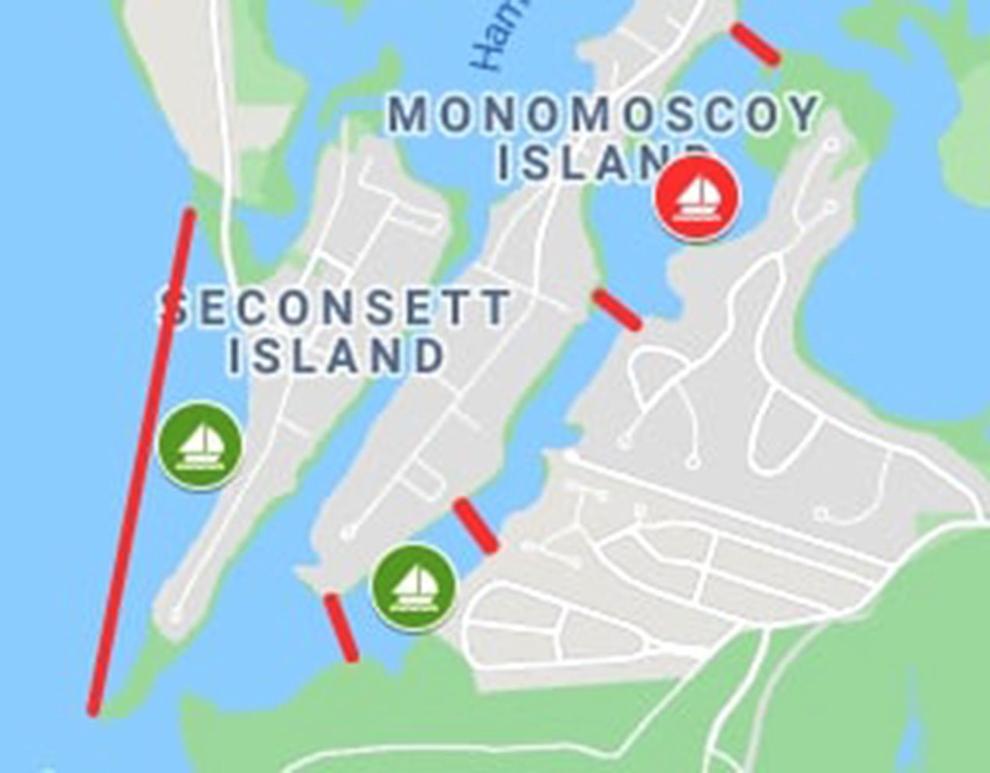 Another family shellfishing area in the lower part of Great River in Waquoit Bay would also need to be changed to conditionally approved because there are more than 21 moorings in the area. The lower part of Great River is likely to remain open year-round because there are few large vessels with marine sanitation devices on board in the mooring area, Ms. Fisher said.
The northern reaches of Great River in Waquoit Bay will have to be closed during the summer months because of more than 21 moorings in the area, most of which are large boats that contain marine sanitation devices.
"That area right there had really large boats most of the year so we decided to close that area," Ms. Fisher said. "It didn't really have a large shellfish stock."
In Popponesset Bay, two areas would need to be changed from approved for harvest to conditionally approved, one in Ockway Bay and one near Daniel's Island.
The shellfishing area in westernmost reaches of Ockway Bay would have to have a closed status in the summer months, Ms. Fisher said.
However, the installation of two upweller systems in that section of Ockway Bay for the town's propagation efforts will not be affected, she said.
"We will just have to maintain our seeds in there and move it out of the area before it gets to 25 millimeters," Ms. Fisher said. "It isn't an issue because that is just primarily our nursery stage."
The area near Daniel's Island is planned to remain open because of a substantial shellfish population in the area and the planned adoption of a bylaw to restrict overnight occupancy on all Mashpee moorings, she said.
The proposed bylaw that would restrict overnight occupancy on all Mashpee moorings is expected to go before Town Meeting in the fall.
None of the aquaculture permit holders in town will be affected by the changes because the town has "strategically" placed the aquaculturists outside mooring areas, Ms. Fisher said.
Because each shellfish harvested from the bay also removes nitrogen from the water, Ms. Fisher said, the regulations "will affect our comprehensive plan if those areas are to remain closed in the summer months."
The town's Comprehensive Watershed Nitrogen Management Plan aims to reduce nitrogen loads that have long polluted both Waquoit Bay and Popponesset Bay by combining an innovative shellfish aquaculture program with traditional sewering methods.