A young Virginia Gaglio first thought of enlisting in the US Air Force during her drive home from work as a secretary at a Texas real estate firm. While driving home from her first job after graduating high school, she heard an Air Force recruiter's advertisement on the radio.
Hearing the advertisement brought her back to a trip she took with her family at the age of 12, when she saw airmen at the San Antonio River Walk after they had just finished basic training. Although the seeds of future service had been planted then, they did not begin to sprout until that drive home from work.
During a recent interview on Joint Base Cape Cod, Colonel Virginia Gaglio, who commands the Massachusetts Air Guard, said that a path through the ranks of the Air Force did not immediately stretch out before her when she heard those radio advertisements. Rather, enlisting offered a step toward more education.
"I heard the Air Force recruiter's radio ads coming back from my hour-and-a-half commute," Col. Gaglio said, "and I thought, 'Wow, I could have money for college.'"
"It would be a way to go to college and also just an adventure," she said. "I didn't really have a plan for the type of college I would go to or the career field."
Despite lacking a clear vision of the future, Col. Gaglio decided to take the first steps along a career path that has now spanned more tan three decades. During this time, she has slowly climbed the ranks of the Air Force from entry-level enlisted airman all the way to commander of the Massachusetts Air Guard—and, now, she is under consideration in the US Senate to be named a general.
Col. Gaglio said that she has not taken "a linear path" to a commanding role in the Air Force. Over the years she has pivoted between serving full time and part time in the Air Force. She has also been a waitress, an elementary school teacher and a fundraiser at the Falmouth Hospital Foundation.
"I always put my family first," said Col. Gaglio when explaining her winding path to commander.
"It doesn't mean you'll go as quick as you could, but sometimes it affords you opportunities that you wouldn't have normally had."
Col. Gaglio's adventure began where all airmen begin their service: at Lackland Air Force Base in San Antonio for basic training. After basic training, she learned electronics at Lowry Air Force Base in Colorado, and trained as a mechanic on F-15 fighter jets at Tyndall Air Force Base in Panama City, Florida. Here, she first encountered the electronic flight systems she would come to master: radar, electronic countermeasures, navigation systems and light controls.
She also began to fall in love with the culture of aviation.
"Fighter noise, flying, it's a lot of fun," Col. Gaglio said. "It was an exciting time, and [I was] working on leading technology at the time. I found that I did like electronics. It was a complete departure from being a secretary, and I loved it."
A vision of the path ahead started to take shape, but even so, Col. Gaglio still did not have ambitions of rising into a commanding role.
"An idea of being in aviation started to form and maybe getting my pilot's license," she said. "I started thinking about that, but that was just rudimentary, certainly not command."
When she finished her training, Col. Gaglio took her first permanent assignment at Minot Air Force Base in North Dakota. As an avionics mechanic trained on F-15 fighter jets, she was selected for a temporary position helping transfer F-15 jets from Minot Air Force Base to Otis Air Force Base in Bourne, where the Air Force was moving from older F-106 fighter jets to the newer F-15 fighter jets. This temporary position would introduce Col. Gaglio to Cape Cod.
In 1988, while she worked on what was then Otis Air Force Base, Col. Gaglio stayed for four months at the Cape Wind Motor Lodge (now, Cape Wind Waterfront Resort) in East Falmouth. With a smile, she remembered jogging along Maravista Avenue during that first encounter with the Cape.
"I fell in love with the area," She said. "I thought, 'Why not settle here?'"
Her service in the Air Force took her away from the Cape briefly, but she resolved to return. And, in 1989, she did. This time, she stayed, transitioning to the National Guard so that she could devote herself to her education full-time and complete her degree.
As she settled into North Falmouth, Col. Gaglio was a full-time student, pursuing a degree in aeronautics via distance-learning classes at Emery-Riddle Aeronautical University in Daytona Beach, Florida, and she was a part-time National Guardsman. She also worked a variety of jobs to make ends meet.
"I was living on Cape Cod, so I was a waitress, of course," she said, laughing, "and I worked at the Falmouth Hospital, which, I think almost everyone does that at some point, right?"
When she got her degree in 1992, Col. Gaglio was commissioned as a part-time maintenance officer, becoming the first female maintenance officer at the base.
Col. Gaglio said that when she interviewed for the maintenance officer position, she did not expect to be chosen.
She said that the colonel who hired her did not really know her all that well, but must have seen that she liked to lead and she had "had been doing different things in the avionics shop to kind of show my leadership skills and abilities."
Col. Gaglio said that she feels as though the colonel who selected her "took a chance on her," because there were other members of aircraft maintenance vying for the position.
She was selected for the position in 1991 and commissioned as an officer in 1992.
Although she had been commissioned as an officer, Col. Gaglio continued to pivot between her service in the Air Force and other roles in the community.
Her role as a maintenance officer at the base was only part time. So, she continued to work for Falmouth Hospital Foundation and, unsure of the path ahead, she earned a master's degree in education through Lesley University in Cambridge. Just as she started teaching at East Falmouth Elementary School, she was selected as a full-time maintenance officer.
Her full-time status would not last long. After about five years working as a full-time maintenance officer on the base, Col. Gaglio started a family and chose to transition back to being a part-time National Guardsman. As her children started school, she volunteered through Falmouth's Volunteers in the Public Schools program, or in her words, "did the VIPS."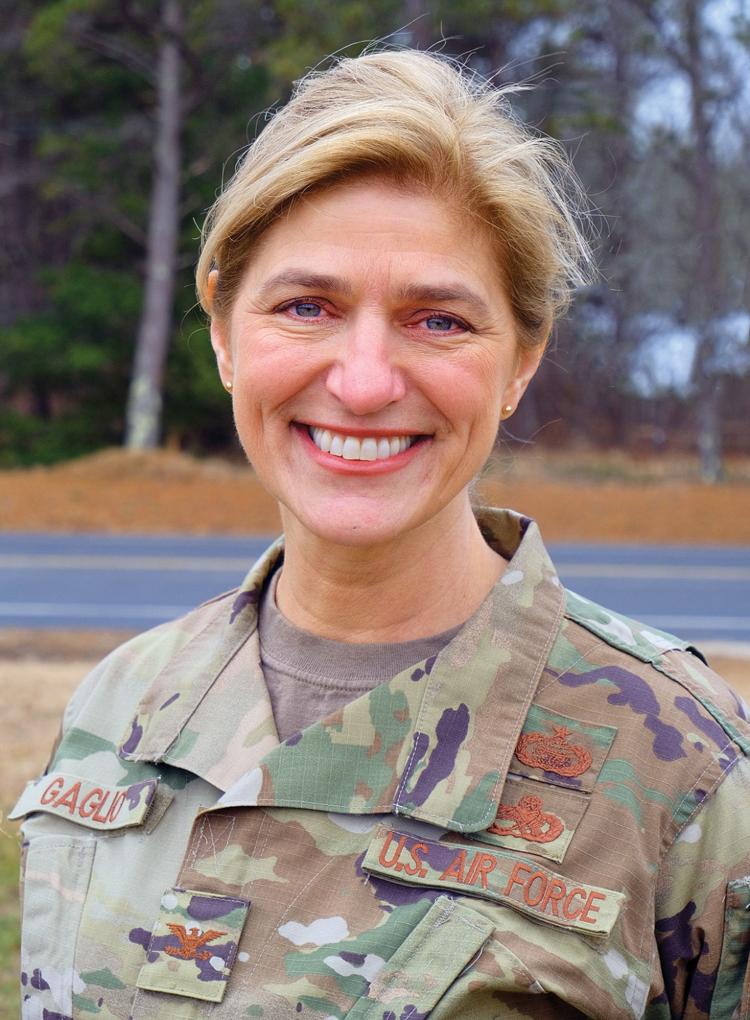 Colonel Gaglio laughed and smiled as she reflected on these early years settling into the Cape area, pivoting back and forth between myriad roles in the community, and starting a family.
"It's the full Falmouth experience, isn't it?" she asked rhetorically.
At the turn of the century, Col. Gaglio's career in the Air Force began to accelerate. She got her first commanding role as a squadron commander of aircraft maintenance when she was mobilized after the attacks on September 11.
Col. Gaglio described this personnel position as "the best job that [I] never wanted." Although the position took her away from the aircraft electronic systems that she had spent the beginning of her career mastering, the new position offered her a "broader lens" of the Air Force and prepared her to help the base as it transitioned from Otis Air Force Base with a mission focused on aircraft maintenance and piloting to Joint Base Cape Cod with a mission that is now focused on intelligence.
"Even though I really don't like being in personnel, I learned a skill set that was integral to all my other assignments," she said.
Just as she did when she was driving home from her job as a secretary, or when she first came to the Cape on temporary assignment, in a moment of transition and change—as Otis Air Force Base became Joint Base Cape Cod, taking on a new name and a new mission, Col. Gaglio saw an opportunity, and she went back to school.
"When [the transition] was all said and done, there were still a couple of key leadership positions within intelligence, and I really wanted to get back into that technical aspect of data, of sensors, of aircraft, of operational missions, and so I went back to intelligence school," she said.
Col. Gaglio then experienced her most linear advancement through the ranks of Air Force command, from deputy group commander to vice-wing commander, then to wing commander and eventually to her current role as commander of the Massachusetts Air Guard.
Nonetheless, Col. Gaglio said that her advancement has never been predicated on ambition, but rather on the desire to serve her country and create opportunities for more education.
Although she did not have a specific goal when her career in the Air Force began, Col. Gaglio said that she has had ideas of what she wanted to accomplish, but it was not based on earning any specific title.
"I didn't wake up and join the Air Force to become an Air Guard commander or a Wing commander or a colonel. It was really to serve and to get a better life and a better education," she said.
Now, as the leader of the Massachusetts Air Guard, Col. Gaglio said that she is focused on "pushing forward on priorities that we have here in the state," but she is also interested in solving "national issues."
"I serve on a couple of different councils that allow me to work on national issues for the Air National Guard," Col. Gaglio said. "I love solving problems and I love leading."
Col. Gaglio refrained from commenting on her possible Senate appointment, but her engagement in problem solving on the national level and her commitment to leadership and service is reminiscent of the once-aspiring maintenance officer who spent extra-hours in the avionics shop to demonstrate her avionics skills and leadership abilities to her superior officers.
Even as Col. Gaglio is considered for one of the highest ranks in the military, she remains committed to the young people who choose to serve.
Col. Gaglio said that she "is excited talking to young people" who have chosen to serve. She said that young airmen just out of basic training and technological training are "on fire"
"And in this [intelligence wing] which is so focused on intelligence and cyber-space intelligence and the cyber-space domain, they're naturals because they were born into that kind of mindset."
Col. Gaglio's advice to young people reflects the diversity of her experience as she wound her way through different types of service in the Air Force.
Col. Gaglio said that young people should "take their time and consider their options."
"There's not just one way to serve," she said. "There's the active duty, the National Guard, the reserves, and they all come with different lifestyles and benefits. There is really a place for almost everyone."