Tires sloshed along Route 28 near the Mashpee/Falmouth town line early this month, March 1, hours after heavy rain had left the roadways glistening with stormwater.
Matthew C. Patrick, the chairman of Citizens for the Protection of Waquoit Bay, motioned in the direction of Route 28, his hand following the slope of Martin Road from its intersection with the highway to where the road overpasses the Quashnet River.
"It's called an outfall," he said, pointing to where the pavement dipped under the wooden railing, directing stormwater runoff from Martin Road into the Quashnet River.
Earlier in the day, as rain pelted the roadways in Mashpee and Falmouth, Mr. Patrick in a phone interview expressed concern about the pollutants that wash from roadways into the rivers, as well as the lack of infrastructure in place to address the problem.
"You get the fragments from tires—there's heavy metals in that, toxic metals—and that all collects on the roadways," he said. "Especially the first half-hour of heavy rain is really going to carry away a lot of that stuff."
Catch basins, the most conventional method for stormwater control, do little to prevent most pollutants from winding up in the rivers and bays, he said. Some catch basins are equipped with oil skimmers, but nutrients such as nitrogen and phosphorus along with other pollutants are output into the soil, eventually washing into the bays.
Many roadways, like Martin Road, are not even equipped with catch basins. Instead, outfalls direct stormwater—and all the various pollutants swept up in it—straight into the rivers and bays.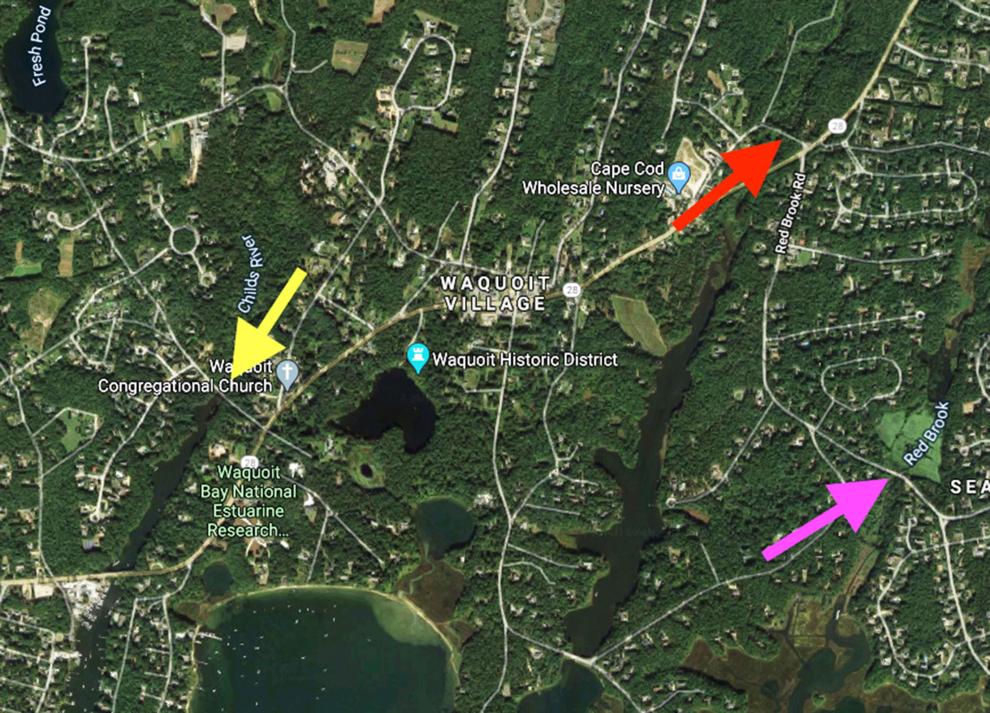 On Barrows Road in Falmouth, Mr. Patrick noted two pipes that have been built into either side of the bridge that crosses Childs River to divert stormwater off the road and directly into the river. On Red Brook Road in Mashpee, Mr. Patrick pointed to where stormwater had eroded the side of the road, just feet from where the brook flows toward Waquoit Bay.
Last month Mr. Patrick, who has identified more than a dozen major outfalls and more than 40 potential outfalls contributing to pollution in Waquoit Bay, wrote to express his concern to the Mashpee selectmen and Falmouth select board.
"Road runoff...deposits into our bays toxic pathogens, metals (from tire rubber) and hydrocarbons (exhaust residue, oils, and other automotive fluids) that kill fish, close shellfish beds and swimming beaches," Mr. Patrick wrote. "At a minimum, there should be no road runoff into any estuary's watershed and especially Waquoit Bay, which is recognized as an Area of Critical Environmental Concern and a significant nursery for several important fisheries."
Andrew R. Gottlieb, a Mashpee selectman and the executive director of the Association to Preserve Cape Cod, described stormwater runoff as "a major, poorly regulated source of water contamination both from nutrients and unconventional pollutants."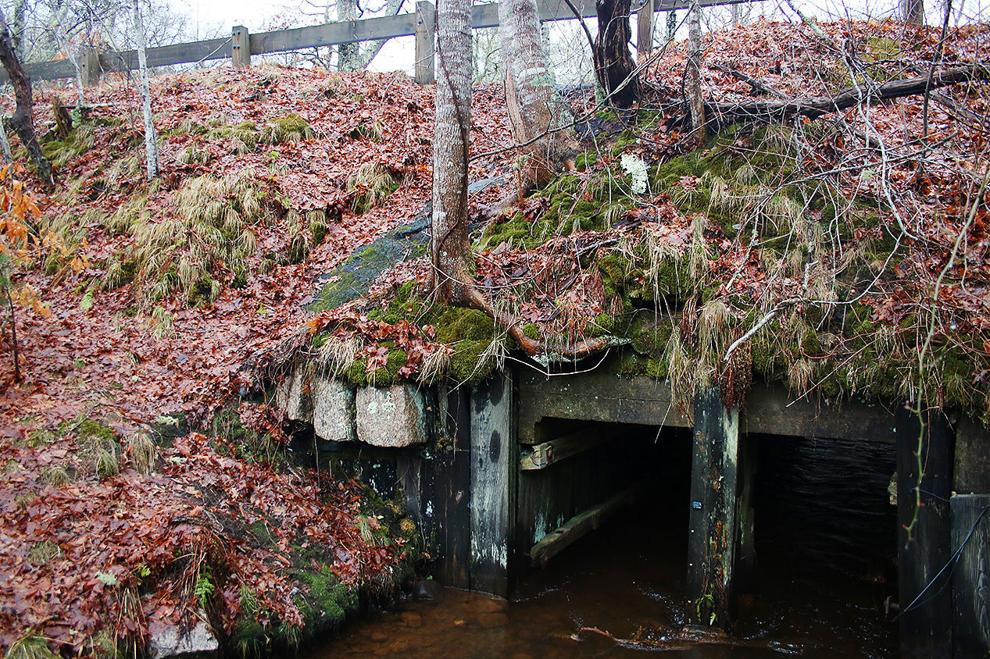 "It has deleterious effects that cut across the spectrum," Mr. Gottlieb said.
Although the primary sources of nutrient pollution are septic systems and improper wastewater management, which account for about 85 percent of the nitrogen loads in the bays, "there is a certain amount of nitrogen in the form of nitrous oxides that are the byproduct of the combustion of fossil fuels," Mr. Gottlieb said, estimating that road runoff contributes to just under 10 percent of the nitrogen loads.
Moreover, physical contaminants such as erosion, sand and salt add turbidity to the water when they are washed into streams and bays by stormwater, he said. In sufficient amounts, these contaminants can block out sunlight and smother plants, habitat and spawning areas.
Animal waste swept off roadways is also a direct source of bacterial contamination that contributes to the closure of public shellfishing areas, Mr. Gottlieb said.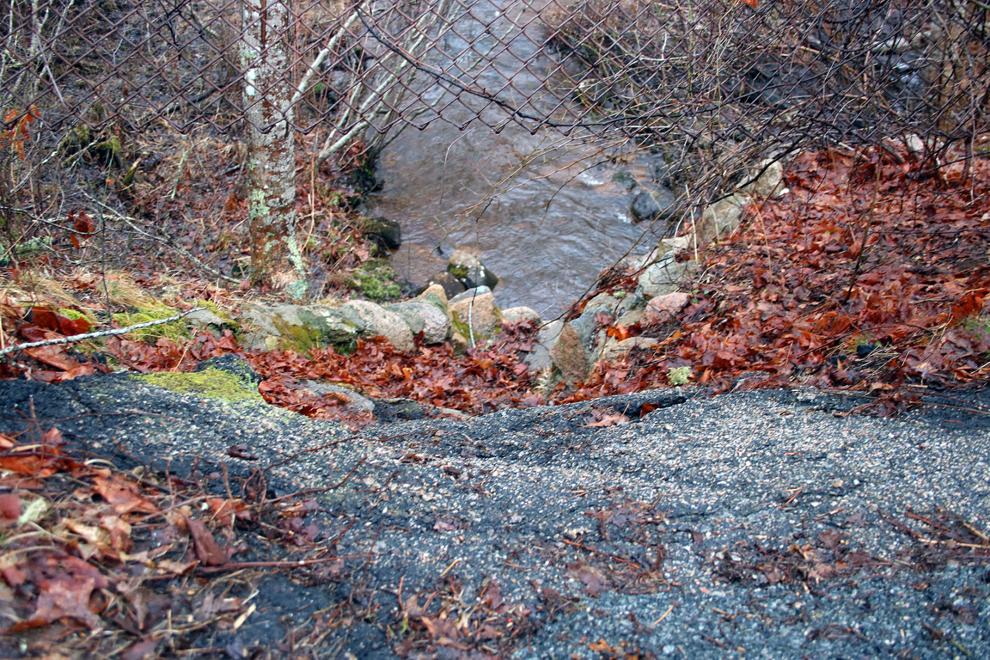 Additionally, "whether it is leaking oil and gas that leaks from underneath people's cars, brake dust—anything else that falls out on the roadways provides compounds that are toxic to aquatic life," he said.
Stormwater runoff is regulated by the federal government, which issues MS4 permits, Mr. Gottlieb said, describing the regulatory process as "pretty minimal."
"The way most roads are designed and engineered, from a public safety perspective, the objective was to get the water off the road right away," he said.
To receive an MS4 permit, towns are required to do road sweeping and make modest drainage upgrades when upgrading roadways.
"Then it is left up to the individual towns how they want to dress up those improvements," Mr. Gottlieb said.
The Town of Mashpee has "made a conscious effort as a town to pull our direct discharges out of the roadways," Mr. Gottlieb said. In some places, as along the edge of Mashpee Neck Road just before the town boat ramp in Popponesset Bay, the town has installed bioretention swales.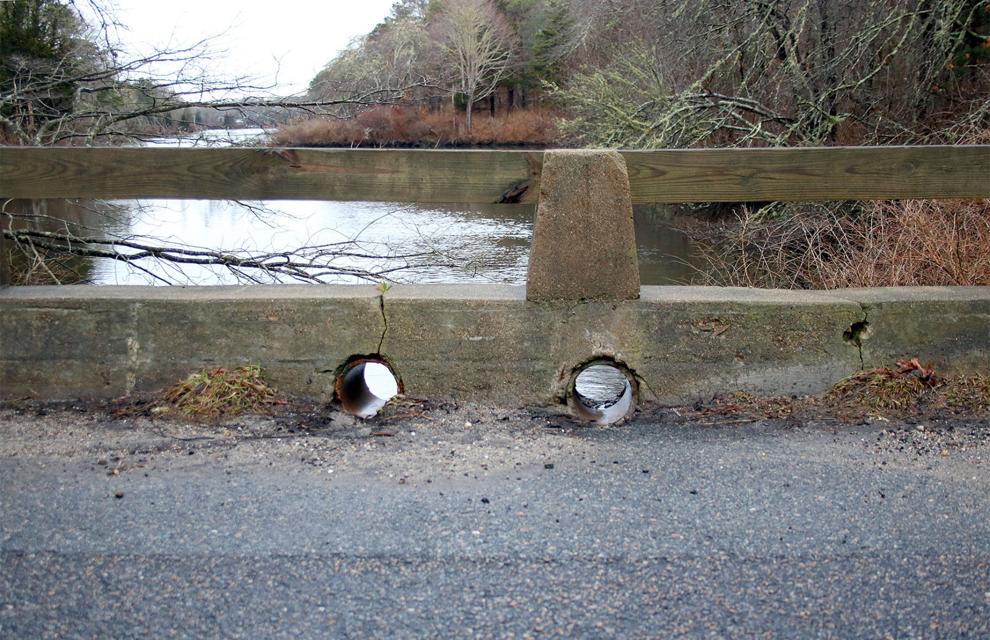 Mr. Patrick described bioretention swales, which are essentially ditches filled with native plantings, as the best practice for road runoff control.
"Vegetative swales are best management practices; they should be the first thing that [towns] think about," he said. "You want to replicate a wetland."
Instead of being deposited directly into the surface waters, the stormwater runoff filters through the swale's vegetative barrier, where plants take up nutrients and other pollutants before the water reaches rivers or bays.
Mr. Gottlieb said he believes the Town of Mashpee has "a pretty sustainable model for dealing with our stormwater issues" and is adding swales "as we go and where we have opportunity and space."
Eric T. Turkington, chairman of the Falmouth Water Quality Management Committee, noted some of the complications of installing swales—and stormwater infrastructure in general.
"Road runoff has always been on the menu, but it hasn't gone too far for a couple of reasons," he said. "There are a lot of locations where road runoff gets into an estuary. Each one sort of requires its own evaluation and design, if you're going to do something; each one is unique, and each one is expensive."
While some roads are town-owned, others are state-owned or privately owned, he said.
Moreover, it is difficult to assess how much pollution road runoff contributes to surface waters because that can depend on how much it rains and because the multiple kinds of pollution mix into a sort of "stew."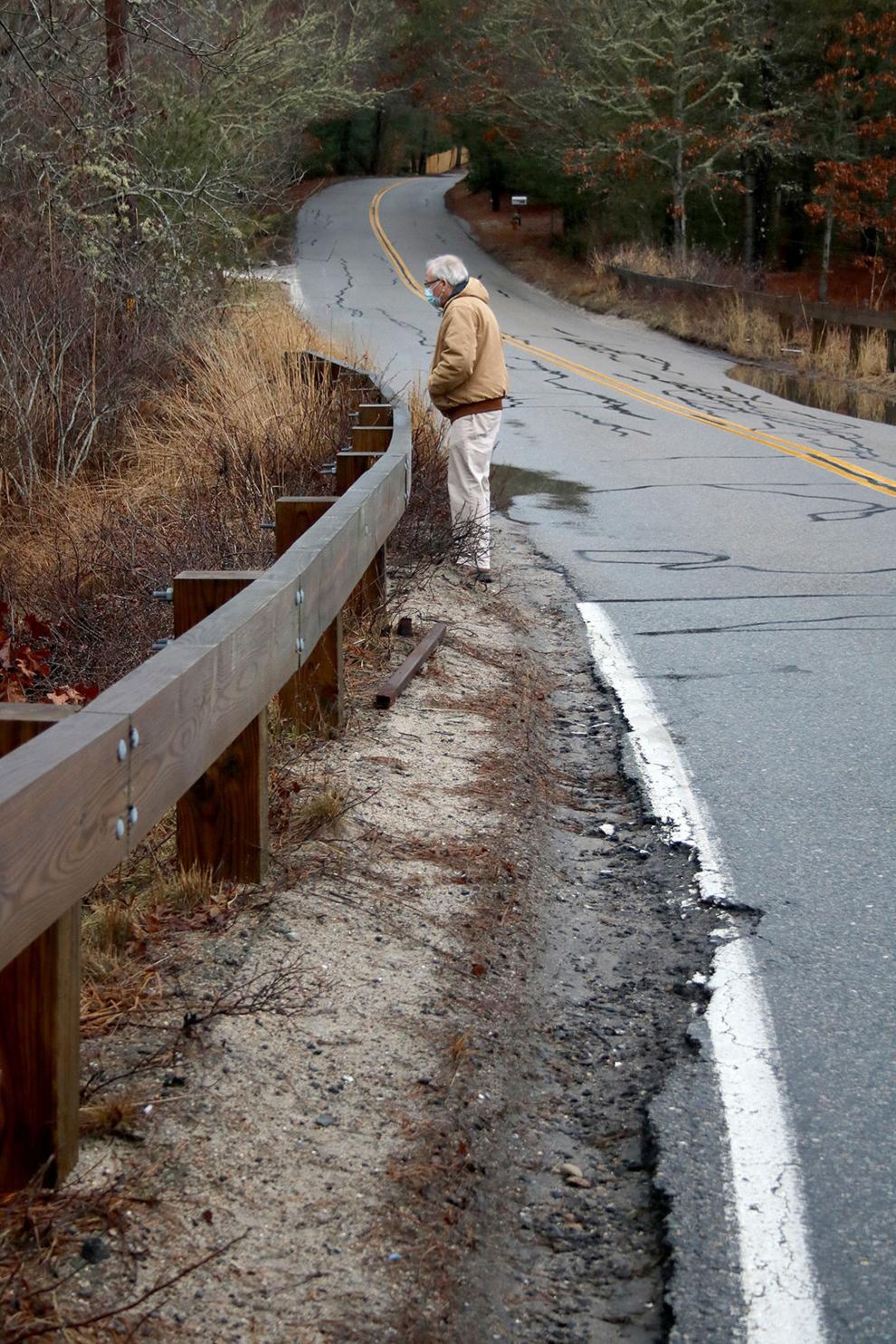 "It's a real hard thing to pin a number onto," Mr. Turkington said. "These elements each have their own ill effects, and that's even harder to measure. There's no numbers out there to even evaluate that realistically."
The fact that pollution from road runoff is so difficult to pin down is exactly the point, Mr. Patrick said.
"It can be easily overlooked; it is being overlooked at this point. I just want to remind people in the towns that this is important," Mr. Patrick said. "Our economy is based on these coastal areas, and they're really going to hell; they're in bad shape."
"[Stormwater runoff] is more pollution than they are giving it credit for," he added. "It's not just nutrient pollution; it's toxic compounds, road compounds, combustion compounds, tires, heavy metals that end up in our water—and it's definitely not good for the ecology."
Mr. Turkington noted that the Falmouth Department of Public Works, the Cape Cod Conservation District and Citizens for the Protection of Waquoit Bay are scheduled to meet virtually on Thursday, March 18, to discuss pollution from road runoff and solutions.