A price increase of up to $50 for an annual trash sticker in Mashpee may be in the works.
On Monday, February 10, the Mashpee selectmen debated proposed increases to transfer station sticker fees.
After the discussion the selectmen opted to wait until March to decide on any price increases.
The discussion on increasing sticker prices came just weeks after the selectmen approved a more than 50 percent hike on solid waste hauling rates and amid a years-long decline in recycling revenues.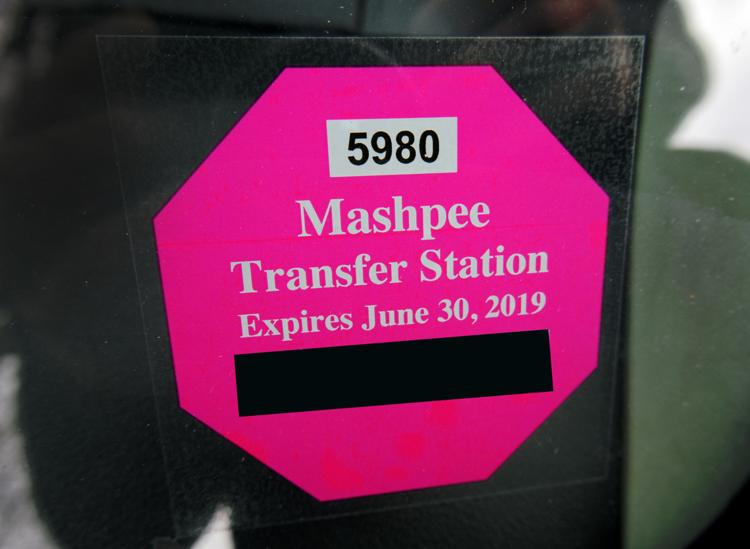 Sticker fees, which have been on the rise for years, cover most of the costs of operating the transfer station. Still, a portion of the town's operating costs have long been subsidized by property taxes, even though not all Mashpee residents use the transfer station.
About 6 percent of the transfer station operations, or $57,000, are subsidized through property taxes at present. If sticker prices remain the same in the next fiscal year, about 22 percent, or $227,000, will have to be subsidized by property taxes.
Increasing the trash sticker price from $150 to $200, the recycling-only sticker from $30 to $35, and the single-trip permit from $15 to $20 could eliminate any subsidy through property taxes, according to a recommendation by Department of Public Works Director Catherine Laurent.
Debate among the selectmen centered on whether to opt for the higher sticker prices and zero percent subsidy, or find middle ground with an increase to $175 for a trash sticker while subsidizing about 11 percent, or $111,000, of the station's operations through tax revenue.
The chairman of the selectmen, Andrew R. Gottlieb, reminded the board of its policy to "eliminate the subsidy over time, so that the stickers reflect the cost of operating the transfer station."
"I just don't see the logic of imposing that cost on the tax rate and making people who pay for private trash hauling also pay for my trash," Mr. Gottlieb said. "We need to get real about pricing and what it costs to dispose of trash and not hide it from people."
The selectman noted that the town is not required to provide a trash disposal service, and paying for a private service would be more expensive than $200 a year.
"You know what would make the $200 sticker fee look good?" Mr. Gottlieb asked. "The Town saying we're no longer going to be in the solid waste business and everybody can contract privately."
Selectman Carol A. Sherman noted that residents contracting privately for trash removal would cost "like $35 every two weeks" but also said, "I just hate to go up $50; it's a big jump."
Selectman John J. Cotton introduced a motion to increase the trash disposal sticker cost to $175 rather than $200 and accept the $5 increases to the recycling-only sticker and one-time permit.
"I understand we'll have to subsidize a little bit of the costs but I think raising it that much over one year—I think $25 is a substantial increase," Mr. Cotton said. His motion was not acted upon.
Selectman David W. Weeden said he did not support subsidizing the transfer station costs through property taxes and would be okay with a $50 increase.
"If that's the cost, that's the cost," Mr. Weeden said. "I just would rather not support it through subsidies rather than passing it along to the folks who actually utilize it just because we're afraid to pull the trigger."
Asked whether the town budget could handle subsidizing transfer station costs, Town Manager Rodney C. Collins said, "I'm not going to mislead you and tell you we cannot make an adjustment but I think we're traveling down a slippery slope because we're going to be revisiting this year after year."
Ms. Laurent said that the recent renegotiations with New Bedford Waste Services, the company the town contracts with for solid waste removal, drove the increasing costs at the transfer station.
Last month selectmen approved increasing the rate for solid waste hauling paid to NBWS from $59.23 per ton in 2019 to $93.75 a ton through the end of 2020, a 58 percent increase that Ms. Laurent said added another $120,000 to the cost of operating the transfer station.
The president of NBWS, who spoke at a meeting of the Mashpee selectmen in January, said the price increases were necessary in order for his company to continue removing Mashpee's trash amid a "crisis" in the waste market due to declining landfill capacity throughout Massachusetts.
Selectman Thomas O'Hara said, "The unfortunate thing is we have no control over this, and recycling and solid waste [are] just getting more expensive."
Ms. Laurent noted that compared to other towns, Mashpee's sticker costs are relatively low. Barnstable, for example, charges $250 for a trash sticker. She also stated that while recycling revenues have taken a hit in recent years, recycling is still cheaper than throwing out trash.
"Overall recycling is still less than trash and it looks like the markets are going to start to improve over the next few years whereas trash, that number is not going to come down," she said.
At present, Mr. Gottlieb said, there is no incentive for transfer station users to recycle.
"There is a cost to disposing of trash; it costs less to dispose of recyclables than it does trash, and there should be an incentive to encourage people to do that," the selectman said.
Mr. Gottlieb has previously argued for a pay-as-you-throw system, which would charge people per bag of garbage thrown out. The selectman has said such a system would incentivize recycling, since throwing out less trash would mean lower costs to individuals.
"Pay for trash like you do everything else in your life," Mr. Gottlieb said when transfer station rates were before the board in 2018. "You pay for data on your phone based on what you use. You pay for heat based on how much gas you use. You pay by the gallon for gas."
Falmouth and Sandwich each have versions of a pay-as-you-throw system.