The Mashpee School Committee reviewed the high school's Advanced Placement, or AP, program during its November 20 meeting in the Quashnet School Library.
The AP program offers students college-level classes while they are still in high school. Scoring well on an AP exam could garner a student college credit at most colleges in the United States.
In academic year 2018-2019, Mashpee high school students took 254 AP tests, assistant superintendent Hope Hanscom told the committee. That is up from 206 AP tests taken during the 2017-2018 academic year.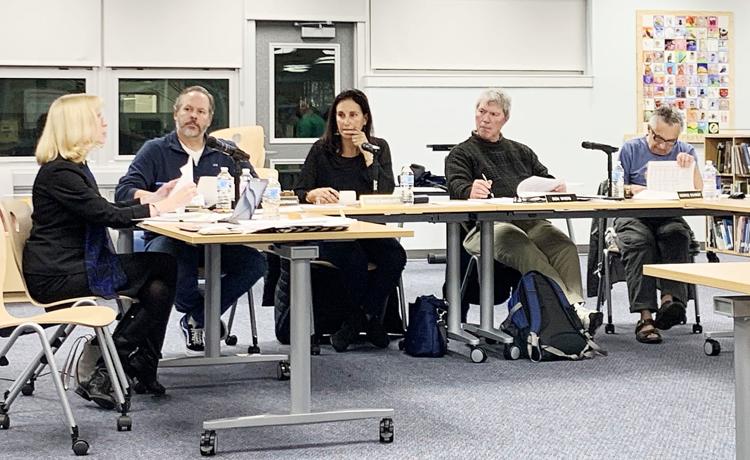 "Our numbers have gone up of kids taking AP courses," the assistant superintendent said. "That's huge."
Mashpee High School offered 14 AP classes in 2018-2019. AP Chemistry was not offered last year because "there wasn't enough interest," Ms. Hanscom said. The AP Chemistry course is offered this academic year, she said.
Ms. Hanscom noted that not every student that takes an AP class necessarily takes the corresponding exam, in part due to a fee associated with taking the exam.
Taking an AP exam costs $94, or $51 for students with financial need who qualify for a reduced rate, Ms. Hanscom said. Many students take multiple exams in one year.
While the parent/student handbook has a policy that says that students who take an AP course are expected to take the AP test, sometimes students do not take the exam due to the cost, the assistant superintendent said.
"I would love to have the ability to say to our students that any kid who wants to take an AP test gets to take an AP test," Ms. Hanscom said, asking the school committee to consider putting school-choice funds toward making the tests more affordable.
"We have senior twins, who between them this year are taking seven AP exams—think about the financial burden on the family," she said.
Superintendent Patricia M. DeBoer said that those students are, "not taking [the AP exams] in all of the courses they are taking because of that."
Depending on the college a student may choose to attend, scoring above a three on an AP exam could mean not having to spend money to take a similar course during college, since many schools accept AP test scores for college credit.
The tests are scored on a scale of one to five, five being the highest achievable score. A three is generally considered a "passing" score, Ms. Hanscom said. A student may pass an AP class, however, even if they get below a three on the exam.
Of the 14 courses offered in 2018-2019, Human Geography had the lowest rate of students "passing" the exam, with about 48 percent of students receiving a score of three or higher.
Mashpee Middle-High School Principal Mark Balestracci said that 9th and 10th grade students taking AP classes "is very uncommon amongst high schools."
"So you might see a lower passing rate there," Mr. Balestracci said of AP Human Geography.
School committee member Don Myers asked whether 9th grade students should be taking the class if the pass rate is low.
"Is that appropriate to have 9th graders take that class if the pass rate is that low? Are they prepared to adequately be successful in that class?" Mr. Myers asked.
Mr. Balestracci said that students "can take the exam and not pass the exam but still get the exposure to a high-level college course."
Ms. Bartlett noted that, given that just over 100 students took AP classes in 2018-2019, "it looks like we have almost as many kids taking the AP classes as we have in athletics."