Damage to a wooden dam has caused Red Brook Pond to drain through a culvert and into Hamblin Pond, exposing much of the aquatic vegetation to the open air and killing fish and turtles.
Mashpee and Falmouth town employees responded Thursday, July 23, to inquiries about the pond, which lies along town lines.
"Water is currently passing through the boards under the water level, so most likely they are rotted or damaged," Falmouth Director of Public Works Peter M. McConarty said in an email. "I do not know how long the water has been flowing through the boards."
The culvert and dam lie along the Falmouth side of the pond, but Mashpee Director of Natural Resources Ashley Fisher was also called to the location.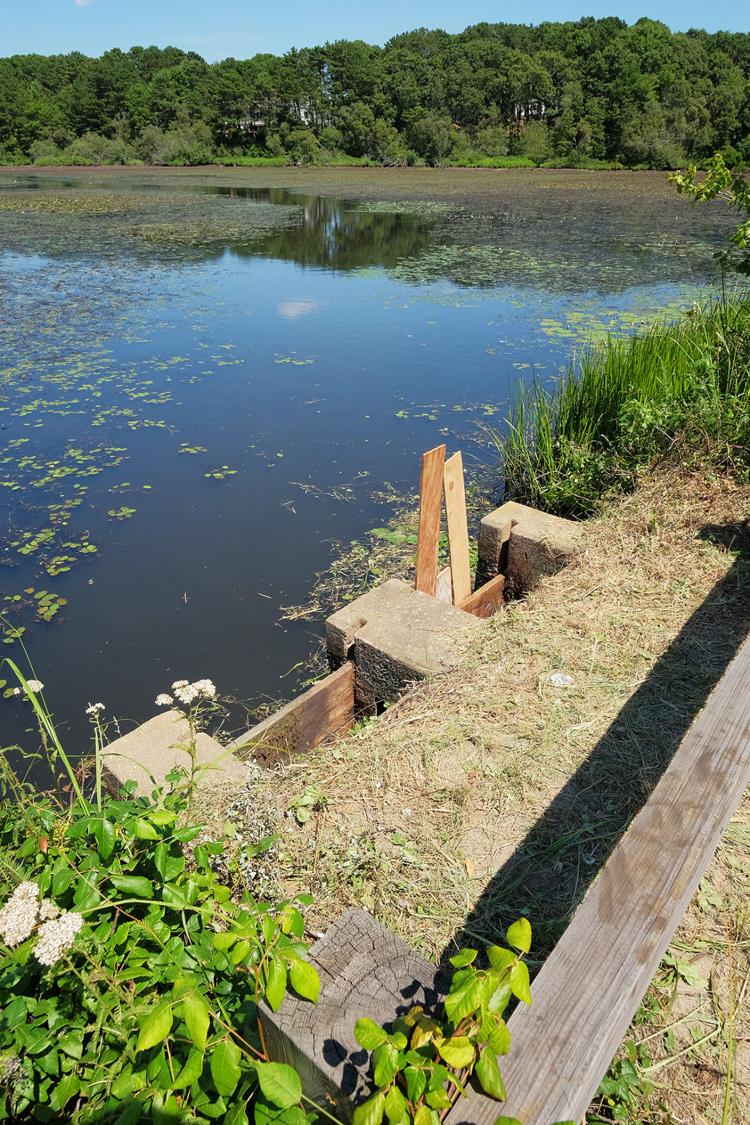 "Unfortunately, a fair amount of water had leaked down. The dam broke; it was just wear; it was a wooden dam," she said, adding that the water from the Red Brook Pond ended up in Hamblin Pond, an upper section of Waquoit Bay, and that the Massachusetts division of marine fisheries was alerted.
While the waterfowl "are doing great [and] are all perched around where the drainage is," some fish and turtles have died due to the receding water levels, she said.
Because the nutrient-rich water from the pond flowed into the bay, "We might see an algae bloom from this; we don't really know," she said.
The Falmouth DPW secured new wooden boards to stop some of the flow, but a small amount of water is still getting through, Ms. Fisher said.
Lynda Corcoran, a Mashpee resident who lives near the pond, said in an email to the Enterprise on Monday, July 20, that her husband and neighbors had noticed a two-foot drop in water levels at the pond on Sunday night, July 19.
The next morning they tried to block the water from flowing out but were unable to fix the problem, Ms. Corcoran said.
"We are very frightened because the pond is not a swimming pond; it is an active ecosystem for all types of wildlife. We have muskrats, fish, turtles, wild birds and more," she said.
On Wednesday night, July 22, Ms. Corcoran described the pond in an email as "devastating and dying."
"There are hundreds of dead fish everywhere along with a muskrat and turtle," she said.
As of yesterday, only a narrow river of water weaved through the exposed pond bottom.